This is the first post in my new Momof6 series "Save Money, Shop Smarter". The first four posts will be focused on saving money while grocery shopping, because for so many of us- grocery expense is a sizeable part of our family's budget. And you can save 30-40% on your monthly grocery bill – not by changing brands or by giving up on purchasing healthy items for your family. You can save 30-40% on your bill just by changing the way that you shop. I promise you- it really is that simple. No extreme couponing, no converting your garage into storage space- nothing crazy.
But first- you have to do a little homework…
Start a Grocery Price List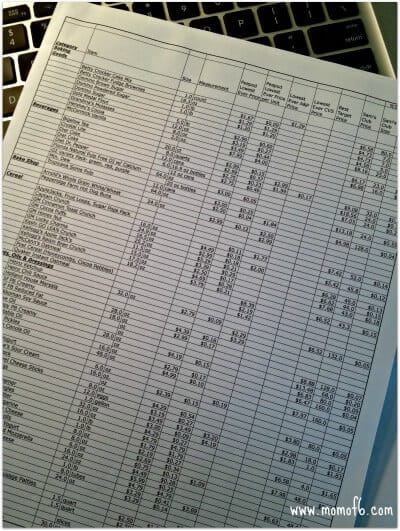 For years I had no idea what I was paying for individual grocery items. I just kept a running grocery list of things that I needed, I added to it as I used up items that I had on hand, and then I bought those items as I needed them. I did not realize that some weeks I was paying $5.49/lb. for chicken and $3.59 for a box of cereal, and other weeks I was paying $2.75/lb. for chicken and $1.99 for cereal. Truly, I had no idea. I was too busy trying to run a household with young children, work outside the home, and since my overall grocery bill never seemed that different from week ot week- I didn't realize the weekly variation on an item-level.
Once my eyes were opened to the fact that I was paying vastly different prices for the exact same item from week to week, I decided to create a "grocery price list" so that I would know when an item was really on sale for a good price. My price list included all of the items that I regularly purchased, everything from flour, sugar, drink mixes, soft drinks, cereal (listed by brand), ketchup, peanut butter, jelly, oils, milk, cheese, yogurt, juice, butter, creamer, ice cream, meat, produce, snack items, and canned goods. I made a separate price list for health and beauty items, and laundry, paper, and cleaning items too.
One my price list I also have a place to record the size of the package so that I can calculate the price per unit (per ounce, per lb., etc). This is helpful when comparing prices across different package sizes from store to store. Which brings me to the next question that I am asked all of the time…
Are Warehouse Clubs Really Saving Your Money?
Back when I first started my grocery price list, I also regularly shopped at warehouse clubs.  So I added a few columns on my price list where I listed the price, the package size and the price per unit at the warehouse club price. This will demonstrate quite clearly whether or not buying in bulk at a warehouse club is really saving you any money. And in my personal experience- I can usually beat a warehouse club price when an item at a grocery store is on sale- and when I pair that sale price with a coupon, I can beat the warehouse club price nearly every time!
It's Your Turn…
The first step is getting control over your grocery expense is to become familiar with what you are paying for the groceries for your family. This week when you come home from the grocery store, sit down and make a list of what you have purchased, and what you paid for it. Over the next few weeks, continue to record the price that you are paying for those same items. Over time you will see that it varies greatly from one week to another! But that's okay- this is how you learn what your "buy price" should be!
Click on this link to download a grocery price list template: Grocery Price List
Rather Watch Than Read?
Then check out my youtube video on How to Create a Grocery Price List!

So how much of a grasp do you have on what grocery items cost? Are you prepared to pounce and buy only at the lowest price? Please leave a comment and share!