We are just a week out from the "Big Game" when the 49ers take on the Ravens (GO NINERS!) in New Orleans. And whether or not you are a big fan of football- the Super Bowl is always an awesome excuse to throw a party. Even if it is just for your own family! So I thought it would be fun to share a little Super Bowl Snack inspiration with all of you…. because most of these will appear on my menu plan next Sunday! And I say "snacks" because I like to serve all of my Super Bowl foods as snack-sized servings, so everyone can taste and try everything… and it is easier to handle when dining in front of the TV!
The Starters: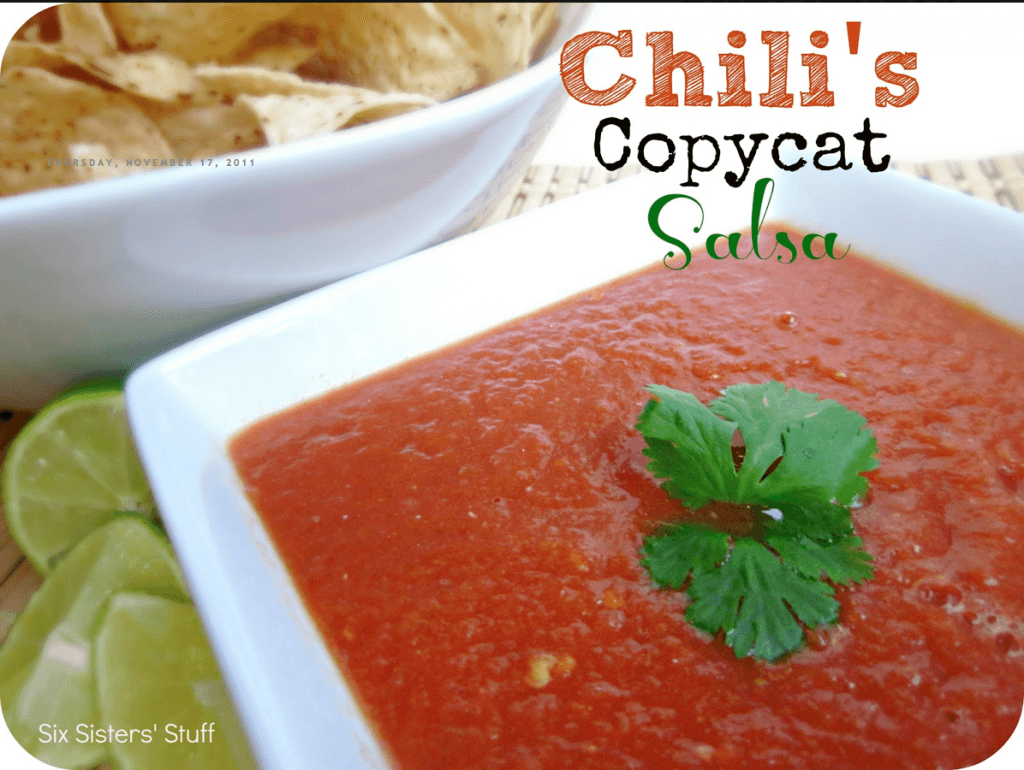 Copycat Chili's Salsa from Six Sisters Stuff would be a great way to "kick-off" our party!
Auntie Annie's Pretzels from Heather's French Press– we've made these several times this football season, and they are amazing!
Copycat Chili's Queso from Momof6 (which actually makes an amazing dip for the Auntie Annie's pretzels!)
And fruit served in a watermelon helmet is a fantastic idea! From A Little Tipsy
Party Punch is what signifies that the party has started at our house! (from Momof6)
The Main Event (Served at Halftime!):
French Dip Sandwiches from Our Best Bites– this is another recipe I made for my family in the last two weeks… and they are SO delicious! My kids loved them!
Buffalo Chicken Taquitos from Real Women of Philadelphia look yummy.
Copycat Pizza Hut Pizza from Momof6 is a "big fan favorite"!
Slow Cooker Bacon Cheese Potatoes from Six Sisters Stuff!
The Sweet Ending:
These chocolate chip salted caramel cookie bars look so good! From Two Peas and Their Pod
And it just wouldn't be the Super Bowl without my world famous Texas Sheetcake decorated Super Bowl style!
All of These Ideas and More Can Be Found At…
My sharonmomof6 Pinterest Board on Super Bowl Snacks!
*Please note that all photos featured here are the sole property of the blogger whose link is provided above, and are meant to show you how cool these ideas are!
And to stay up to date on the latest pins and inspiration from Momof6, please follow sharonmomof6 on Pinterest!