When it comes to my personal blogging heroes… no one ranks higher than my girl Melissa from Adventuroo! She is also the brains behind MomComm and the author of the mother-of-all blogging ebooks "The DIY Blog Critique." Seriously, I couldn't have found a better role model / mentor and if you write a blog, then you need to be following MomComm and reading her ebook- pronto!
Last year Melissa spent a week photographing all of the details of her family's life, taking tons of notes throughout the day, and then sharing all of this on her blog, both for her readers and for herself and her family as a kind of scrapbook, something that they could look back upon in 2 years, 10 years, and 20 years and remember all of those little details that so quickly leave our consciousness. Things such as what were the kids' interests at this age, what foods did they eat and not eat, what made the family happy, what frustrations did they face? This year Melissa has challenged her readers to capture a week (or even a day) in their own life… knowing full well that there is no such thing as a "normal day" in any family's life- each day offers its own unique events and challenges…. but it is a fun project to take on… so I intend to rise to the challenge this week and capture one weekend day and one weekend day in the life of a Momof6!
So here it is…. a Saturday in our life…
As usual, Steve and I were awake bright and early, even without the benefit of an alarm clock. Steve was off outside to replace the battery in his car; he had purchased it the night before on his way home from the office, and it was time to install it before his old one died on us again (as it had done twice in the past). I was in the kitchen doing all of my usual morning tasks such as unloading the dishwasher, making my morning cup of tea, de-cluttering the kitchen counters, and creating a new post for the blog. Steve came back inside the house and headed down to the basement, presumably to put away some kind of manly power-tool of some sort… when he discovered The Problem. As any homeowner knows, you are always just once small step away from some new kind of home repair crisis… and this Saturday morning, ours was of a new sorts that we (thankfully) had never experienced before. A back-up main sewer line pipe. Yuck.
While I thanked my lucky stars that a) this happened on a day that Steve was home and b) Steve is always ready to tackle such an obstacle- he and I decided that the best course of action was to call the good folks at Roto-Rooter. However during the 2 1/2 hours it took for them to actually show up at our home, Steve was able to locate the source of the problem (apparently some young-in saw it fit to flush a pencil down the potty), and remedy the situation as well as clean up the "aftermath". Once again- yuck. My husband is a good man.
Of course, during this crisis, I did what all Moms would do… worry about what to feed my children while we had no access to running water. Of course, Dunkin' Donuts was the perfect solution, don't you think?
After their healthy and balanced meal, the kids rev'd up the dog (as usual) so that the house was now in total loud, screaming, and barking chaos. Luckily, I was about to make my hasty exit with two kids to attend my oldest son's soccer tournament…. in Brooklyn. Now for a Westchester-transplant girl like myself…. Brooklyn is very. far. away. On roads that can be backed up with traffic for days…. so I left about 2 hours early. Steve would remain back at home with the rest of the kids to finish dealing with the sewer pipe mess (did I say yuck?) and to take our oldest daughter to her soccer game, which upon arrival they discovered was canceled due to the holiday weekend, but somehow that information never made it into my calendar. (sorry Steve)
 And of course we arrived at the soccer tourney about two hours early…. so the kids had plenty of time to play football. Because that's what you do before a soccer game- play some other sport entirely.
But once the coach and other players arrived, it was time to get serious about soccer… which left his younger brother with nothing to do but to hang out with his Mom, and play games on her IPad with the pink case.
By 2:20pm, the game had started…. but Kyle spent the first 1/2 sitting on the bench. Ho hum.
 Kyle starts the 2nd half of the game, and scores 2 goals in the first 2 minutes! THAT'S my boy!
 His team won their first game 5-0! Helllloooo Brooklyn!
Here is the team getting ready to take the field prior to the start of their second game at 4:40pm. Unfortunately, this one wouldn't go quite as well, and they lost 0-2. Time to make the long trek back home from Brooklyn- and of course, this time we hit more than our fair share of traffic.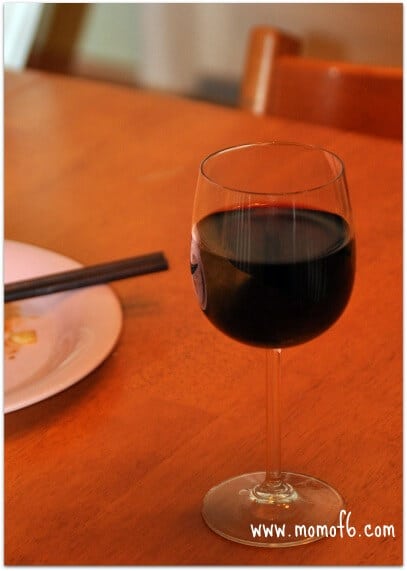 Aahhh… the sweet rewards of arriving back home after 7pm. A nice glass of wine and a delicious dinner brought home by Steve from our new favorite restaurant "Mana Thai".
But the sad part of the evening was when the kids had to say goodbye to Nana and Poppa, my fearless parents, who had been staying with us for the past two weeks and helping out so much around here. I would never have been able to attend the Education Nation conference without them taking care of the kids for me! They will really be missed around here!
So that was a day in our life…. How about you? Are you ready to link up to the challenge? If so, please check out Melissa's post here at Adventuroo!