*Abbott partnered with influencers such as me for its Ensure Program. As part of this program, I received compensation for my time. The opinions and thoughts in this post, though, are mine.
My family and I just returned from an amazing week together in the Caribbean. My Mom and I both celebrated our birthdays on this trip (mine was a milestone birthday!), but even more importantly- I also celebrated the one-year anniversary of finishing my treatment from HPV+ throat cancer. This vacation was actually a "do over" trip for us- we had planned a vacation to St John before my diagnosis, and decided to proceed with that trip last August just 2 1/2 weeks after my last radiation treatment. And while that was a great week that really helped me to relax and recover, I wasn't able to do many of the things that I love to do on vacation- like eat, drink, swim, or snorkel. So this year I got to do all of those things and I really made the most of it! But this vacation also gave me plenty of time to reflect on how far I've come in my cancer recovery and set some intentions of what I would like this year to be healthy and strong.
When you first get a diagnosis of a tumor on your tonsil that has spread to your lymph nodes you immediately focus on getting ready for surgery. Who is the best surgeon for the job? Will my insurance cover this? How am I going to take care of my family while I am recovering? And how fast can we get this done? But you also have to think about how to prepare your body for the best possible recovery time. Especially when you know that you will only have 4 weeks to heal from surgery before you start "phase 2" of your cancer battle- chemo and radiation. My doctors told me that I needed to boost my nutrition as much as possible by eating foods that were healthy and easy to swallow since my throat would be so raw. It was during this time that I tried my first Ensure shake. And I am telling you- those little bottles were a lifeline for me during a very difficult time. The shakes tasted good- they were creamy and gentle on my throat, were easy to swallow and packed a nutritional punch that my body really needed.
My doctors also encouraged me to do whatever I could to keep my energy levels up- because even though I would be spending a lot of time laying around and resting post surgery- my body would be working super hard to recover. So taking short walks several times a day definitely was part of my recovery plan too. I mostly just circled the backyard admiring our summer garden and flowering plants and watching the kids swim and ride their scooters. Getting off of the couch and taking these little "nature breaks" was as good for my soul as it was for my muscles!
I followed the same advice as I entered the chemo and radiation treatments- I drank several Ensure shakes each day along with soup and ice cream and took lots of short walks so that I was in the best possible place physically as I started these sessions. I know that initial focus of nutrition and exercise was a big part of why my first weeks of treatment went well and also why I bounced back fairly quickly once treatment ended (the last few weeks were awful- but that's a whole other story).
So here I am a year later and I am cancer free and feel awesome. Sure- I have some herniated disc stuff going on, some shoulder and elbow pain at times that remind me that I am not 25 anymore. But I know for certain just how important it is to take care of my health. To eat healthy nutritious meals, to make time to exercise, to watch my weight, to get enough sleep. And now I've made Ensure Enlive part of my daily healthy routine.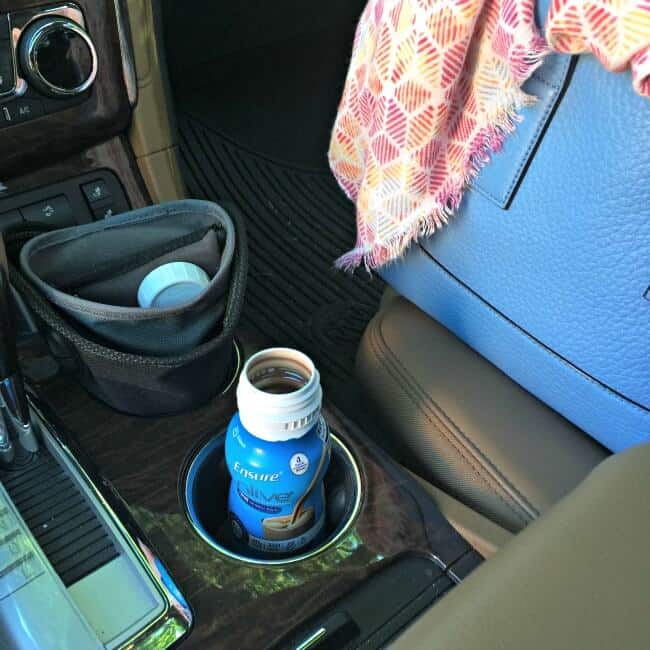 Ensure Enlive is a new nutrition drink that was designed based on science, and helps adults 50+ get the key nutrients their body needs. It has 20 grams of high-quality protein, and unique ingredient HMB which work together to help rebuild muscle for strength and energy. It has the right amount of nutrients in a cute convenient little bottle (that fits right into your car's cup holder when you are out running errands!) and when combined with a healthy diet, allows you to stay strong as you add on the birthdays! Ensure Enlive has also been shown to significantly improve health outcomes after illness, injury and surgery- so you can get back to living your life!
It feels great to be on this side of good health- to be happy and to have spent such a fantastic week with my husband and kids, my parents, and my brother and his family. Feeling very grateful and focused on being strong at 50!

Abbott partnered with influencers such as me for its Ensure Program. As part of this Program, I received compensation for my time. The opinions and thoughts in this piece are my own. Abbott/Ensure believes that consumers and influencers are free to form their own opinions and share them in their own words. Abbott/Ensure policies align with WOMMA Ethics Code, Federal Trade Commission (FTC) guidelines and social media engagement recommendations.