This week I put away the Halloween decorations and got out the paper turkeys to display on my family room mantle. We're full-on into November which means it is time to practice gratitude and start thinking ahead towards the holidays! This month I'll be hosting my annual Momof6 Holiday Gift Guide series (along with some fantastic reader giveaways!), I'll share some yummy recipes that your kids will love and can make a perfect addition to your Thanksgiving table. I'll be giving you some ways to get ready for the holidays with a checklist of things to do! And I'll share a plan on how to get your coat closet ready so you have a place to store everything when guests drop in!
But in the meantime…. here's what folks are reading and pinning this month on Momof6!
Adoption
November is National Adoption Month, a time to recognize and celebrate families that are created through adoption, just like my own. In this post, "Let's Talk About It", I explain why adoption was the right choice for us, and answer some of the questions that I am asked about our family. I also think this piece from Adoptive Families MagazIne on 8 Myths and Realities About Adoption helps to clear through some of the misconceptions about families and adoption.
The Thanksgiving Menu
No Thanksgiving table should be without homemade cranberry sauce (puh-leeze tell me that you aren't still serving the stuff out of a can!). And this one made with raspberry vinegar is so tangy and delicious, your family will love it!
These are a Thanksgiving tradition at our house- and not only do we serve these delicious cinnamon rolls with our Thanksgiving dinner, we also start the day with them- drizzled with icing and eating them while watching the Macy's Thanksgiving Day Parade!
Thanksgiving Decor
This post on the 10 Best Free Thanksgiving Subway Art Printables is getting tons of views and repins on Pinterest! I used the same art and decor in my home this year, and it looks wonderful!
Road Trips
Did you know that the day before Thanksgiving and Thanksgiving Day are the two busiest travel days of the year? And while media coverage often focuses on the chaos at the airports, 91% of long distance holiday travel occurs by car (*Source: Bureau of Transportation Statistics). If you are planning to hit the road and stay overnight this Thanksgiving holiday, you can check out my post on How to Pack for a Road Trip to get my favorite tips (such as pack by day, not by person).
Digital Scrapbooking
Many people create and give scrapbooks as holiday gifts- but they take some time to pull together. My 6-part series on How to Create Digital Scrapbooks for Free Using PicMonkey can show you exactly how to create a scrapbook our of all of the pics you took this year!
Minecraft Birthday Party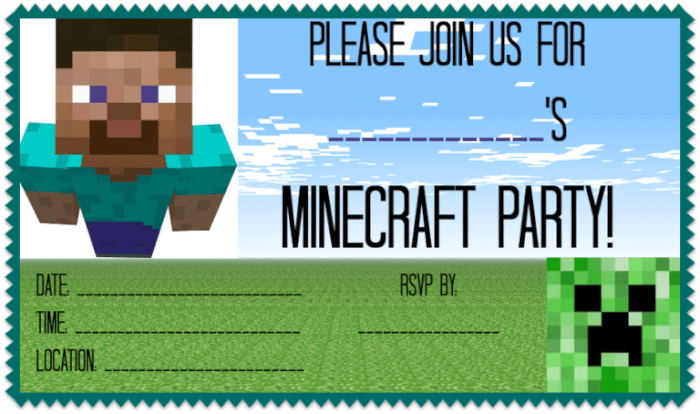 As we head towards winter, at-home birthday parties need to be held indoors… and these Ideas for a Minecraft Birthday Party make for a perfect indoor party!