Those beautifully organized pantries that you see on Pinterest and on those HGTV shows aren't just lovely to look at- they make finding what you need a dream! Spending a little time to get organized in the kitchen helps you to create meals around ingredients you have on hand, use food items before they expire, and avoid buying duplicates of things you already own! Here are 12 fantastic pantry organization ideas to inspire you!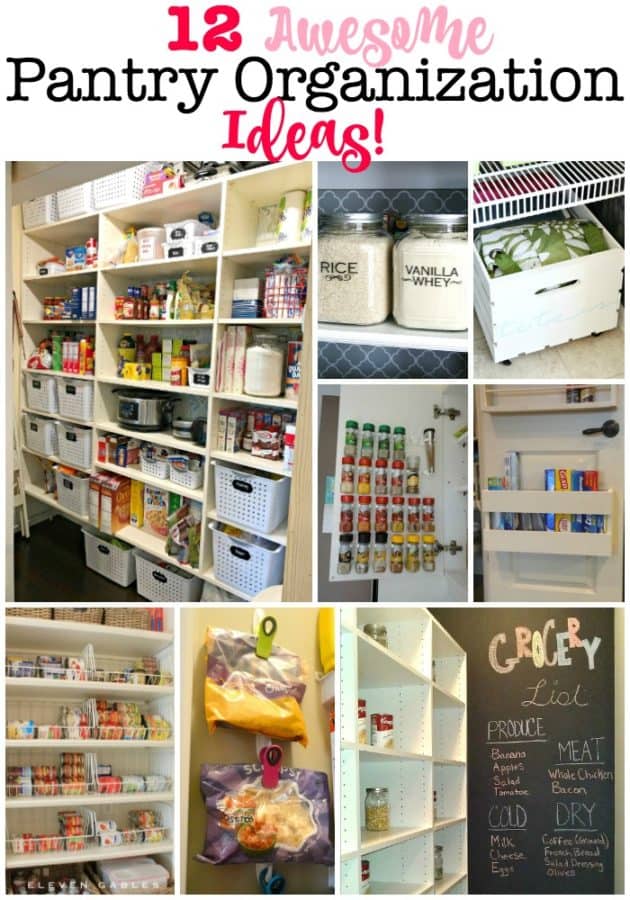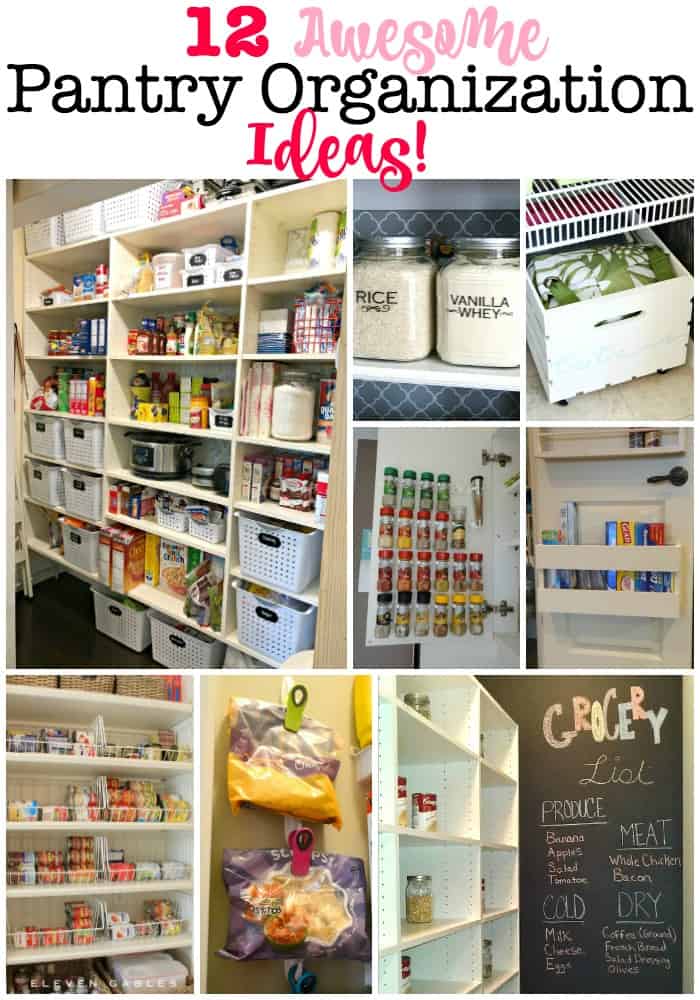 *Please note that some of the links in this post are affiliate links, which means I will make a small commission if you purchase through these links.
12 Awesome Pantry Organization Ideas!
Use Bins to Corral Like Items Together
Each section of the pantry should have a purpose. I've set up my pantry so that my shelves are dedicated to specific types of items- soups, pasta and sauce, crackers, beverages, condiments, etc.
I love to use these Sterilite bins to organize my pantry shelves. They help me to pack more into a smaller space, plus it makes it super easy for the kids to find the snack they want because they can just pull out the whole bin and see what's inside.
I labeled my bins using chalkboard labels This is an affiliate link: MomOf6 earns a commission if you purchase, at no additional cost to you.  and markers– so everyone can see what should be inside (and hopefully the labels remind my kids to put things back where they belong!)
I use smaller bins to corral small boxes of mixes together. Again- it is so nice to be able to pull out a bin and see everything I own rather than digging through the back of the shelves! You can see our recent pantry makeover here!
Other Ways to Maximize Your Pantry Shelf Space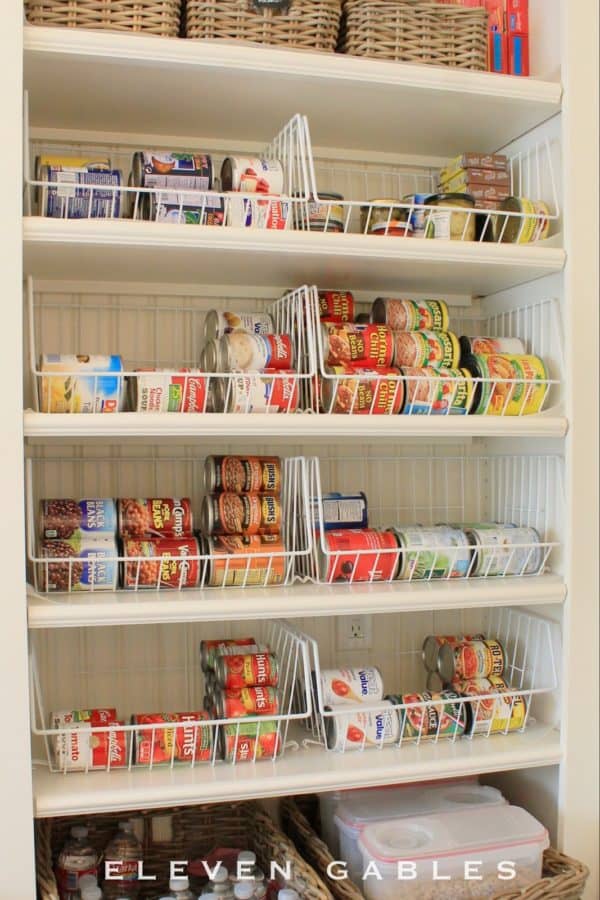 A can organizer system allows you to see everything and easily reach in to grab the one you need! (From Eleven Gables)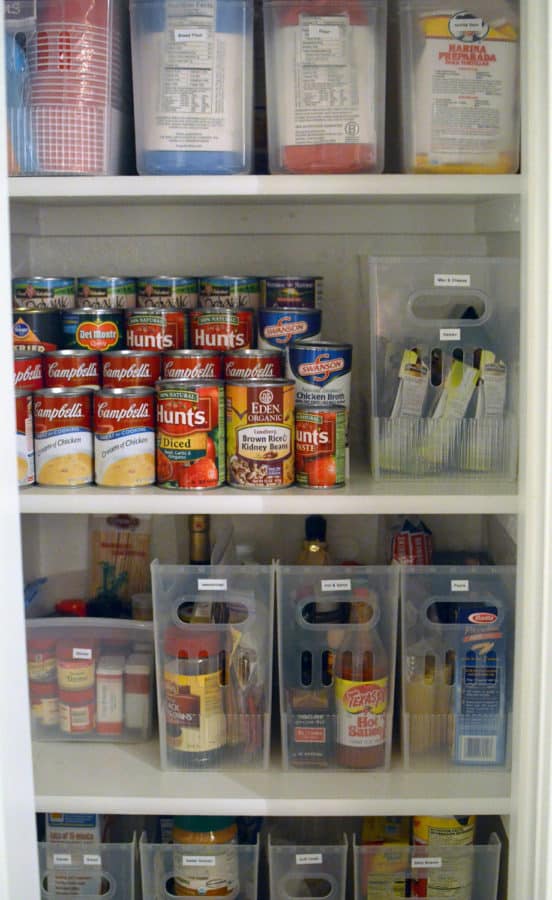 Clear filing bins This is an affiliate link: MomOf6 earns a commission if you purchase, at no additional cost to you. like the ones used by Stacy + Charlie are a great way to keep similar items together and see what's inside of the bin!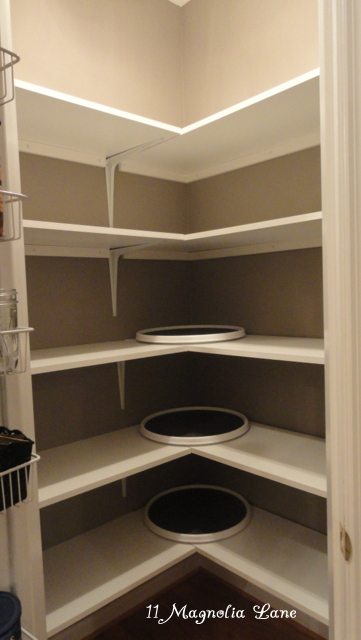 A great way to reach those back corners of a pantry is to install lazy Susans which can turn to display all of the items stored on top! (From the pantry makeover at 11 Magnolia Lane)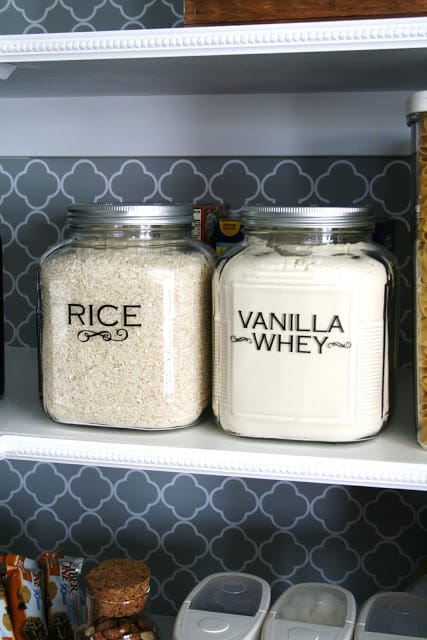 Glass canisters can give your pantry a uniform look- if you don't mind moving things out of their original packaging! (From The House of Smiths)
Make the Most of the Space On the Side Walls
No matter how deep or shallow your pantry is- there's always some space available on the side walls that you can put to good use.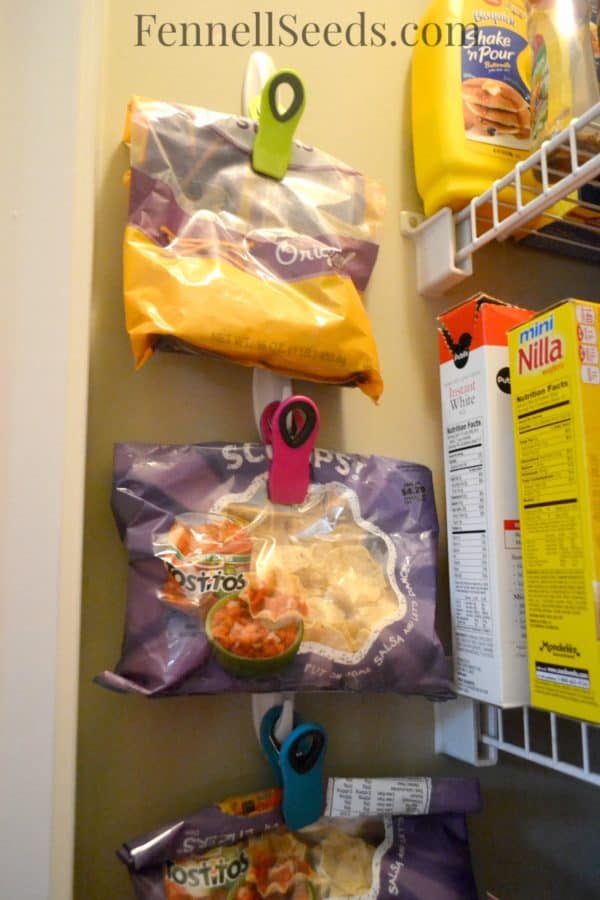 I love this idea from Fennel Seeds to use command hooks on her side wall, and hang chip clips over them to hold opened chip bags! This is one idea I am going to put into place right away!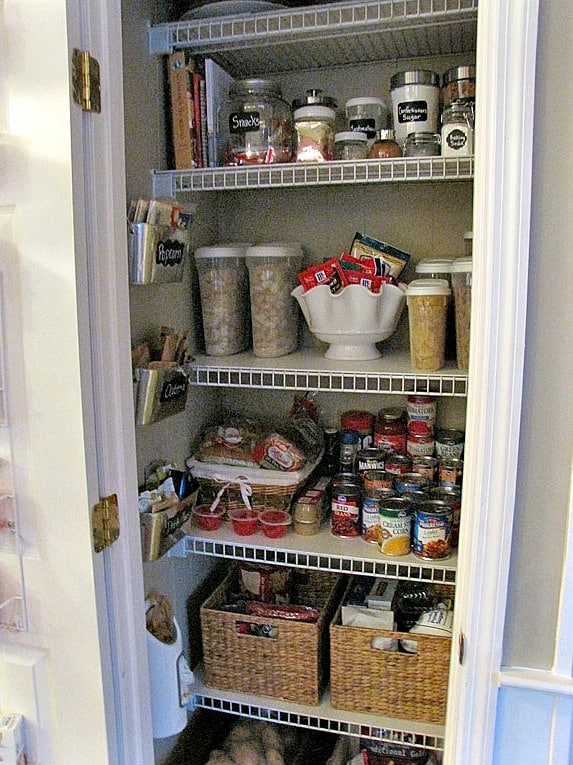 Traci from Beneath My Heart added metal baskets to the inside wall to hold microwave popcorn packages, oatmeal packs, and drink mixes.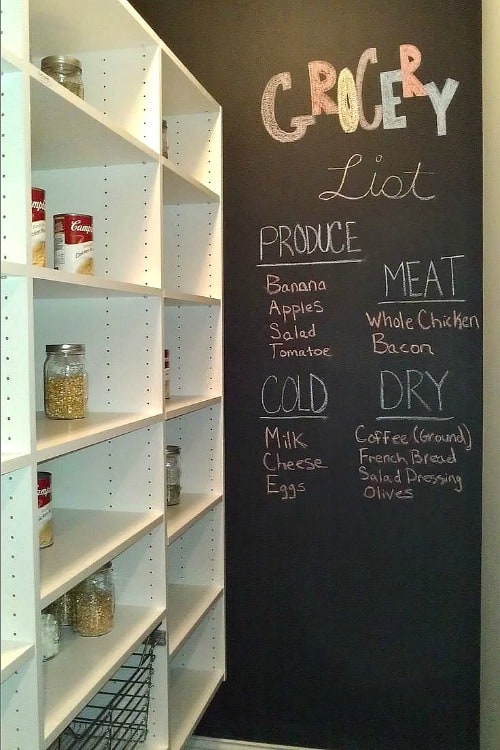 I love this idea of painting the side wall with chalkboard paint and using it as a place to keep a running grocery list! Simply snap a photo to use the shopping list at the store- erase and begin again!
Maximize the Back of the Door!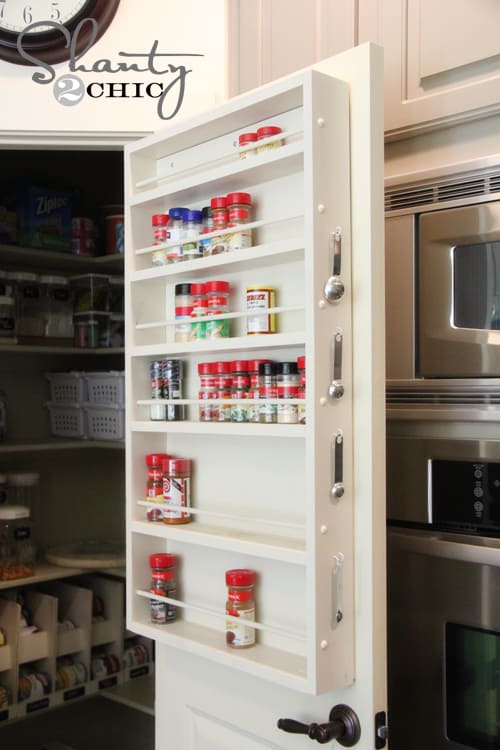 This is a beautiful DIY spice rack created by Shabby2Chic! Here's a similar back of door wood spice rack This is an affiliate link: MomOf6 earns a commission if you purchase, at no additional cost to you.  you can purchase!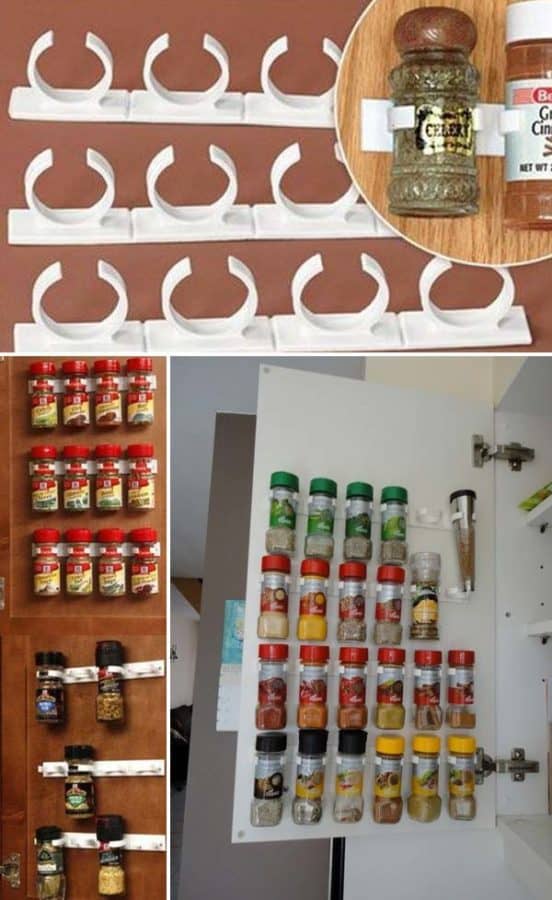 Spice clips mounted on the inside of a pantry door makes it easy to grab the jars you need and easily return them to the door in an organized manner. (From LazyTries)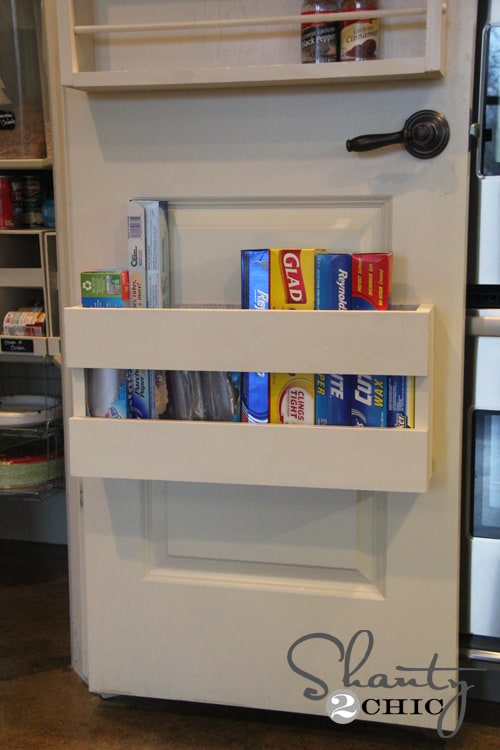 I also love this DIY foil and wrap rack that mounts on the door from Shabby2Chic!
And Don't Forget the Floor!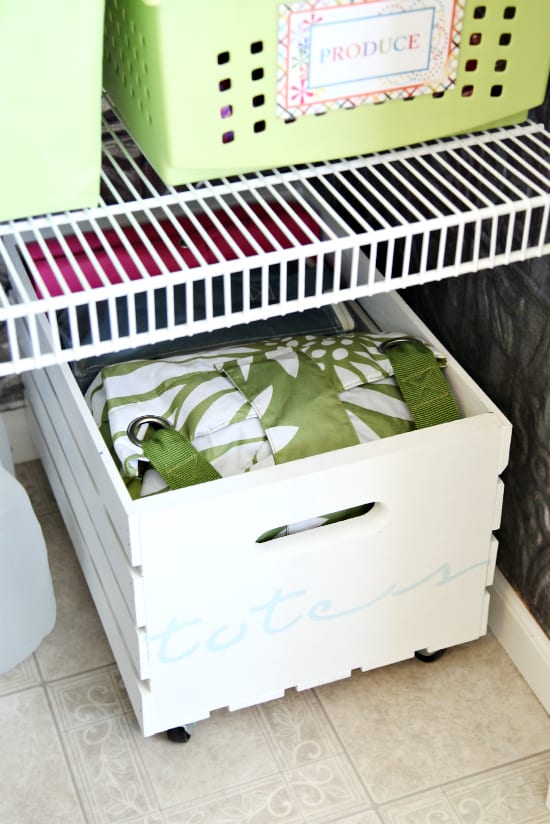 Jen from I Heart Organizing built these rolling storage crates from a basic wooden crate. It helps to use every last inch of space in the pantry!
Here are some more great ideas on how to organize your home!
Are you ready to get your life organized? Register for Busy Moms Boot Camp!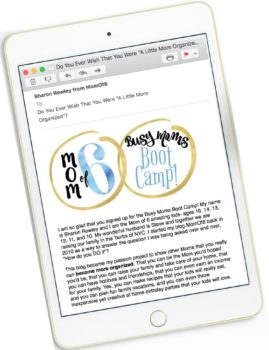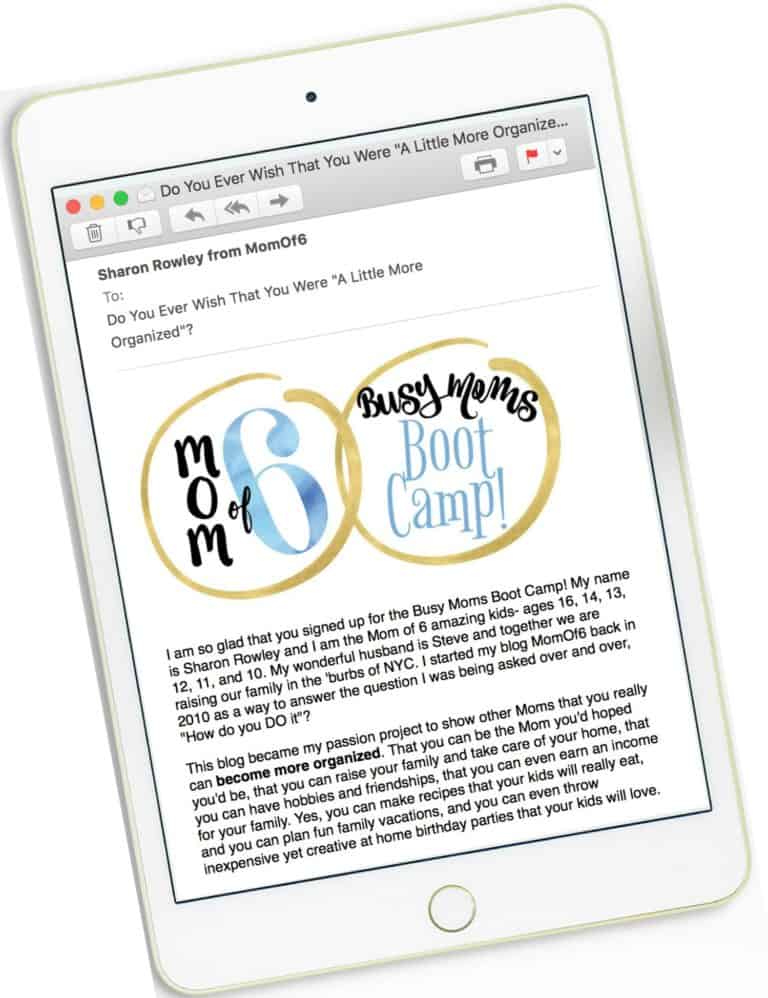 It's a free series of 10 weekly emails that can help you put some organization back in your life and help you to create room for all of those things that you'd like to be doing- whether that's making time to celebrate the little things with your family or carving out some space for yourself. Busy Moms Boot Camp can help you to move from chaos to organized! Simply sign up below to get started!