A gratitude list is the perfect place to start when you want to set a new direction for your life. Before you jump into the goal setting process it is so important to stop and reflect on where you've been, what you are grateful for, and what you've accomplished in this past year. This post is the first in a 3-part series designed to help you to get organized this year.
Michael Hyatt wrote an inspiring book called " Your Best Year Ever This is an affiliate link: MomOf6 earns a commission if you purchase, at no additional cost to you. ". In it, he questioned some well known high achievers as to what they do to set themselves up for success in the new year, and he found that their responses were very similar to one another.
The first thing that they do is to spend some time reflecting on the current year. Tony Robbins was quoted in the book as saying how throughout the year he collects "accomplishments and magic moments" in a journal and then spends time reflecting on these at year-end before he moves forward into setting goals for the coming year. I love this idea!
How many of us make "to do" lists every single day without ever stopping to celebrate what we actually accomplished and "got done"? (raises hand- HIGH!). That's why I created this gratitude list worksheet!
The 3 Sections of The Gratitude List Worksheet
Accomplishments
What do you see as things you achieved or even helped others to achieve this year? Yes- it totally counts if you potty trained your toddler or taught your preschooler how to tie his shoes!
And it also counts if you stuck to a personal goal, achieved a new level of performance in your job, or even just cleaned out a closet that had been driving you batty!
Magic Moments
What warmed your heart this past year? What memories have you logged that just make you feel great about your life?
I find that many of my magical moments are actually small things- like remembering a summer afternoon with my kids picking strawberries or thinking about how my daughter demonstrated so much confidence on her 5th grade graduation day!
Grateful For
And then there are the things that we just grateful for- the people in our lives, the possessions that bring us joy every day, and the things we believe in with all of our hearts. These aren't necessarily events or occasions- they are often the steady things in our life that we can count on but don't always remember to celebrate.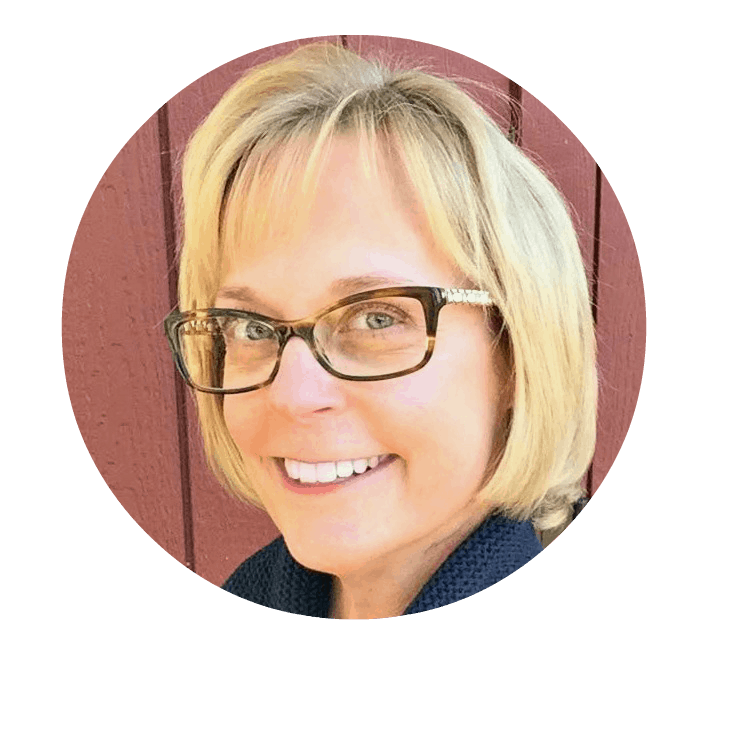 Looking for more great tools to organize your home?
Then be sure to check out these lists of my favorite Closet Organizing Tools This is an affiliate link: MomOf6 earns a commission if you purchase, at no additional cost to you. and Bathroom Organizing Tools This is an affiliate link: MomOf6 earns a commission if you purchase, at no additional cost to you. over on my Amazon influencer page This is an affiliate link: MomOf6 earns a commission if you purchase, at no additional cost to you. !
Ways to Jog Your Brain
It can be daunting to sit down with a blank piece of paper and try to think about what was great this past year. Some here are some ideas to get you started:
Look through your camera roll- what events and moments did you capture?
Glance over your calendar– what appointments/commitments did you have?
Scroll through your own Facebook and Instagram pages– what did you share with others?
Think through the different areas of your life– your personal life (things you do just for you), your family life (and the relationships in it), and your work life. What happened in each of these areas?
Want Your Own Gratitude List Worksheet?
Awesome! Simply sign up below to join the MomOf6 community, and you'll be directed to a thank you page with access instructions!
*You can view our Privacy Policy here. To access the printable without subscribing to our newsletter, click here to send an email requesting access.
What Comes Next?
The second post in this series focuses on a goal setting worksheet that helps you to define your goals and set up an action plan to start you on your way to achieving them.
The third post focuses on daily and weekly accountability towards these goals- because you have to actively work on daily goals and longer-term goals over time if you truly want to achieve them!
Would You Like to Get More Organized This Year?
Are you ready to get your life organized? Register for Busy Moms Boot Camp!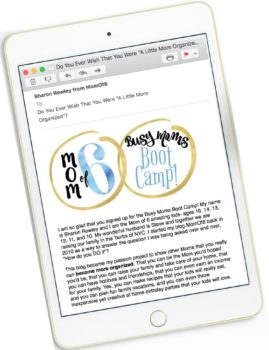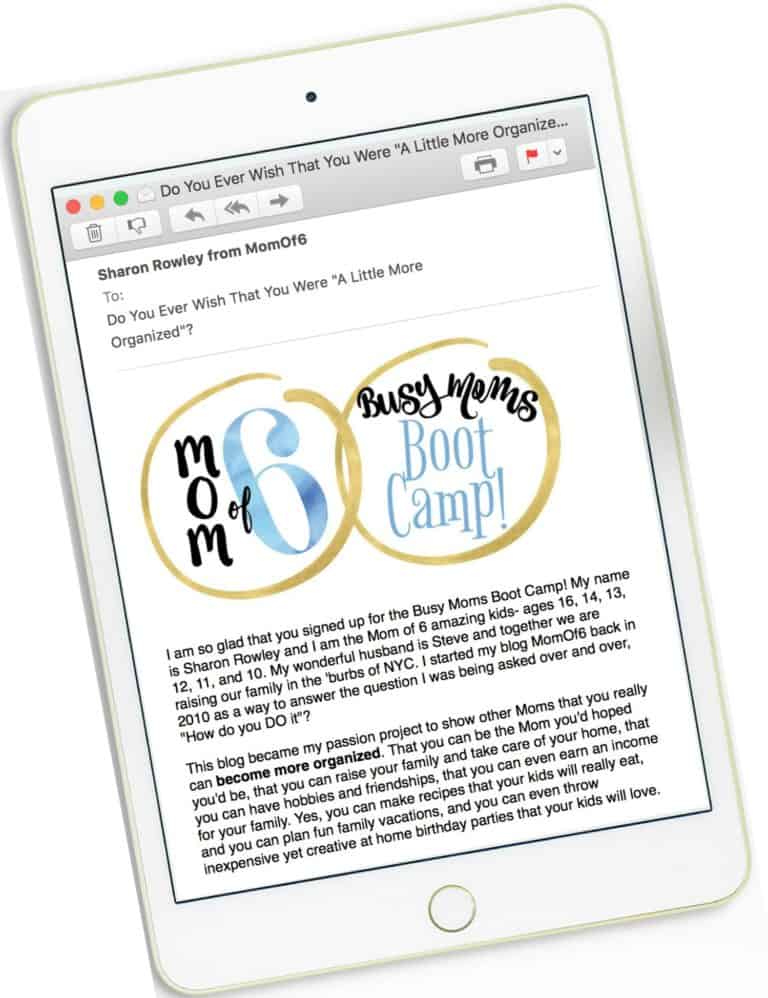 It's a free series of 10 weekly emails that can help you put some organization back in your life and help you to create room for all of those things that you'd like to be doing- whether that's making time to celebrate the little things with your family or carving out some space for yourself. Busy Moms Boot Camp can help you to move from chaos to organized! Simply sign up below to get started!

I would love to hear what's on your gratitude list this year! Please leave a comment and let me know!