One of the more challenging decisions you have to make when you have 6 kids is finding the best large family car that is comfortable for everyone to ride in and also gets decent gas mileage. We spent a lot of time researching cars that would work for us, and truth be told- there aren't a lot of options out there- especially if you want seating for more than 8 people! We bought our first Mercedes Sprinter 10 years ago- and it was really a perfect choice for our large family!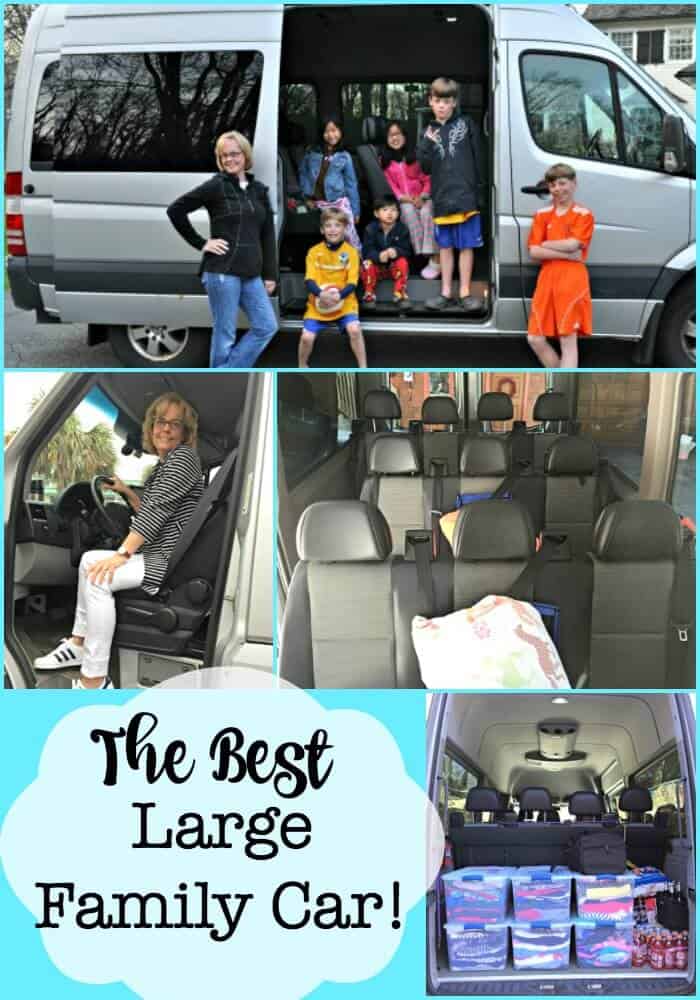 This "Mommy-bus" comes equipped to handle 12 passengers- which means my kids plus four soccer teammates! Even super-sized SUVs wouldn't give me the option of carpooling- so that is a huge plus for us!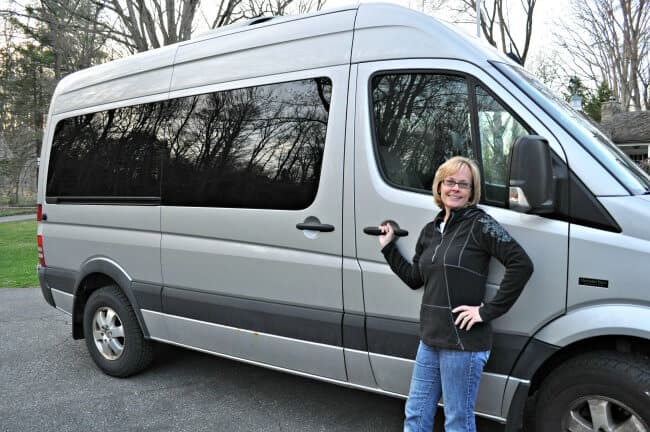 And what's really cool- it's that it is very tall.
You can completely stand up in it- so when you are cruising down the highway on a 12-hour road trip to Grandma's, and the DVD player in the back row stops working- you can just unbuckle from that front passenger seat and stroll right down the aisle to the back of the bus and render some technical assistance- without all of that cumbersome stooping and climbing over seats!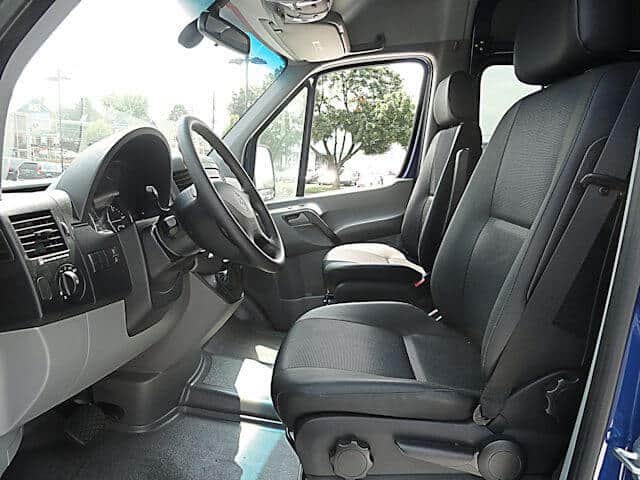 And just look at that driver's seat….  is that luxury or what? 18-wheelers everywhere will be jealous of your faux-leather interior and your heated seats!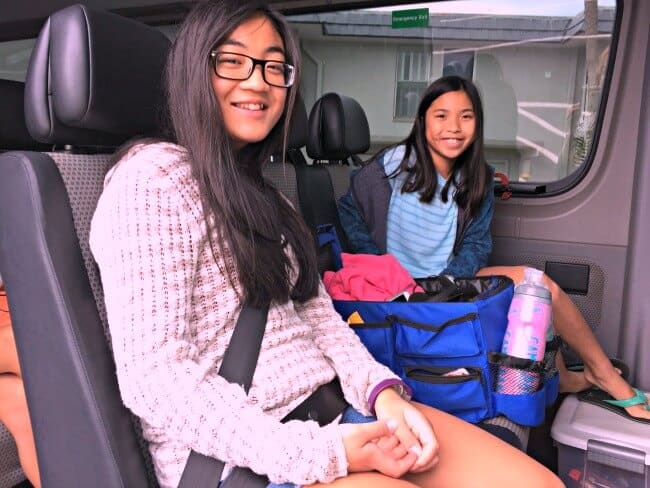 And you can just forgo that gym membership- your biceps will be toned and buff from the workout involved in sliding that 10,000 lb door back and forth countless times each day… dropping kids off and picking them up. (No wimpy automatic sliding door for you- no sir!)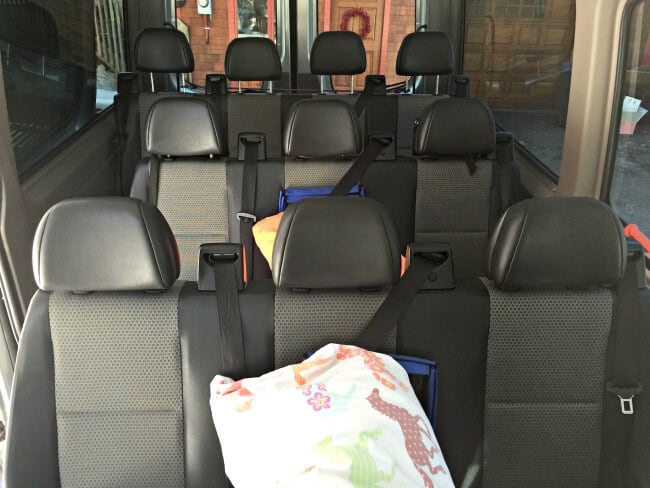 Ahh…. just take a look- is that a jetliner?
No- that is the four, yes count them, four rows of luxury seating- enough to seat 10 passengers behind the front row! Each of the rows has the same amount of legroom- unlike many 8 passenger SUVs where the third row is tight and cramped.
This is so important as your kids grow up- you can't fit lanky teens in the third row of many of those cars!
And would you just look at the cargo space! Seriously- we could almost LIVE in this car!
But all kidding aside- this truly is the best large family car!
I truly love my Mercedes Sprinter passenger van. After 10 years we have taken dozens and dozens of long-distance road trips- putting nearly 200,000 miles on it. And this fall we traded it in for a new model because we knew we would use it for at least another 10 years!
It gets excellent gas mileage- 20-21 miles/gallon. It has a diesel engine and currently diesel fuel is more expensive than regular unleaded gasoline, but over the course of owning this car, there have been times that diesel fuel has been cheaper than gasoline.
I do not need a special type of driver's license to drive my Sprinter, it is considered a regular passenger vehicle. And it really is not very hard to drive or park (except maybe parallel parking).
It is tall- 9 ft 6″- which means that I cannot drive it on many of the parkways in the Northeast because of low bridge clearances. And I cannot take it through many fast-food drive-thru windows, again because of the low clearances.
And sometimes when I am driving in windy conditions- the tall profile of this van leads to "shimmying" as I drive- which is something to keep in mind.
And no, it does not have bunk beds or a toilet in it (as so many people stop to ask me).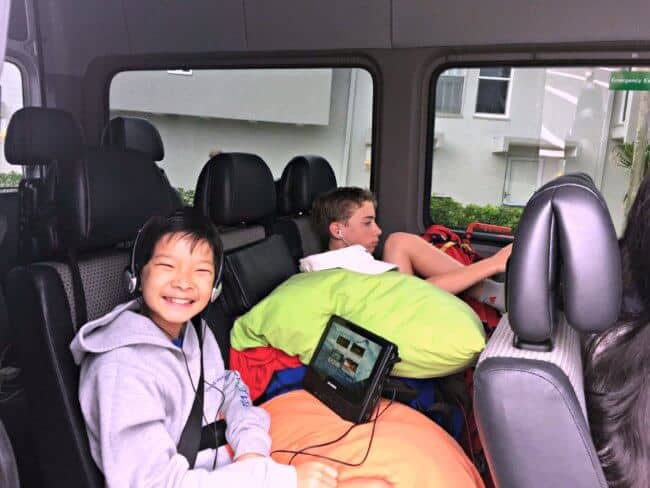 Why is the Sprinter right for us? 
The reason we bought this car a few years ago was because when we jumped from 5 to 6 kids we could no longer fit in my old mini-van and the only option in a "standard" type of car was of the Suburban/Tahoe sized range- and all of our kids were still in car seats or booster seats at that time.
Even those large vehicles couldn't handle running 3 car seats or boosters seats across each of 2 rows and leave enough room for kids to easily reach down and buckle their own seat belts (which was a requirement of mine!).
So we really felt that our best option was to start looking into full-sized passenger vans and after doing quite a bit of research- we felt that the Sprinter (a Chrysler product back then, but now exclusively a Mercedes product) offered the best price, the best fuel economy, and the best options for "extras" such as heated seats of any of the full-sized passenger vans on the market at the time.
Now some people hear the label "Mercedes" and assume that I am driving an uber-luxury car, but that just isn't the case. This is really part of their truck division- and it is much more of a very nice truck than a luxury SUV- and at half the price of those decked-out 8 passenger SUVs.
I really do love my Sprinter van- and feel that is is the best large family car on the market!
More Posts You Might Enjoy On Large Family Parenting