I've read all kinds of fantastic, inspirational books and posts on how to be a "good" parent in a large family– especially on the topic of how to spend dedicated time with each child individually. I've watched TV shows where the parents go on separate "dates" with each of their kids every month, and I've thought hard about how I might be able to make something like that work. But real life doesn't work quite like a TV show- and spreading myself among all of my kids is one of the great balancing acts of parenthood!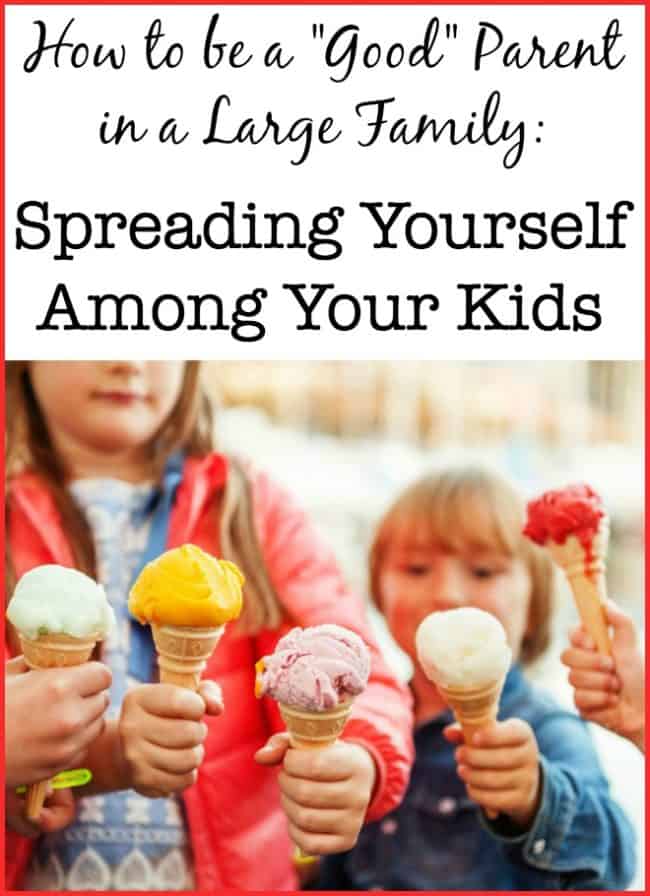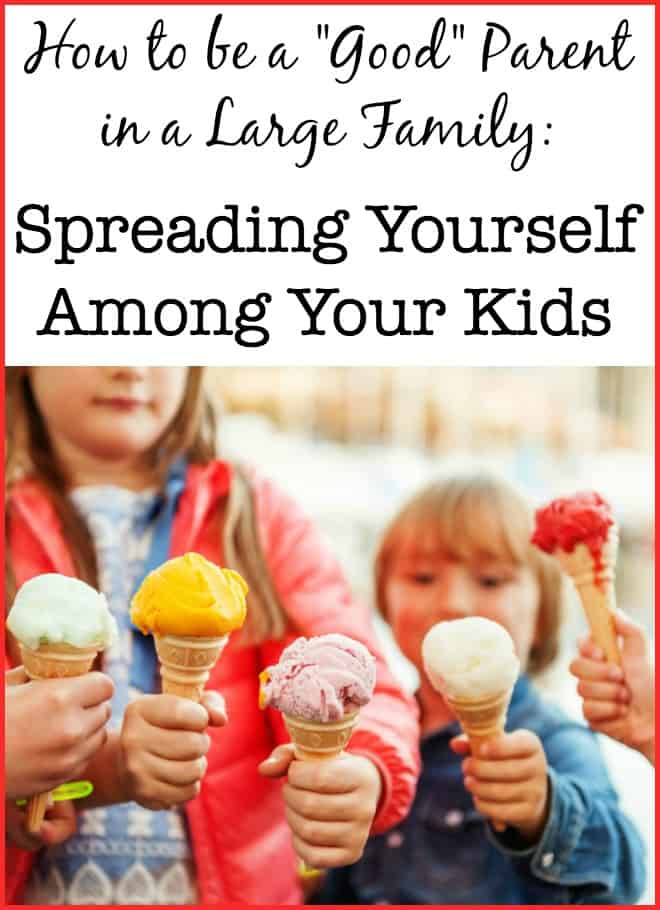 I've even thought about nominating a "Kid of the Day" (6 days a week!) and allowing that child to decide what we would eat for dinner, maybe help make a special dessert, and get to pick what the family watches for TV.
But you know what? While I have all kinds of good intentions- these ideas are just not for practical for my family and me. "Kid of the Day" goes hand-in-hand with the idea that every day should be Mother's Day (a lovely sentiment, but impossible to deliver day-in-day-out.)
And a night out with each kid individually? Well honestly, it takes a backseat to a date night with just my hubby and me, because we don't even get enough of those!
I know that I am not the only parent of a large family who feels the guilt of not spending enough dedicated one-on-one time with each child. Momof6 reader Sandee asked me to write about this issue and voiced her own frustrations:
"Please talk about how to spread yourself…..I sometimes feel pulled having 6 kids from 25yrs down to 6yrs old."
So Sandee, here are some of my suggestions on how to be a parent in a large family and "spread yourself" among your kids:
Tips for Being a "Good" Parent in a Large Family:
1. When the Kids Are Home, Attempt to Limit Your Own Distractions
I spend so much of my time while the kids are in school multi-tasking, juggling, super-balancing, whatever-you-call-it just trying to get lots of things done. And after trying to tackle so much between 8:30-2:45, it can be hard just to shut it all down once the kids walk into the house.
Sure, I'll meet them up at the bus stop, help them get a snack and unpack their backpacks. But then I'll decide to "just take a moment to check my email", or make a quick escape just to throw in one more load of laundry.
Either one of these would be fine, but as soon as I allow myself to tackle one thing on my to-do list, I'll try to get just one more thing done, and the next thing I know- an hour has gone by, and I have taken my focus completely off of being with my kids.
So the first step in "spreading myself around" is to limit myself to just the six of them once they are home from school!
2. Seek Out Quiet Times of Connection
I know I have a golden moment of opportunity to check in with my middle schooler in the 30-minute window between when he gets home from school and when I need to leave to meet the elementary school bus. I learn more about what is going on with him at school and activities during this time than at any other time of day.
And sometimes, logistics will dictate that either Steve or I have just one kid along for an activity while the other parent is with all of the other children- and this creates a great opening to ask questions or share some sort of a story to get that one child talking with us.
These times are never planned, they just happen- and we need to keep our eyes open and make sure that we recognize these opportunities for connection, and not just fill that time by singing along to the radio in the car!
3. Sit-Down Family Dinners ARE Important
We play a dinner-time game called "High, Low, Hope" where we go around the table and each person gets to say what the best part of their day was (their "High"), their least favorite part of their day (their "Low"), and what they wish to happen tomorrow (their "Hope).
Not only does it allow each child to share some of the important parts of their day with me, but it allows them to see that each person in the family is valued and that we all listen to each other and care about each other's day even when we are not together.
Not every family member has to be present at every single meal for this to matter. In fact on nights when Steve can't make it home in time for dinner, we proceed without him. And if one child has soccer practice, the rest of us will still sit down for dinner at the same time and talk.
This communicates to our kids that this is an important and consistent overall routine, and they know that we will continue it even if we are missing a member or two on a given night.
4. Support Each Child in What They Love to Do
One of the toughest things about having a large family is giving everyone the opportunity to try different sports and activities so that they can learn what it is that they love to do, and are good at.
Supporting them in this effort means creating the time for this endeavor for each one of them- no matter how hard it is for you at times to take on yet another thing to do.
And by support, I also mean that we attend every single soccer game, every band concert, every science fair- as a family. Because everyone counts, and what is important to each of them individually needs to be important to each of us.
And yes, this can lead to some grumbling- especially when the older kids don't see the value of being dragged along to watch a younger kid's game or activity- but we continue to reinforce how important it is for that younger sibling to know that the older sibling cheers for them and cares about how they do.
5. Kiss Each One Goodnight and Pause at Bedtime to Listen
Most parents realize that those magical minutes right at bedtime are such a great time to connect with their children. Kids love being tucked in (well until they hit their teen years at least), and after you shut off the light and give them one last snuggle, praise, or words of advice, kids often are ready to open up and share something that is on their mind.
But when you have kids with multiple bedtimes that stretch over the course of the early evening hours, and you are so very tired- it is easy to bypass this chance to connect with your kids individually. But sometimes this is your ONLY opportunity to reach them individually, so try reaaallllly hard not to let it pass you by.
6. Take Advantage of Drive Time
Sometimes I will "change up" our car seating arrangements to ask one of my kids to sit in the row closest to me as I am driving, and I'll gently suggest that the other kids sit together in the back of the "Mommy bus."
It is much easier for kids to open up and chat about what's on their mind when they aren't making direct eye contact with me (because my eyes are on the road) and they are not distracted with whatever else is going on in the house. I can get away with asking much more direct questions for a longer length of time than I can if I am asking face to face.
More Posts You Might Enjoy On Large Family Parenting
I would love to hear your tips on how you "spread yourself" among your kids.