Last summer our family took an amazing family road trip to the incredible National Parks of Utah– and we were blown away by the beauty, the diversity of the landscape, and the hiking opportunities! In this post I'll share how we visited 5 National Parks in one week-long vacation- what we saw, and some cool things that you won't want to miss!
In the span of one week- we visited Arches National Park, Canyonlands National Park, Dead Horse Point State Park, Grand Staircase-Escalante National Monument, Zion National Park, and Bruce Canyon National Park- and it was amazing!
So let me walk you through an itinerary that we followed that allows you to see all of these incredible places in one week!
A Few Tips on Visiting the National Parks in Utah
Buy a national park pass
Purchase your national park pass online before you go. It costs $80, it's good for a year, and it will save you money if you visit more than 3 National Parks on this trip.
Head out to visit the parks early
This is especially true if you are visiting in the summer! The more popular trails will be less crowded- and more importantly- you'll beat the heat of the day!
Getting to the National Parks of Utah
Now when it comes to getting out to Utah- you can fly in/out of Salt Lake City or Las Vegas. We chose to fly into Salt Lake City and then rented a 12-passenger van from AVR (which was perfect for the 8 of us plus all of our luggage!)
Our first destination was the town of Moab- a 4-hour drive from Salt Lake City (or a 6 ½ hour drive from Vegas).
Moab was our home base for visiting both Arches and Canyonlands as well as Dead Horse Point. Our first day of the trip was all about getting there- and doing a little exploring the town of Moab. We stayed in a condo we rented on VRBO and it was fantastic! And we celebrated the kick-off of our trip with a special dinner at the Sunset Grill!
Arches National Park!
On Day 2 it was time to get out and explore Arches National Park!
In Arches, we started our day hiking to Delicate Arch, and then followed that hike with one to see Landscape Arch. These stone monuments are absolutely incredible to see up close!
It is worth taking some time to drive through the entire park- you can see many arches right from the car- and be sure to take the turnoff to see the Windows area! We spent about 6 hours hiking in Arches National Park before heading back to Moab.
In the afternoon as temps soared above 100°, we cooled off by riding on a river tube down the Colorado River! Canyonlands By Night makes it easy to rent the tubes, life jackets, and even a cooler, and then they'll drive you up the river to a drop-in point.
You then just leisurely float back to their location over the course of an hour or two. The setting is just spectacular!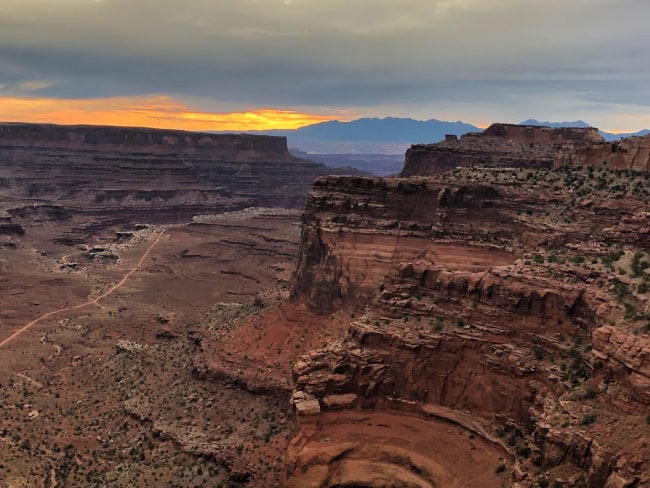 Canyonlands National Park
On Day 3, we drove 30 miles from Moab to Canyonlands National Park to see the Island in the Sky District of the park.
We arrived soon after sunrise and started our visit by hiking to Mesa Arch- which is so unique because it's an arch above a cliff that drops off 800 feet to the canyon bottom.
We then continued on Grand View Point Trail and took the 2-mile hike along the rim of the canyon to get an incredible 360-degree view.
On the way back to Moab, we stopped by Dead Horse Point State Park for incredible views of the Colorado River sweeping around a small peninsula where cowboys used to pen up wild mustangs. The canyon drops away 2000 ft here, and the views are spectacular.
We loved the small town of Moab! Some other restaurants to enjoy in Moab are The Spoke on Center and Antica Forma, and be sure to check out the shops – one of our favorites was Crave Moab!
Grand Staircase-Escalante National Monument
On Days 4 and 5 it was time to explore some slot canyons! And the place to do this is in Grand Staircase-Escalante National Monument- about 3 hours from Moab.
On the drive over on Hwy 24, you'll pass through Capitol Reef National Park– another place of spectacular beauty, so named because early settlers felt that the views appeared as colorful as a coral reef!
The town of Escalante was our home base for night 4- and we stayed at Escalante Escapes– a community of brand new beautifully designed tiny houses! We rented two of them for our family of 8- and we loved it! And we highly recommend Circle D Eatery for a great dinner!
So let's talk about those slot canyons! We hiked 4 slot canyons on our trip- which were incredible experiences! So just what is a slot canyon? It is a very narrow and tall canyon formed when water rushes over rock. Some slot canyons you can hike to, others you have to rappel in to enter- but the most important thing to remember is that you need to be very mindful of the weather- both in terms of rain in the forecast as well as recent rainstorms that can lead to flash floods in a slot canyon and a very dangerous situation.
On Day 4 we started with a hike to Zebra Slot Canyon– where we were met with a great deal of standing water even though it hadn't rained there in days! Enough so that we actually had to swim through parts of the canyon! The kids thought it was quite an adventure!
We also hiked Willis Creek Slot Canyon on Day 5. Two slots that we didn't do- but are on our list for a future visit to Grand Staircase are Peek-A-Boo Gulch and Spooky Gulch. And we have to thank the travel blog: Earth Trekkers for all of their posts on these incredible slot canyons, as well as trail descriptions!
After our hike through the Willis Creek slot canyon, we drove 2 ½ hours to get to the town of Kanarraville, where we hiked the Kanarraville Falls slot canyon. This one is unique because you'll find 2 waterfalls along the way!
Zion and Bryce National Parks!
We made our home base for the next 3 nights the town of La Verkin, Utah and stayed in a fantastic home we rented through VRBO. We were fortunate to be joined by my husband's brother and his family for this leg of the trip- where we explored Zion and Bryce Canyon! Two truly spectacular national parks that you have to see!
We spent Day 6 in Zion National Park– where our group split into two- the more adventurous among us tackled the daunting Angels Landing Trail- a unique fin-like mountain formation that juts out into the main canyon.
It ends at viewpoint more than 1500 feet above the canyon floor- and you'll encounter dozens and dozens of switchbacks on this trail to get you up and down from that viewpoint. It is not for anyone with a fear of heights!
This is why I was part of the 2nd group who instead hiked our 4th slot canyon- the Narrows! You hike right in the Virgin River until you reach the area where the canyon walls narrow. Hiking in the water made it challenging but kept us cool. It was one of the best hikes of my life!
On Day 7- we headed to see Bryce Canyon– where we started on the Wall Street section of the Navajo Trail and connected to the Peekaboo Trail that eventually led us out of the canyon at Bryce Point. The vistas around each bend in the steep trail were more incredible than the last! This was another one of the best hikes of my life!
We ate some fantastic meals during this leg of the trip that we highly recommend: Stage Coach Grille in La Verkin, The Bit & Spur in Springdale and Cliffside Restaurant in St George. If you go- you might want to check them out!
We only just barely scratched the surface of all that there is to see and do in Southern Utah- that I know it won't be our last visit! And a trip to this area of the country can easily be combined with a visit to the Grand Canyon, Antelope Canyon, or Lake Powell.
You might want to check out these other posts that offer tips and advice on planning and packing for road trips:
And if you are looking for some more cool destinations: