My brother, dedicated roller coaster rider that he is, long ago promised my kids that he would take them to ride roller coasters with him at Cedar Point Amusement Park. My brother and I grew up outside of Cleveland, Ohio- and Cedar Point is located about 80 miles from our hometown,so we had visited several times as kids. But way back then "in the olden days", coasters weren't what they are today. Back then they were herky-jerky-wooden roller coasters that went 40 miles an hour, and climbed to a whopping height of 5 stories, but we thought that they were a huge thrill. These days we're talking about steel coasters that rise higher than the Empire State building, are launched by catapult and reach speeds of 120 mph. These coasters are not for the faint of heart. (And quite honestly, they are NOT for me!) But my brother tempted them with exciting youtube videos that Cedar Point has produced, that show what's it's like to sit in the front row of these coasters- and to my kids, this seemed like an awesome idea!
We made plans to meet my brother on a Sunday afternoon and stay at a hotel right on Cedar Point property called The Hotel Breakers. The cool thing about this hotel is that your kids can watch several of the coasters and thrill rides while walking along the hotel's beachfront (it's located right on Lake Erie) and already get the adrenaline pumping for the next days' adventure. The uncool thing about this hotel is that since it is located next to Lake Erie, there are about a million sea gulls, the size of small dogs, that hang out on the roof of the hotel. And these gulls like to poop- a lot – on your car. When I walked outside the next morning to put our gear away before heading over the park, I was astounded by the sheer volume of grey matter that coated my car… and I spent the entire drive home the next day praying for a rainstorm to wash it away.
Ridin' Coasters
Staying at an on-site property also allows you to enter Cedar Point an hour earlier then general admission entry…. so we were right there at 8:45 am lined up- all 7 of us- along with my brother and his girlfriend, ready to make the most of our day. Once inside we immediately headed over to a roller coaster called "Maverick" that my brother promised was a bit tamer than most, and would be a great introductory coaster for those of us who were unsure how many high-thrills roller coasters we could handle. (Future note to self: Don't trust your brother's advice on selecting tame roller coasters.) The Maverick had two crazy drops that had me flying (literally) out of my seat, followed by a few upside-down turns and corkscrews.  I think three of us jumped off of that ride declaring that we were done with coasters for the day- and it was only 9:15 in the morning… not a good start. (Not to worry, we all rallied and rode some of the true tamer coasters like Blue Streak, Gemini, and Corkscrew later on).
Left with just one daredevil rider, my brother took Spencer over to the Millennium Force coaster. Now if you've seen this thing, you know it's crazy! It goes up higher than the Empire State building, comes down at an 80° angle, and goes 93 miles an hour. Yeah…. so um, they did that while I took the rest of the kids over to the midway to ride bumper cars!
The Melt-Down
Cedar Point is rather diligent about its height restrictions on rides- all rides- even driving bumper cars and riding the antique cars around the track- which is a total bummer if you're 47″ tall and 97% of the rides require you to be 48″ tall to ride, or to ride alone, or to drive. What's worse is that they don't have armbands for this stuff…. so the re-measure humiliation occurs every time you are in line for a ride. My daughter was measured about 495 times on this day- proving her 48″ status over and over, while my son, at 47″ tall suffered his defeat at every single ride- being the only one stuck to ride with Mommy over and over (they wouldn't even allow him to ride with his older brother!). This eventually led to a colossal meltdown of a magnitude and duration I had never witnessed before. The kind that not even the promise of an ice cream cone, an icee, and a walking taco could fix.
Yeah. Fortunately my brother was able to convince him that this lame-o kiddie carousel was fun, and we eventually got on with our day.
I could never have managed six kids at an amusement park without the help of my brother, his girlfriend, my nephew, and his girlfriend- which gave us enough adults so that we could divide and conquer the park, and hopefully get all of the kids on everything they wanted to ride!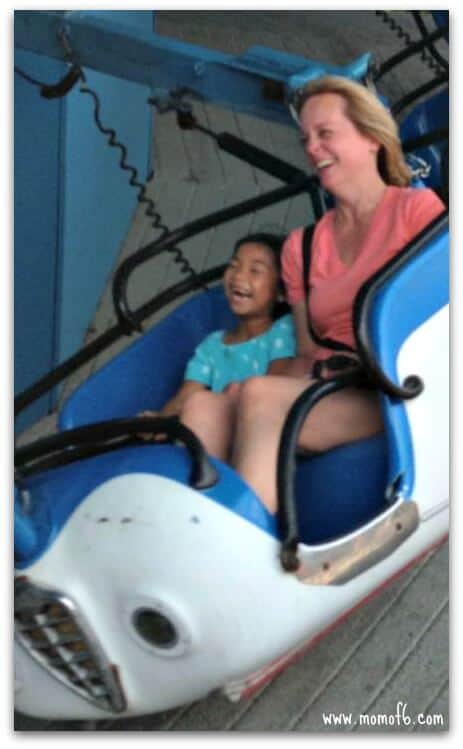 So some of us spent most of our day enjoying the midway rides- like my favorites the Matterhorn and the Himalaya- and some of the kids rode when I call mid-level coasters like the Gemini and the corkscrew (which were actually the same coasters that were the "big coasters" when I was a kid) and then some of the kids went on the kiddie coasters like Jr Gemini and Woodstock Express over and over.
We all left Cedar Point feeling that we enjoyed a good time, but I'm thinking it might be a few more years before we head back. Definitely so that my 47″ tall guy can make the mark- and once I have a few more kids that are truly into the serious roller coasters!
What Are You Doing for Summer Fun?
My friend Amanda from Dude Mom and I are hosting a Friday link-up this summer…. where we will be sharing our own #SummerFunFriday stories, and we'd love to read yours! So if you have written a recent story on your blog of what you are doing for summer fun…. link up!