A few years ago a friend told me about this amazing experience she had with her family volunteering at Arlington Cemetery with an organization called "Wreaths Across America", whose goal is to place wreaths on the graves of every single person buried at Arlington as a way to express their commitment to Remember, Honor, and Teach. She told me how it was one of the most incredible things she had ever done with her family. It taught them the value of volunteerism and really got them to comprehend the gratitude she feels for those who have served our country.
I was moved by what she shared and immediately came home to look up Wreaths Across America and see how we could participate as well. This post shares our family's experience volunteering with Wreaths Across America:
For two years I had tried to clear our family calendar for the 2nd weekend of December, to make the trip down to Washington DC so we could volunteer to help unload the trucks and lay the wreaths, but other commitments kept standing in our way. I also tried to figure out if there were local wreath-layings that we could be a part of- but I never found the time to connect with the right people.
So I was so excited when my daughter came home with a flyer from her school offering us the opportunity to participate in a Wreaths Across America event at the West Point Military Academy! A parent of a student in Charlotte's grade is an Adjunct Professor at West Point and he was willing to coordinate a volunteer group to go and be a part of this event- so I consulted with the kids, and we all agreed that this was something we wanted to do!
I thought I would share our experience here with you- and then give you some information on how you can be a part of Wreaths Across America events- either at Arlington National Cemetery or locally in your community.
Our day started by meeting on the street outside of the Professor's house at 7:30 am, so we could caravan over to West Point together. We were lucky to be blessed with a gorgeous blue sky 50-degree day perfect for spending the day outdoors. The drive over was beautiful- and once each of our cars had been cleared for entry onto the Academy's grounds, we met in the parking lot to hang out, throw a ball around and wait for the unloading to begin.
In 2015, it was the 6th year that West Point had participated in Wreaths Across America. The first year, they received enough in donations to purchase 70 wreaths. In 2014, it had grown to 3200 wreaths. 2015 was the first year they received enough donations to purchase wreaths for every single one of the 7004 graves at the West Point Cemetery. Wow.
The wreaths arrived in two tractor-trailer trucks- stacked to the top! Use of the trucks to deliver the wreaths was donated by the two trucking companies, and the drivers, both military veterans, donated their time to make the delivery. About 200 people- civilian volunteers as well as West Point cadets worked together to unload the 7004 wreaths in 701 boxes in only 40 minutes. It was impressive! And my kids quickly learned the old saying that "many hands make for quick work!"
Since the wreath-laying ceremony wasn't scheduled to begin until 1:30 pm, we had the chance to take a tour of the campus led by one of the 3rd year cadets. She was a fantastic tour guide, giving us so much insight into what it is like to attend West Point, the values that the cadets learn, and how they are communicated, and how rigorous the academics and physical training are.
For me, it felt like our first college tour (and yes- my older boys were impressed!). After our tour, we were invited to have lunch in one of the dining halls.
At 1:30 pm we gathered again at the cemetery for a moving presentation. Several families were honored who had lost children in service of our country and were graduates of West Point (classes of 1999 and 2003). Others were honored who had lost brothers and sisters, as well as two Wounded Warriors. Many families were there to honor their parents, grandparents, and other family members. And they also recognized the efforts of the volunteer organizations who had worked so hard to raise the funds to buy the wreaths.
Then it was time to begin moving the wreaths to the graves, pausing respectfully at each one to say thank you, and to lay the wreath with the bow at 12:00.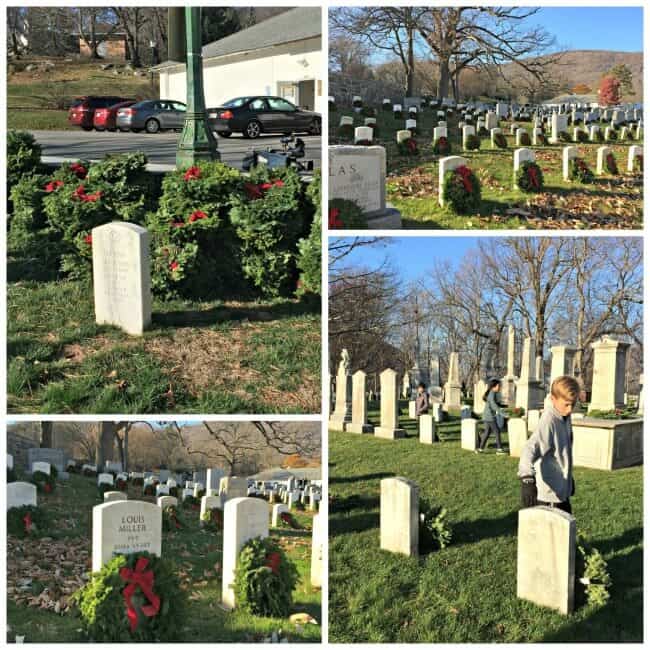 For this part of the day, there were probably 500 volunteers- and in spite of having to carry the wreaths a long way to reach all areas of the cemetery- we still were able to complete the job in under 45 minutes. The results took your breath away- and still brings tears to my eyes even as I type this.
The event was concluded by the playing of "Taps" by one of the cadets as we all gazed over the beautiful grounds of the West Point Cemetery. So proud to be a part of this event to Remember. Honor, and Teach.
If you think your family would like to be part of Wreaths Across America, either at Arlington or locally- please visit the Wreaths Across America website. And if you can't volunteer, consider sponsoring a wreath for $15. It is an amazing thing to be a part of.
Looking for Some More Holiday Ideas for Your Family?