A few years ago, I decided to embark on a "grand adventure" and take my kids cross country for a summer family road trip. We covered 8000 miles and 14 states in 4 weeks- and it was an amazing experience! This post is part of the series of Road Trip Diaries from that Great American Road Trip!
Friday morning we dropped Grandma off at the St. George airport super early after a slight mixup with the navigation system. My outdated nav directed us to the old St. George airport which is no longer in service- and of course when we drove up and noticed that not a single car was in the parking lot, we knew that something was wrong! But fortunately, we had plenty of time to use Siri to help us figure it out, and get Grandma to the right St George airport in plenty of time.
The drive down to the North Rim of the Grand Canyon from St. George was lovely- we went through beautiful forested areas and Steve had a little game going with the kids that whoever spotted wildlife first would win a piece of Zotz fizzy candy that he had purchased at a gas station along the way. So the kids kept their eyes peeled looking out the window and away from their iPads for the duration of the drive.
Grand Canyon North Rim
When we arrived down at the Grand Canyon North Rim we immediately checked in at the mule ride desk and picked up our pass for the 1 pm rim ride, as well as our tickets for the Grand Canyon Cookout Experience- and the weather at that point was still pretty decent. So we headed off to the Bright Angel Trail for a view of the canyon. And I will tell you right now… the Bright Angel Trail, while a simple 1/2-mile round trip hike, it is NOT for someone who is afraid of heights, and certainly NOT for a Mom whose kids don't share that fear and desire to scramble over all of the rocks off the trail RIGHT ON THE EDGE along with the other tourists!
I got about 3/4 of the way out to the point and decided it would be best for me to turn around with the younger kids, because I couldn't stand watching my older kids get so close to the sheer drop-offs along with their Dad, and I knew that nobody was enjoying their hike with me snarling through my teeth at them to "be careful", and "you're too close to the edge".  I had to trust Steve to handle it, while I took the 4 younger ones back up to the Grand Canyon Lodge to enjoy the views from (safely) from a bench well off the edge of the rim!
The Grand Canyon Lodge
The Grand Canyon Lodge itself is magnificent and has 2 beautiful outdoor porches with fireplaces on either side of the lodge that overlook the rim. You can just sit there and drink in the views. There is also a restaurant right off of the lobby where you can have lunch or dinner and be surrounded by views of the canyon while you enjoy a really delicious meal- which is exactly what we did.
After lunch, it was time to head over to our mule ride, but sadly the skies were darkening and we heard thunder in the distance. We were game to give it a try and see if we could get our one-hour ride in before the rain broke loose. But on the shuttle bus heading over to the stables- not only did it start to rain, but it started to hail (!)- which ended up condemning our plans.
We first consoled ourselves with a little shopping in the gift shop, and then we decided to take one of the scenic drives listed in the park newspaper. So we drove up to Cape Royal (at this point the rain had stopped) and I have to admit- it was probably an even better idea to do this drive than to spend one hour on the rim ride with mules. The views were amazing! We got up high enough that we could see the Colorado River which is the architect of the Grand Canyon.
Since there were storms in the area, the lookout points were actually charged with electricity! Steve touched a handrail and received a shock! Then when he went to hold Lili's hand, the two of them could feel the electricity passing between them! And if you look at our pictures… a lot of us have our hair literally standing on end- so we knew we shouldn't stay at the lookout point for long, because the storms were getting closer and we didn't want to be up there and exposed during a lightning storm.
We then headed to the North Rim Campground to set up our tent for the night- and fortunately, the rains at this point were over. The tent site had a great view of the rim, and of course the kids wanted to get a little too close to for my comfort!
While hanging out at Cape Royal earlier, we had met several other families who were taking massive road trips like ours- one family from Florida was on a 10,000 mile 5-week road trip and they made it all the way to Oregon and were working their way back… and another family from Albuquerque who drove a silver Sprinter like ours was on a large road trip for 4-weeks visiting several national parks.
It was really cool to meet other families with children were trying the same feat. And we ran into these families again while setting up our tent, as they were all staying at the same campground.
That night we enjoyed dinner and a show at the Grand Canyon Cookout Experience- which is a buffet dinner and a show right at the campground. I was worried that my kids might find the show to be a little too "cheesy" but they actually really enjoyed it.
The performers were great- they started singing pretty much as soon as everyone had gotten through the buffet line, and the show included country songs, storytelling, and even a joke or two. It was cute and my kids did a great job showing appreciation to the performers.
We took a little walk around one of the trails of the campground and watched the sunset over the North Rim, which was lovely. We then climbed into the tent with the kids and played euchre for an hour or so before we all fell asleep.
If I had to do it over again I probably would have decided to stay at the Grand Canyon Lodge instead of the campground, just so we wouldn't have had to pack and unpack the tent, air mattresses, and all of the sleeping bags. The Lodge has a collection of cabins adjacent to the main lodge building. Each of the cabins had a nice-sized front porch with rocking chairs that you can sit in and enjoy the view of the canyon. They look to be really cool.
 Above All… Just GO!
I always lean towards choosing a lesser populated spot at a major vacation destination. I think it's harder to experience a place when you are fighting for elbow room at a lookout point, which is why the Grand Canyon North Rim appealed to me. But from whichever point you approach the canyon… just make sure that you go and take your kids!
This plaque with a quote from Teddy Roosevelt regarding the preservation of the Grand Canyon sums it up:
"Leave it as it is. You cannot improve on it. The ages have been at work on it, and man can only mar it. What you can do is to keep it for your children, your children's children, and for all who come after you, as the one great sight which every American… should see."
You will remember being there for the rest of your life!
Video: Top 5 Things for Families To Do on the North Rim of the Grand Canyon
We loved our time (even if it was a bit rainy) at the North Rim- we loved that it wasn't as crowded as the South Rim and felt that it was great for families.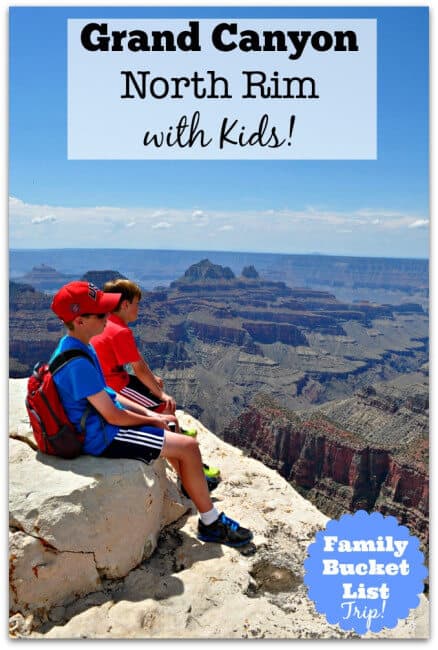 *My kids received complimentary tickets to the Grand Canyon Cookout Experience. But as always, all opinions expressed here are my own!