While my family kicks off our 4-week 8000-mile Great American Road Trip this week, it may be a few days before I can update you with our adventures. So in the meantime I thought it would share with you a few "Road Trip Diaries" about our past adventures. (Because, really…. who doesn't love a good vacation story?!)
About 15 years ago (pre-kids), I husband and I had the chance to travel to London on business. However truth be told, we weren't really working in London, the business was actually located out near Heathrow Airport, in a town called Uxbridge. Certainly less glamorous than getting to stay into the city- but still an adventure itself.
One afternoon when our work-related duties wrapped up around 2pm, we decided we would really love to go and visit Windsor Castle, as it was not that far from where we were working. We asked one of our British coworkers if she would help us figure out how to take the Tube (that's London-speak for "subway") to go from Uxbridge out to Windsor- but she absolutely insisted that she wanted to drive us there instead. So we hopped into her car and headed off on our journey.
About 10 minutes into our drive through the countryside, she told us that she needed to stop for petrol (London-speak for "gas"), so Steve and I waited in the car while she ran inside, presumably to pay for the petrol. But when she came back to the car, she had a huge plastic grocery bag filled with candy! And when she handed us this big bag of candy- I remember thinking  "Why would she think I would want to eat all of that candy?" There was chocolate, and sour candies and sweet candy…. and I just couldn't imagine why she had done nice, but crazy thing. She had this huge grin in her face and was so enthusiastic about it- and what she told us was that she knew that the candy they had in the U.K. had to be different than what we had in America- and she wanted us to try it all!
Of course candies are unique in different part of the world- just like every other type of food is different. And when you're soaking up the culture and learning about what makes a place so unique- trying the local candy should be a part of the experience! There were so many things that I remember marveling at during our stay in Uxbridge- the milk man who delivered the milk in glass bottles in the middle of the night, and no one was bothered by the fact that the milk had heated up in the morning sun, spending so many hour unrefrigerated. Come to thing of it… we drank warm (okay, room-temperature) beer in the pubs too….
But having that co-worker buy us that bag of candy- it was such a simple and sweet thing to do- but that kind act has stayed with me ever since. Steve and I spent that afternoon opening up the various packages of candy, trying different things- and deciding what we liked and what we didn't, and we got back to the office the next day, we shared our bounty with the other American coworkers who had traveled with us, and they love the idea trying the local candy as much as we did.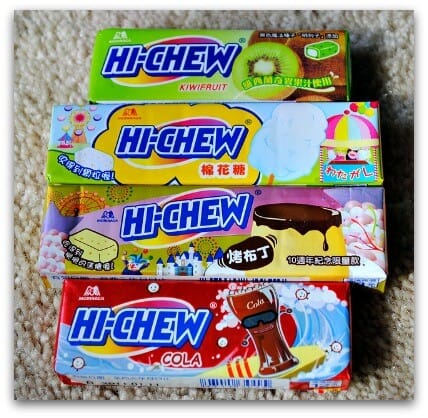 Flash forward about 9 years later, and my family are and I are in China, and I watched Steve do the same thing with local Chinese candies for our kids. Anytime we were in a convenience store he purchased all kinds of Chinese candies for us to try. One of our favorites are HiChews which we still seek out when we are in Chinatown in New York City.
So my advice to you…. when traveling somewhere new…. try the candy!