When you are managing a large family, you always have to keep a frugal eye on the family finances. It is so easy to spend money- and to do so in places where you really don't need to. For example, there are plenty of times when I feel too tired to make dinner, and it would really be so easy to load the gang into the car, and drive to a local family restaurant. But when you are buying dinner for 8 people, you can easily spend $125 in the blink of an eye.  And on the drive back home, you might think to yourself- what did I just get for that $125?  A quality family experience?  A relaxing break from my week?  Usually I feel that I paid too much for that one-hour "off".
Spending Money is Always A Choice
When I look at spending money- I try to always think of it as a choice. I can choose to spend money on paying someone to clean my home, or I can use those dollars for other things that I deem to be more important (like saving for my kids' college educations). I feel that way about many services that people pay for- such as mowing the lawn or having a babysitter to watch the kids while I run errands or do something for myself. It's not that I don't see these things as nice to have- it's just that I am no longer willing to make the choice to pay for these services over something that I value more (saving for college).
When I worked outside of the home, and earned a paycheck- I used all of these services- a house cleaner, a lawn service, child care, and more. At that time- that was the right choice for me.  Our expenses then were greater, but so was our income.  But now I no longer earn a paycheck, so I cannot contribute to our family income.  But what I can do every day, is to reduce the amount of money that we spend.
So "How Can I Save Money"?
This week I am going to explain how I have focused on cutting my family's grocery expense over the last year.  In the summer of 2009, I was averaging about $1500-$1800 a month just at grocery stores.  That means I was averaging $375-$450 per week or $47-$56 per person per week.  Now if you figure that we ate out 2 meals a week, then each person ate 19 meals per week at home- so we were spending about $2.50-$3.00 per person per meal.  That doesn't sound too bad, right?
But this past summer, I brought my monthly grocery expense down to $600-$800 per month- which works out to $150-$200 per week and about $1.00-$1.30 per person per meal.  And the best part is-  I didn't really make changes in the way I cook, the brands that I buy, or the amount of, or the type of food that I serve.  The only thing I really changed- is how I shop.
Shop Smarter to Save Money
There are several things that you need to know and need to do in order to realize this kind of savings for your family.  The first thing to understand is that grocery stores put their products on sale on a regular basis, and usually on an 8-12 week rotation.  Here is a real-life example:  the regular price of a package of Perdue thin-sliced chicken breasts is $5.49 (at my local store).  But every 8 weeks (or so), they put them on sale for 50% off ($2.75).  In my house, we use 4 packages of chicken breasts a week, so I need to buy 32 packages if I want to buy them at the sale price, and have enough to last me until the next time they are on sale.   If I buy 32 packages when they are on sale at 50% off- I've saved my family $88 in grocery expense-  on just one item.
And it gets even better when I can combine that sale price with a coupon.  Here is another real-life example:  A 14 oz box of Quaker-brand cereal is regularly priced at $3.59. This week it is on sale for $1.99, but I have coupons for 50 cents off a box, and my local grocery store doubles coupons up to $1.00, so when I combine the sale price with my coupon, I can get the $3.59 box of cereal for only 99 cents.  The terms of the deal is that I am limited to 4 boxes per variety- so I can buy 4 boxes of Life, 4 boxes of Oatmeal Squares, and 4 boxes of Cap'n Crunch (assuming I have 12 coupons) and save a total of $31.20 on 12 boxes of cereal.
Are you getting the general idea here?  The key is to buy what is on sale, combining the sale price with a coupon when possible, and buy enough to last you until the next time the item is on sale.
Start a Price Book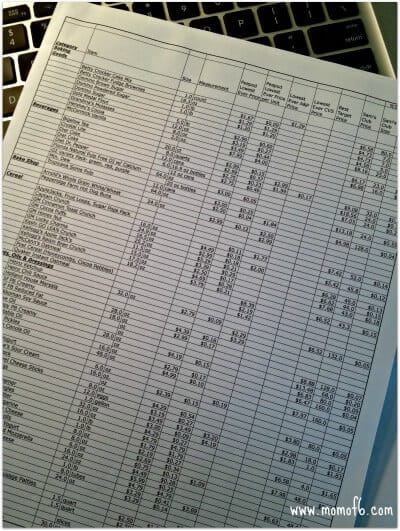 Now when I started this process, I had no idea what I was paying for individual grocery items.  I kept a running grocery list of things that I needed, and I added to it as I used up items that I had on hand, and then I bought those items as I needed them.  I did not realize that over time, some weeks I was paying $5.49 for chicken and $3.59 for cereal, and some weeks I was paying $2.75 for chicken and $1.99 for cereal.  Truly, I had no idea.  So the first step is getting control over your grocery expense is to become familiar with what you are paying for the groceries for your family. This week when you come home from the grocery store, sit down and make a list of what you have purchased, and what you paid for it.  Over the next few weeks, continue to record the price that you are paying for those same items.  Over time you will see that it varies greatly from one week to another.
Once my eyes were opened to the fact that I was paying vastly different prices on separate weeks, I created a total "price book" so that I would know when an item was really on sale for a good price.  My price book listed all of the items that I regularly purchased, everything from flour, sugar, drink mixes, soft drinks, cereal (listed by brand), ketchup, peanut butter, jelly, oils, milk, cheese, yogurt, juice, butter, creamer, ice cream, meat, produce, snack items, and canned goods.  I made a separate price list for health and beauty items, and laundry, paper, and cleaning items too.
Are Warehouse Clubs Really Getting You A Better Deal?
And back when I was examining the prices I was paying for the items I was buying, I also regularly shopped at warehouse clubs.  So I had a column in my price book where I calculated my price per ounce and I would list my best grocery store price per ounce against my best warehouse club price per ounce- and if you shop at warehouse clubs, I encourage you to do the same.  This will show you whether or not buying in bulk at a warehouse club is really saving you any money.
The last thing that I would suggest that you start doing, is to keep a list or a spreadsheet somewhere, where you can record your register receipts for each shopping trip.  I record the amount spent, and the amount saved (which usually shows at the bottom of the receipt).  If you commit to changing the way you shop, you will find it very satisfying to track the decreasing dollars spent each month, and the increasing dollars saved.
In Part 2 of this series I will explain the idea of stockpiling groceries.  If you are going to change the way you shop, to buy just what is on sale, and to buy enough of it to last you until the item goes on sale again, then you are going to need to understand how to store and manage all of these groceries.
In Part 3 I will explain how to use your weekly grocery sale circular, and even more important- how to find the "deal-blogs" that regularly read the sale circulars and figure out what available coupons are in circulation to combine with those sale prices in order to get the best rock-bottom deals. They do all of the research work for you!  I will also give you a lesson on how to use Google reader as a tool to subscribe to these deal-blogs- as well as to Momof6.com!
In Part 4 I will share my sources for finding all of the great coupons I use.
And in Part 5 I will share with you my tool- my coupon binder.  How I have set it up, and how I keep it organized without spending more than an hour a week.
All in all- I spend 1-2 hours  a week on planing my grocery shopping, finding the deals, and cutting and organizing my coupons.  That 1-2 hours saves me about $900-$1000 / month on my grocery bill- so it works out to about $235/hour of work.  Not bad for a stay-at-home Mom.
And to stay up to date on the latest tips and ideas from Momof6, please Like the Momof6 Facebook page!