It is "science fair" season again… which means it's time for Mom to do some serious web-research on super-cool science experiments for kids! If perhaps you are entering your own science fair season… I thought I would save you a little time and offer you this round up of fairly-simple-to-execute, can be done-in-one-weekend, almost-certain-not-to-fail elementary school science fair projects!
1. Optical Illusions
Kids love optical illusions. But how do they work? And why don't they work for everyone? My son Jack and his friend were inspired by this video optical illusion from Steve Spangler Science and used it as a starting point to build an entire science project around optical illusions and "mind tricks"!
2. Bubble Gum Experiments
Kids love bubble gum…. and there are lots of science experiments you can craft around gum. Which gum blows the biggest bubbles (courtesy of Tapping at the Keyboard)? Which bubble gum keeps its flavor the longest? What is the best way to get bubble gum out of your hair? My youngest three have teamed up together to tackle these important bubble gum questions!
3. Parachute Experiment
What kind of parachute works best? One with a larger tarp? A lighter-weight one? A heavier or lighter parachute-guy? Kids can form their own hypothesis and test them. (Idea courtesy of Life at the Zoo)
4. Iron in Breakfast Cereal?
In this experiment by Steve Spangler, you can use a magnet to prove that there really is iron in your breakfast cereal! (And then the kids can decide how they feel about it! Cool or Eeeww)
5. Which Will Freeze First?
This is a simple idea that even your kindergartener can do- gather household liquids and see which ones will freeze overnight. Allow the kids to offer their best guess and see if they are correct! (See the whole experiment at No Time for Flashcards).
6. Can You Blow a Square Bubble?
I love this idea that I first saw at Education.com that explains why bubbles are usually round, and then was beautifully executed by Teach Beside Me! This one would be fun to re-create at the Science Fair and allow other kids to take turns blowing the sqaure bubbles.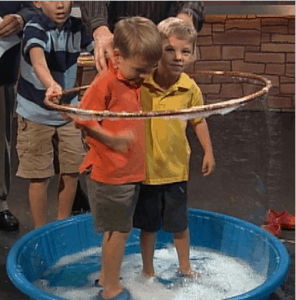 7. Giant Bubble
Or you can take the bubble idea a step further and create this giant bubble using a hula hoop and a kiddie pool! (Be sure to clear this with the school first- it could get messy having kids step into the pool of bubble solution!) My kids have seen this at Science Centers and they always jump in to try it! (courtesy of Steve Spangler Science)
8. Rock Candy Crystals
I've been to many science fairs over the years- and without fail…. several kids will make rock candy. It's a fun experiment that demonstrates how suspended solutions work, and who doesn't enjoy a little rock candy? Gluesticks will show you exactly how to do it!
9. Bubbling and Crackling Volcano
The other experiment you will see at every single Science Fair- is the erupting volcano. All the kids want to do this because it is cool…. and messy! What I love about this volcano idea from Growing a Jeweled Rose is that she added pop rocks to her experiment, so it has sound effects too!
10. Leak-Proof Plastic Bag?
Because I just love Steve Spangler and he has the best idea- I waned to share one more of his amazing experiments… this one uses a regular plastic bag and explains how polymers work.
If you would like to see some more science fair inspiration- check out my Pinterest board on science fair experiments: SharonMomof6 Science Fair Ideas Pinterest Board!
What elementary school science fair projects have you done with your kids?