My kids have declared that the annual Science Fair is their very favorite night of the entire school year! And as much as it's kind of a challenge for me to shepherd them through creating and executing and then writing about all the science experiments…. seeing how much fun they have doing it and how enthusiastic they are about learning makes it all worthwhile. And this year I relied on my new internet best friend Pinterest to find ideas and inspiration for this year's exhibits! So today I can share with you 5 great science fair ideas!
But first… a field trip!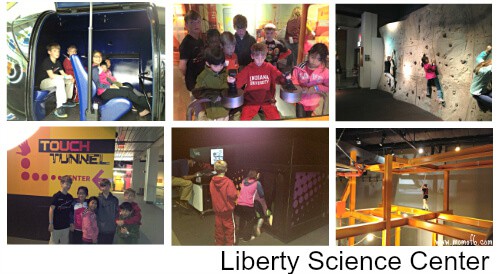 During our winter break, my kids wanted to head to one of our local science centers- to look for ideas that they could replicate for their own science fair. So for the first time we visited the Liberty Science Center in New Jersey. And while we didn't find any good ideas for experiments, we did check out a bunch of fun exhibits including a touch tunnel, a climbing wall, a movie-making exhibit, and a fantastic exhibit on skyscrapers that offered the opportunity to see what is is like to walk on girders as if you are an iron worker at a construction site! We really had a good time- and you can check out my full review here at Trekaroo!
Some of my kids prefer to pair up with their friends and some of my kids prefer to pair up with their siblings at the science fair, all of which is allowed. Participation in our school science fair is optional, but obviously- none of my kids would miss it! So here are the 5 experiments that my kids brought to the fair this year!
#1- Super Soda Dispenser (A Mentos and Diet Coke Experiment!)
My son Spencer and his friend were inspired by this Steve Spangler video to build the Super Soda Dispenser 3000:

The "dispenser" combines diet Coke and Mentos to produce a kind of "explosion" that delivers the Diet Coke through the tubes into the glasses below.
Spencer and my husband tried to modify the Steve Spangler idea in order to deliver 8 cups of Diet Coke at a time and the modification didn't work so well! Having two stack sets of tubing stacked doesn't work as well as having just one long set of tubing- so if you ever decide to make a Soda dispenser of your own- I highly suggest following Steve Spangler's design! You can find details on the original project here: Steve Spangler's Super Soda Dispenser 3000
#2- Creating Gas to Power a Car
My son Jack and his friend decided they wanted to experiment with making a gas- which they produced by combining baking soda and vinegar and capturing the resulting gas inside of a balloon. They then used their balloon to power a vehicle- a small toy car. Original inspiration for this experiment can be found here: Gas in Balloon from Mom to 2 Posh Divas and Balloon Powered Hovercraft by Scribid
#3- Naked Eggs
My three youngest kids worked together to create three "egg-cellent" science experiments! The first experiment was creating "naked eggs", which is removal of the egg shell by soaking it for a few days in vinegar. Remarkably, even with the shell gone, the membrane is still intact and holds the egg together! Inspiration from: Naked Eggs at The Chocolate Muffin Tree
#4- Experiments with Naked Eggs
So once the egg shell is gone- there are kinds of cool things you can do with them. For one- I've read that you can bounce them! But the idea of possible raw eggs smashed into the gym floor kind of prevented me from exploring that idea… so we focused instead on learning about that strange egg membrane that still holds the egg together when the shell is removed. So we immersed one naked egg in water to see if it would expand further, and another we immersed in corn syrup to see if the water inside of the egg would pass out of the membrane (which it did!) Inspiration came from: Shrinking Naked Eggs at Science Sparks
#5- Egg Geodes
My youngest daughter was intrigued with the idea of creating egg geodes by growing crystals inside of clean-out egg shells. She experimented with solutions made from borax, sea salt, and kosher salt, and each one produced a unique result. Inspiration found at: Egg Geodes at Tinkerlab
Looking for a Few More Ideas?
If you would like to see some more science fair inspiration- check out my Pinterest board on science fair experiments: SharonMomof6 Science Fair Ideas Pinterest Board!
What science projects have you done with your kids for the science fair?