It is a holiday tradition in our family to enjoy one of Gramma Rowley's "world-famous" cinnamon rolls for breakfast, and then to feast upon them again as part of our big holiday dinner that evening (which also includes ham with "sweet stuff" (a gravy made from brown sugar and apple cider vinegar), scalloped potatoes, and coleslaw). So, with special permission from Gramma herself- here's her Cinnamon Rolls recipe!
How to Make Gramma's World-Famous Cinnamon Rolls:
You'll need to set aside some time to make these incredible rolls- the dough will need to rise twice before baking. But the process isn't hard at all!
After the first rise, you will roll out the dough, spread the cinnamon sugar filling over the top, and then roll up the dough to form a tight log.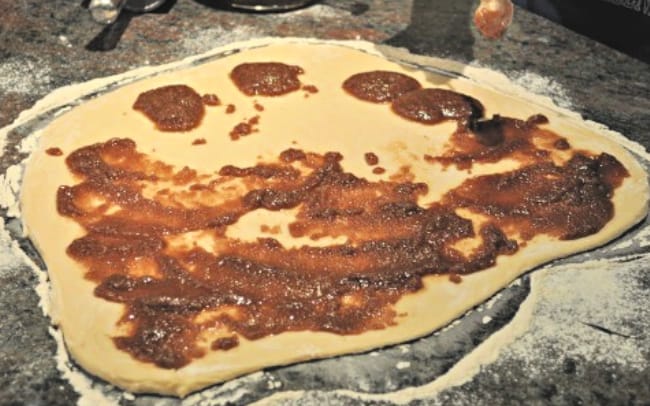 The dough is then sliced and placed into a buttered pan to rise again before baking.
Drizzling the top of the glaze is optional (I actually think it makes them taste too sweet- if there is such a thing)….
Then be sure to check out this list of my favorite Kitchen Gadgets This is an affiliate link: MomOf6 earns a commission if you purchase, at no additional cost to you. for Busy Moms over on my Amazon influencer page This is an affiliate link: MomOf6 earns a commission if you purchase, at no additional cost to you. !
Best Ever Cinnamon Rolls Recipe:
Gramma Rowley's World Famous Cinnamon Rolls
This cinnamon rolls recipe is a tradition in our house courtesy of Gramma Rowley! We start holiday mornings by enjoying them for breakfast- and then we eat them as part of our holiday dinner too!
Ingredients
For the dough
½ c. sugar
2 t. salt
2 c. milk- that has been scalded and cooled (I do this by heating the milk for 4 minutes in the microwave, on high).
2 envelopes of quick-rise yeast (stirred into ½ cup of lukewarm water until diluted)
2 eggs- beaten
6- 6½ c. flour
½ c. shortening- that has been melted (again, I use the microwave for this) and cooled
For the filling
1 c. butter- softened
2 c. sugar
6 t. cinnamon
Glaze (if wanted)
1 cup sifted confectioners sugar
3 T evaporated milk
½ t vanilla
Pinch of salt
Instructions
To make the dough
Stir the sugar and salt into 1 cup of the flour and mix.
Add 2 more cups of flour and mix. Start adding cooled milk slowly. Add the 4th cup of flour.
Stir in beaten eggs, slowly. Add the 5th cup of flour.
Stir in melted shortening slowly. Slowly add the 6th cup flour, as needed.
Stir in dissolved yeast. Continue to add flour as needed to keep dough from being sticky. (You may need to add even more than the 6½ cups of flour).
When the dough has come together in a smooth ball, then it is time to let it rise. Cover bowl with a damp cloth or saran wrap to let rise until doubled in size (about 2 hours).
Prepare the Filling and Form the Rolls
Stir together the butter, sugar, and cinnamon until smooth.
Butter two 13″ x9 " pans.
Roll out ½ the dough into a large rectangle. Add ½ of the cinnamon filling, and spread it out over the rectangle of dough, leaving a 1″ border around the edge.
Starting from the short end of the rectangle, roll up the dough to make a log.
Using a sharp knife, cut the dough into 1½″ wide slices, and place into the buttered 13 x 9 pan.
Allow the dough to rise until doubled again (about 1 hour).
Bake for 20 minutes at 375 degrees, until the rolls are golden brown.
Mix together the glaze and drizzle over the top of the warm rolls!
I hope that you love them as much as we do!
Looking for More Recipes that Kids Will Actually Eat?
Then check out my Recipes page for breakfasts, dinners, desserts, and more that have been Rowley family approved!