It almost doesn't matter how old your kids are- tech gifts are pretty much on every child's holiday wish list this year. My older kids are drooling over the Apple Watch that is due to come out in early 2015 and have decided to ask for money for Christmas so they can be ready to purchase it once it is available. My younger ones are asking for their own version of a smart watch (and I have a great one on our list below!) as well as other tech items that marry together some of their favorite toys with interactive apps that takes playing to a whole new level.
So here are our top 5 Great Tech Gift Ideas for Kids!
1. VTech Kidizoom Smart Watch
Suggested Retail: $59.99. Ages 3+.
This Kidizoom Smartwatch
actually makes a great first watch for your child. Kids who are already familiar with devices with apps will had no trouble using the touchscreen to select the clock and display it in either digital or analog form. and kids can choose from dozens of available clock faces for their display. The Kidizoom comes with a camera so kids take pictures and create videos. They can also add effects to their images displayed on the watch. It also comes pre-loaded with 4 games (that are definitely geared towards younger users). My 8 and 9 year-olds both love this watch and I've had to institute a taking-turns schedule for wearing it to school! (*Amazon affiliate link)
2. Skylanders Trap Team
Suggested Retail: $74.99. Ages 10+. Available for the following game systems: PlayStation 4, PlayStation 3, XBox One, XBox 360, Wii U, Wii, Nintendo DS, Tablet
If your kids are fans of the Skylanders franchise, then you should definitely check out the new Skylanders Trap Team
game! If your kids played "SWAP Force", then they know that Kaos released the worst villains in Skyland at the end of the last game, and now it's your job to trap them using the Trap Masters! Once trapped, the villains can be controlled to be the good guys and work for you. One of the cool things about this new version is that the portal has a speaker- so when you trap the villains you can actually hear them inside of the portal! (*Amazon affiliate link)
3. Anki Drive Robot Car Racing Game
Suggested Retail: $149.99. Ages 10+
I first saw the Anki Drive
system at the Time to Play Mag's Holiday Showcase event and had the chance to race some other bloggers using the Anki Drive starter track set, I thought it was so cool! When I came home and showed this racing game to my kids, they couldn't wait to try it- in fact… we are now planning my youngest son's 9th birthday party around it!
Now I will be the first to admit- this is not an inexpensive gift. But how many gifts can you give your kids at age 9 and know that they will still think is cool when they are teens? Boys love racing slot cars- and this roll-out track with smart car technology is really impressive. You use your smartphone or tablet with the free app to control your car, and as you play you earn points which allows you to "upgrade" your car's abilities- such as being able to do U-turns and sudden stops or improve your car's armor or shooting abilities. You can race in three modes- battle, race, and team mode- and the fact that the race track is a roll-out mat (rather than a large permanent structure) that can easily be put away and set back up makes it an awesome family gift! (*Amazon affiliate link)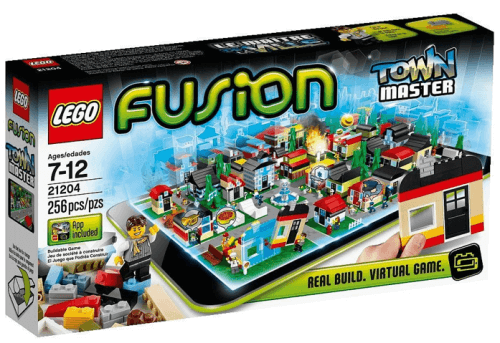 4. Lego Fusion Town Master
Suggested Retail: $49.99. Ages 4+ Compatible with Apple phones and tablets, Android, Google Play, and Samsung Galaxy
If you have a Lego builder or two in your family, this is a really cool way to take Lego playing to a whole new level. The LEGO Fusion Town Master
set comes with a fusion baseplate and 256 Lego bricks that your child can use to construct their new Lego town- complete with shops, restaurants, fire stations, roads, and more. Once they are done, they photograph their town using the free app which brings their town to life! Within the app, kids are challenged to rule their town as the mayor and solve problems such as catching bank robbers, and kids can earn rewards as they complete the challenges. I love this marriage of hands-on building and interactive play! (*Amazon affiliate link)
5. Hot Wheels Street Hawk Flying Car
Suggested Retail: $59.99. Ages 5-15
The Hot Wheels Street Hawk Flying Car
is really like two toys in one. It is a very cool remote controlled car that you can race up and down your driveway, and with a flip of a switch and a short (10 foot) runway- it can take off and fly like a remote control airplane! The great thing about the Street Hawk is that it is made to be a kids toy- so it is designed to take the abuse of poor drivers/pilots, crashes into the ground, or confrontations with a tree- it doesn't just break apart! It does take some practice to get it to fly steadily- but the controls themselves are easy to maneuver for kids. (*Amazon affiliate link)
All product links above are Amazon affiliate links. Thank you to the awesome folks at VTech and Activision for providing product samples for testing as well as for our giveaway below!
Enter Our Giveaway!
To celebrate the awesomeness of our Momof6 readers- we are giving away an VTech Kidizoom SmartWatch! Enter below! (Giveaways open to US residents only please).