I was selected for this opportunity and compensated by Oscar Mayer and One2One Network. The content and opinions expressed here are all my own.
Oooo-weee….. you can tell that we are in the home stretch of the school year because the pack-it-from-home lunch menu has gotten a bit…boring. Each Monday morning, my youngest daughter reads the school menu offerings to the other three elementary schoolers, who listen intently and then promptly reject whatever healthy option the school cafeteria is serving, proclaiming that they would like to bring lunch from home. Lili then takes their weekly lunch orders… writing it all down on the calendar (my home organizing skills are definitely rubbing off on the kiddos!) and it sounds like this: "noodles, pbj, soup ". Yawn.
It's time to spice things up a bit…. give our kids lunches a bold new taste. Something that makes them shout "YES!" when they open their lunch bags (okay, not really shout, because they would get into trouble for that…) and stop them in their tracks as they search for whatever small dessert item I tossed into their lunch bag. And that something…. is this….
Oscar Mayer Deli Fresh BOLD Lunch meats!
I purchased the Italian Style Herb Turkey Breast and asked my kids to try it before adding it to their lunches- and it received a huge thumbs up from the crowd!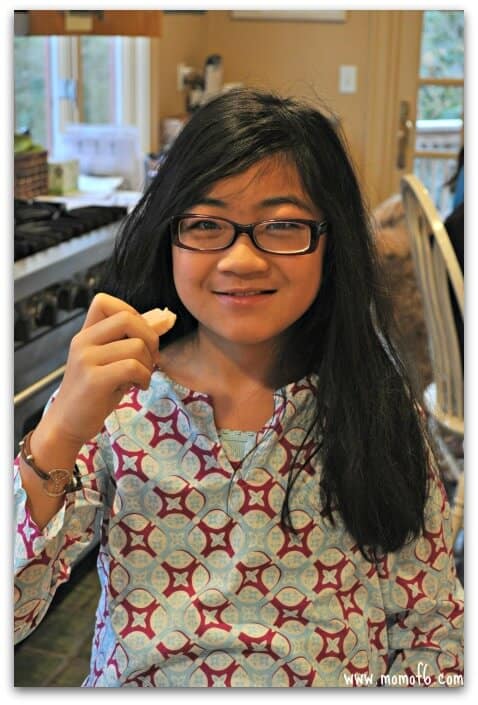 (she's a tween- so it's not like she is going to do the "thumbs up" thing for Mom's camera…)
And my youngest daughter who was supposed to be helping me to make the lunches…kept stealing slices and eating them all while hearing me say "Hey stop it- come on, that's for lunch… you can't eat it now for breakfast because you are having it for lunch today."
'Cuz that's a rule somewhere in the Mom-handbook, right? No eating the same thing for breakfast and lunch…. right? No? Okay then…. (tosses out Mom-handbook).
So seriously- if you are tired of packing the same-old, same-old for lunch every.single.day. then give the BOLD new taste of Oscar Mayer Deli Fresh BOLD a try! It is quick (no waiting in line at the deli counter), it is healthy (no artificial preservatives and no artificial flavors), and your kids will really love the change-up! It comes in 4 new flavors:
Italian Style Herb Turkey Breast
Cajun Style Turkey Breast
Maple Honey Ham
Chipotle Season Chicken Breast
So here's how we assembled our awesome lunch sandwich:
Lunchbox Turkey Sandwich! (as made by Lili)
6 slices of Oscar Mayer Deli Fresh BOLD Italian Style Herb Turkey Breast
1 slice of American cheese  (okay, Mom prefers Swiss, but the kids like their American cheese)
1 freshly baked deli roll
1 "smear" of mayo or mustard  ("smear" is such a technical term, don't you think?)
Using your sandwich knife, cut your deli roll in half and "smear" on either the mayo or mustard on both the top and bottom slices of your roll (or be BOLD and use both!). Place the cheese slice on the bottom half, and then layer on your turkey slices- making sure to cover the entire bottom of the roll. Add your top layer of bread and then cut your sandwich in half…. (and since it is a round roll, there will be no making the mistake of slicing it down the middle when your child really wants it cut on the diagonal!)
And of course- be sure to carry it to school is a oh-so-stylish leopard print lunch box!
This sponsored post was written while participating in partnership with Oscar Mayer and One2One Network, but as always, all opinions are my own. I received Deli Fresh BOLD coupons and other related items from Oscar Mayer/Kraft Foods.