This is a sponsored conversation written by me on behalf of Banana Boat® and OFF!®. The opinions and text are all mine.
There is no doubt that I am having one of those summers where everything tastes sweeter, where everything green seems brighter, and where I am even finding the local wildlife to be infinitely charming. So far we've seen a baby deer who was likely just a few hours old, baby robins who hatched just outside of our back door…
Baby bluebirds and baby wrens…. and then there was this day a few weeks ago, when a tiny slithering guy managed to find his way… into my house!
When I moved in closer to figure out how to escort him back outside, he slipped away rather quickly- hopefully to return to his larger friend who often enjoys the morning sun right near our front door… (don't worry- these are harmless garter snakes that seem to be afraid of people).
I know- those of you who consider yourselves to be "city folk" are completely horrified at this point. But we country girls love our great outdoors, and all that goes along with it. Including my absolute fav…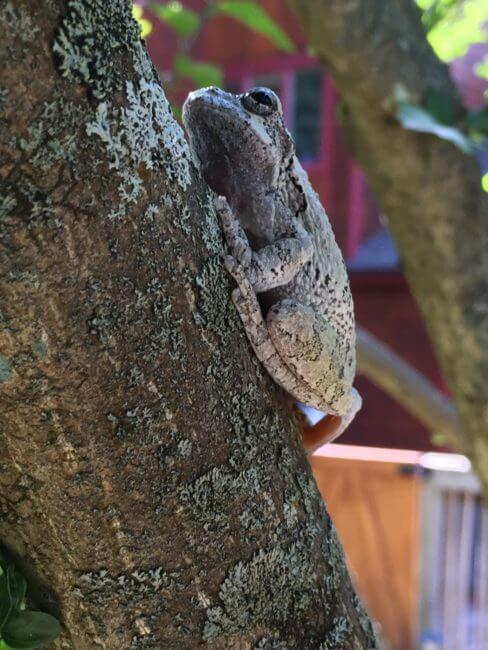 Yep- he's a tree frog- but he thinks he's a pool frog…
Every morning we go outside to see if we can find him- and most of the time he is somewhere by the pool. We usually move him out of the pool area and back into a tree so the kids can play in the pool without worrying about him. But the next day, he is right back in the pool area. He thinks he is a pool frog, not a tree frog I guess.
The kids and I have been working in the garden a lot- pulling out weeds, picking strawberries, collecting herbs before dinner, and delighting in the new flowers that signal the start of our cucumbers, zucchini, and tomato season.
We're spending time walking the trails near out home and hiking in our favorite local nature preserve, and even have a camping trip planned in a few weeks. It just feels great to enjoy this summer together!
But to enjoy this outdoor time safely- you gotta be prepared with the right tools! Which is why I headed over to Walmart last week to pick up a few bottles of my new favorite sunscreen- Banana Boat® Sun Comfort. I love it because besides the fact that it smells great (like summer!), it moisturizes my skin, and it's water resistant for up to 80 minutes.
It's available in lotion or spray, in broad spectrum UVA and UVB protection, in both SPF 30 and SPF 50+. And if you apply it at the beach, you'll find that sand brushes off easily. (bonus!)
I also stocked up on my favorite insect repellent while I was at Walmart too- OFF!®.

Because mosquitos really seem to like our family!
And because DEET is known for effectively repelling these annoying little buggers- I buy both the OFF!® FamilyCare which contains 15% DEET as well as OFF! DeepWoods® which contains 25% DEET.
Because…. s'mores.
How are you enjoying the outdoors this summer?