One of the things that I wanted to do this year was to create some seasonal mantle displays at home- you know, to kick the decor up a bit! Of course, I love finding beautiful free printable subway art- so that will always be part of my decorating plan. For the most part I pulled together my mantle displays by using pieces that we had around the house (and a few things I unearthed while working on the Big Basement Project), and in each display I featured the free subway art printables.
The Family Room Mantle:
The Dining Room Mantle:
The Kitchen Art Display:
So here are (in my humble opinion) the 8 Best Subway Art Printables for Valentine's Day!
1. Love is patient, Love is kind courtesy of The Girl Creative
2. XOXOXO Print (in red) courtesy of Less Cake More Frosting
3. . XOXOXO Print (in gray) courtesy of Less Cake More Frosting
4. Love Bug printable courtesy of Libby-Bonjour
5. 20 Seconds of Insane Courage printable (which is a quote that I LOVED from the movie "We Bought a Zoo" courtesy of It Works for Bobbi
6. Bee Mine courtesy of Sprik Space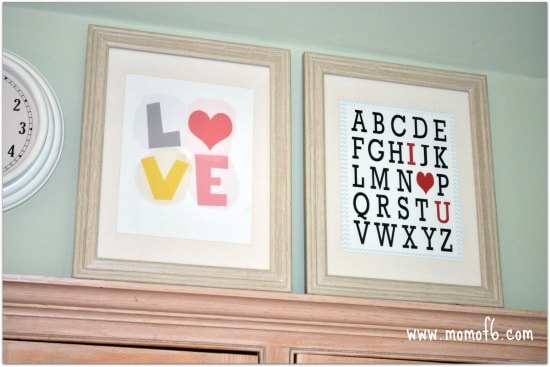 7. Love in watercolor courtesy of Visual Eye Candy
8. Aqua Chevron Alphabet Printable courtesy of Oopsey Daisy
And the adorable "Be My Valentine" banner is also a free printable created by Catch My Party.
So what do you think? Do you love these free printables? Or have you found any others that I should have included in my top 8 list?