Many years ago on a trip out to Napa Valley, my husband and I visited the Kenwood Winery. One of the staff members was serving this amazing strawberry sorbet that they had made from strawberries grown locally and their own Kenwood Chardonnay wine. We took one bite and we were in heaven! Luckily, they were handing out the recipe and I was able to grab a copy! Now we make this strawberry sorbet as a fantastic way to really enjoy freshly picked strawberries! Here is the dessert recipe, adapted from the Kenwood Collection for Strawberry Sorbet:
To make Strawberry Sorbet- You Have to Start with Freshly Picked Strawberries!
We actually have a small strawberry patch in our vegetable garden- but somehow the birds and chipmunks seem to get to most of the ripe berries before we do! (Note to self: gotta do something about that!) So recently we headed out to a local family fruit farm to pick strawberries.
And they were beautiful!
We filled the box to overflowing in less than a 1/2 hour.
While eating our fair share along the way! The taste of warm berries in the field- amazing!
Prepping the Sorbet
After washing the berries and removing the stems- I slice them into one or two pieces. I then prepare the simple syrup of sugar and Chardonnay on the stovetop (feel free to swap that out for apple juice or even water), and then blend it all together in my food processor along with a bit of lemon juice.
Freeze the Strawberry Sorbet
The key to a creamy sorbet without ice crystals is to process it in an ice cream maker. I purchased a small ice cream maker This is an affiliate link: MomOf6 earns a commission if you purchase, at no additional cost to you. a few years ago and it turned out to be a great investment! All you need to do is to chill the bowl portion of the ice cream maker in the freezer and pour your ice cream mixture into the frozen bowl. Plug it in and allow it to run for about 30-45 minutes until the mixture is cold and set.
The awesome thing about this ice cream maker is that it doesn't require salt or ice, so it's very simple to use and not messy at all! The only downside is that it doesn't make a large quantity of ice cream at a time, so for our family, it's really just enough for one dessert after a meal. But it is really easy to use so it makes making ice cream something that we can do it anytime.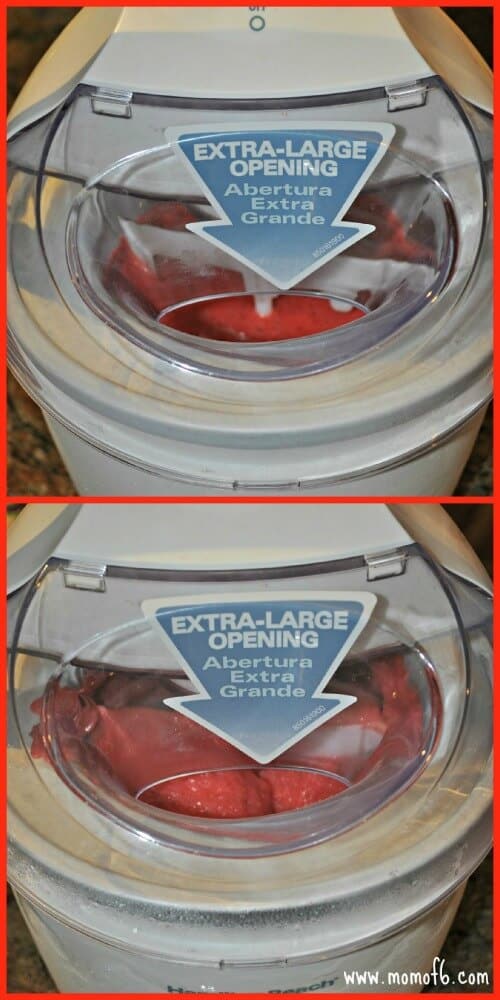 Strawberry Sorbet
This strawberry sorbet recipe will become the reason you go strawberry picking each summer! A super simple recipe that comes together quickly in your ice cream maker!
Ingredients
¼ cup sugar
½ cup Chardonnay wine
2 pints of fresh strawberries
1 tablespoon of lemon juice
Instructions
Make a simple syrup out of the sugar and the Chardonnay by heating both together in a small saucepan until the sugar dissolves and the mixture comes to a boil (approximately 5 minutes). Cool the simple syrup in the refrigerator.
Wash then hull the strawberries to remove the tops/stems, and purée them in a food processor until smooth. Add in the cold wine simple syrup and the tablespoon of lemon juice.
Pour into an ice cream maker and freeze according to the manufacturer's instructions.
Enjoy!
Looking for More Recipes that Kids Will Actually Eat?
Then check out my Recipes page for breakfasts, dinners, desserts, and more that have been Rowley family approved!