May 7-11 is officially Teacher Appreciation Week this year, and I can think of no other people in my life (other than my family) that I am more grateful for. The teachers, assistant teachers, support staff and administrators that my children are privileged to go to school with are an absolutely amazing group of people. I feel that they have taken an interest in each of my children as individuals and have worked to challenge them, support them, and educate them in so many ways- and I cannot even describe the depths of my gratitude to them.
So in recognition of Teacher Appreciation Week, I would really like to send each and every one of them to a spa… for a week… in Hawaiii! But since that is a bit out of my budget… I took to the web to look for some inspiration for ideas to help me create a token of the immense appreciation that I feel in my heart. And here are two ideas:
Teacher Appreciation Gifts:
This fab girls from Eighteen25 came up with this great idea- that shares the sentiment along with a wrapped up chocolate bar! Who doesn't adore chocolate? And I KNOW the teachers DESERVE chocolate! I love this idea!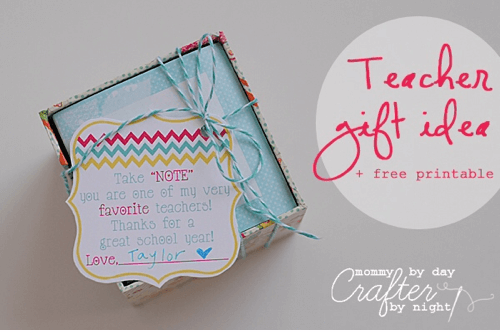 And I love this idea of a note with notecards from Mommy by Day Crafter by Night that wear featured on Skip to My Lou!
Restaurant Recipes…
Don't you hate it when you fall in love with a certain restaurant recipe (I'm lookin' at you Panera Bread Tomato Soup) and then you can't find a good recipe to make the same thing at home? Well, never discouraged…. I am going to try this recipe for Homemade Chili's Salsa from Six Sister's Stuff!
And this one for Homemade Pizza Hut's Pan Pizza from Six Sister's Stuff too!
Printable Weekly To Do List
And because I am a girl who can't resist a cool free printable, and who also lives by her to-do lists… that I had to share this printable for a weekly to do list from A Pair of Pears! I love it!
*Please note that all photos shows here are the sole property of the blogger whose link is provided above, and are meant to show you how cool these ideas are!