When my family goes to Disney World, aside from riding all of the fabulous rides and seeing the parades, one of the things that I most look forward to is enjoying one of the Chip-wich ice cream sandwich cookies on Main Street. I seriously adore these things and think that there is nothing better than getting to watch a parade at Disney while chowing down on a chocolate chip cookie ice cream sandwich! I wanted to serve them for dessert at home, so I put together this recipe which I think is a pretty close match up! Here's how to make them: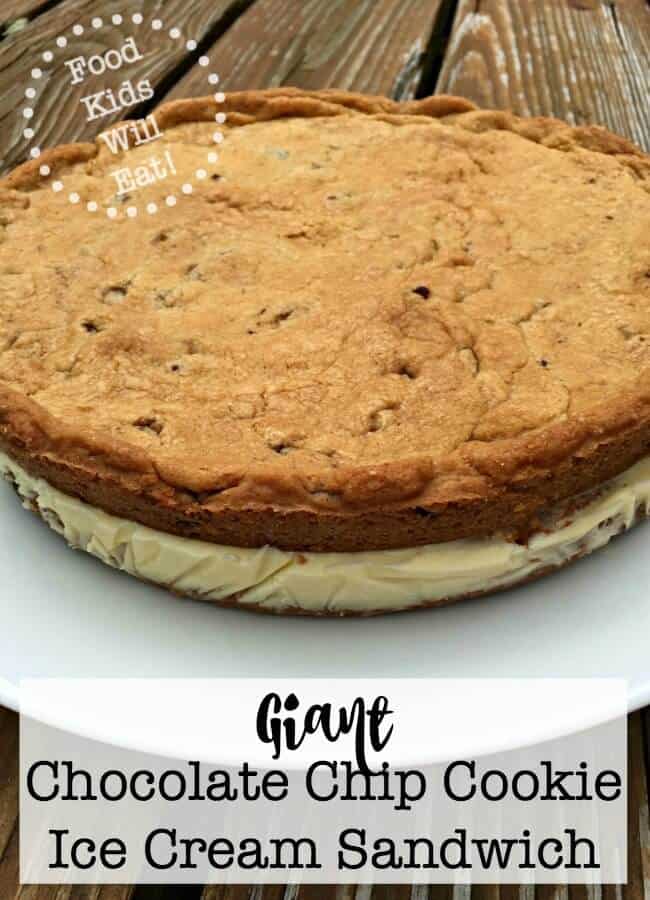 Giant Chocolate Chip Cookie Ice Cream Sandwich!
Of course, you start by making the dough for the two giant two chocolate chip cookies…
After baking and cooling the giant cookies, you spread your favorite softened vanilla ice cream on top, wrap them up in plastic wrap and freeze to set the ice cream sandwich.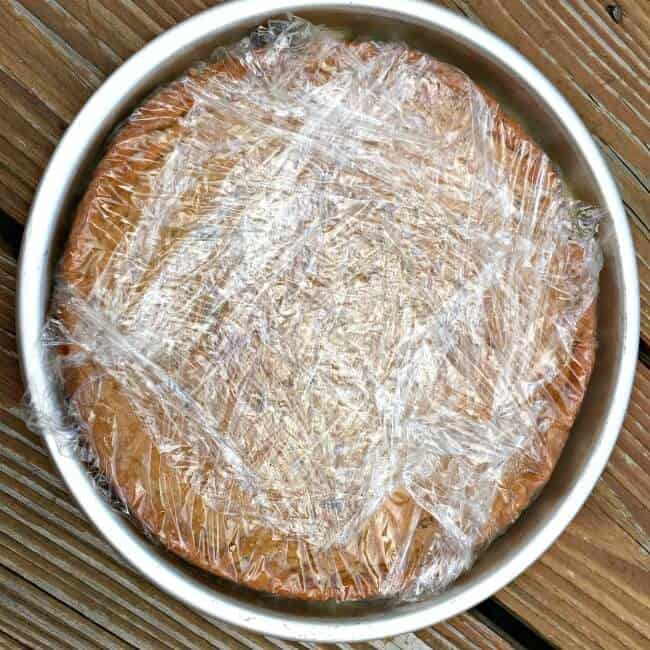 Giant Chocolate Chip Cookie Ice Cream Sandwich
Inspired by the "Chip-wiches" at Disney- this giant chocolate chip cookie ice cream sandwich recipe is designed to feed a crowd!
Ingredients
For the cookies
2 cups of all-purpose flour
1 teaspoon of baking soda
½ teaspoon salt
¾ cups of unsalted butter, softened
½ cup of sugar
¾ cup of packed light brown sugar
1 large egg
2 teaspoons of vanilla extract
1½ cups of chocolate chips
For the sandwiches
½ gallon of your favorite vanilla ice cream
Instructions
Prepare the cookies
Preheat your oven to 350° and prepare two 9-inch round baking pans with cooking spray.
Mix together the flour, baking soda, and salt in a small bowl and set aside. Place butter and both sugars in a mixing bowl and beat until light and fluffy (about 2 minutes). Add the egg and vanilla extract and mix until they're fully combined.
Add the flour mixture to the mixing bowl and beat only until just combined, then add the chocolate chips.
Divide the cookie dough in half and press into two 9-inch baking pans. (And I love this little trick to divide dough in half that I learned online- push the dough down into the bottom of your mixing bowl until it's all even across the top, and then, using a butter knife, draw a line down the middle to divide the dough. Scoop out each half individually and put into the baking pans!)
Bake at 350° for about 18 to 20 minutes until golden brown on top. Allow them to cool in the pans for 20-30 minutes, and then turn them out onto two wire cooling racks, allowing them to fully cool upside-down.
For the sandwiches
Using one of the same 9-inch baking pans that you used to bake the cookie, spread two long pieces of plastic wrap at 90° angles to one another, to create large overlapping sides. Put one of your cookies upside down into that baking pan and spread a 2 to 3 cups of vanilla ice cream over that cookie.
Place the other large cookie on the top right side up, and pull the plastic wrap over to fully wrap up your cookie sandwich. Place it in the freezer and allow it to freeze for 4-6 hours. Pull the cookie sandwich out of the freezer about 20 to 30 minutes before serving so it has time to soften up a bit which makes it easier to cut.
Now you might want to enjoy it like this…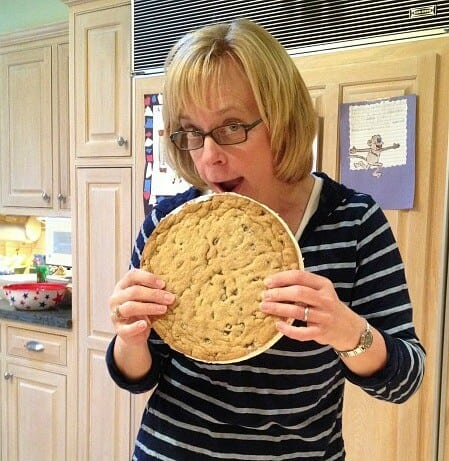 But maybe you should share!
Looking for More Recipes that Kids Will Actually Eat?
Then check out my Recipes page for breakfasts, dinners, desserts, and more that have been Rowley family approved!