Motherhood is one tough, all-encompassing, daily slog through the laundry, lunch boxes, and endless school papers kind of gig. And don't we all think that we could become the "Super Mom of our Dreams"- if we could just get organized?! Well, get your capes ready my friends, because you CAN do this!
You CAN be the Mom you'd hoped you'd be, you CAN raise your family and take care of your home, you CAN have hobbies and friendships, and you CAN even earn an income for your family. Yes, you CAN make recipes that your kids will actually eat, and you CAN plan fun family vacations, and you CAN even throw inexpensive yet creative at home birthday parties that your kids will love.
But it all really starts with the ability to get organized. Something many of us vow to do during every back to school season, every New Year's Day, every Monday morning….
Yet somehow- life gets in the way! Which is why the true path for busy Moms to get organized is not the Marie Kondo method of decluttering your entire home at once so that it's done- that just isn't realistic at this time in our lives! But we can work on things one bite at a time! Let's start at the beginning.

Why Do You Want to Organize Your Life Anyway?
If there's one thing I've learned from parenting 6 kids- it's that when I feel in control of my schedule and know where I need to be and at what time, when my home is picked up and uncluttered and I can find whatever it is that I am looking for at the time, and when I have a game plan of what I need to accomplish each day and can check a few things off- then I feel less stressed. I am more patient with my kids. I don't get that panicky feeling that tells me I am forgetting something (or someone) somewhere! Life just runs more smoothly. And I am a happier person.
I love this quote from Savvy Woman:
"You deserve the better life that comes from being organized. Spending a little time now to create and refine systems and stuff that works for you is a great investment towards that better life."
I think you know that you'll be happier and have a better life too. So let's start by becoming a "Mom with a plan"…
Set Some Goals and Make a Plan
"Being organized" is kind of a broad commitment. And I would imagine that there are some areas of your life that are working well, and some that could use a little polishing. I would also guess that "getting organized" is not the only thing you'd like to accomplish this month or even this year. So before we dive right into organizing- let's pause for a moment to reflect and set some goals.
Let's start by first reflecting on where you've been- what's been working for you, what were your accomplishments over the last year, and what made you feel happy? I've created this free printable gratitude list that you can use to write down your thoughts.
Once you have really given some thought as to what made you feel happy and grateful, move on to this goal setting worksheet where you can get very specific with setting goals and making a plan for each of them (using the SMART method of goal setting).
Once you've laid out your intentions, you'll need to have a way to check in with yourself on your daily goals and also a way to break down your longer-term goals into weekly actionable steps- and the tracking sheets I created will help you to do that.
Get Organized! Here's Where to Start to Organize Your Life:
If you are ready to get started- well then this is IT! These posts will walk you through a total overhaul of your in-home systems and routines that can help you to quickly become more organized. But sometimes we fail to start- because we just don't know where to begin. This post has 6 steps to help you start to organize your life– and it is a great place to get you started!
Family Calendars
The fastest way to get control over your life is to get all of your appointments and commitments down onto a family calendar. Ideally- one that you can share with your significant other and even your kids (when they're ready).
Create a Command Center
The idea behind having a functional command center is that you have one place where you put EVERYTHING you need- your important papers, your calendar, your to-do list, your grocery list, your incoming mail, and all of that paper that the kids bring home from school. It can serve as the family communication center and keeps everyone in sync!
Create Family Routines & Habits
Family routines for yourself and for your kids that outline the steps of what you need to do and the order in which you need to do them to get through a particular part of the day make our lives SO much easier!
Embrace Menu Planning
Menu planning is truly one of the best tools you can use in your quest to organize your life! When you know what you plan to serve for dinner each night of the coming week, you can make sure that you buy what you need during your weekly trip to the grocery store. A menu plan allows you to know if you need to take something out of the freezer ahead of time to defrost….. and the best part of all- is that the 5:00 pm hour seems a heck of a lot calmer because you are just executing a prepared plan… vs trying to think of one!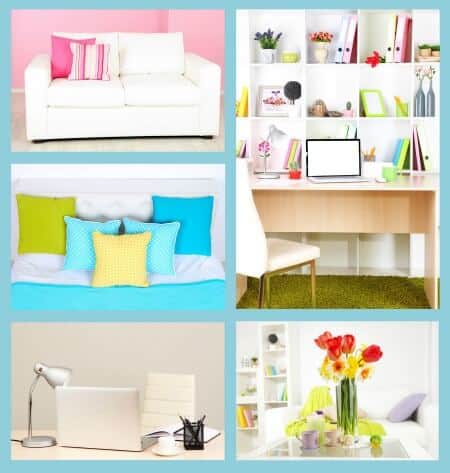 How to Organize Your Home
You know the old saying "a place for everything and everything in its place"? Well, there's a reason why that expression is still around- because order in our home leads to order and a sense of peace in our lives. When we are surrounded by clutter and "too much stuff" it becomes much more challenging to find whatever it is we are looking for. We end up buying duplicates (or more!) of things we already have because we can't find it. It drains our wallets and drains our sanity too!
But keeping a neat and clean home does not need to take up a ton of your time to get in shape and to maintain. It's about tackling projects in small "bite-sized" pieces to get your home the way you want it, and then creating habits that allow you to keep it that way!
Declutter and Clean
Kitchen
Closets
Bathroom
Bedrooms
Laundry Room/Mud Room
Home Office
Garage
Basement
Car
Moving a Teen Into College?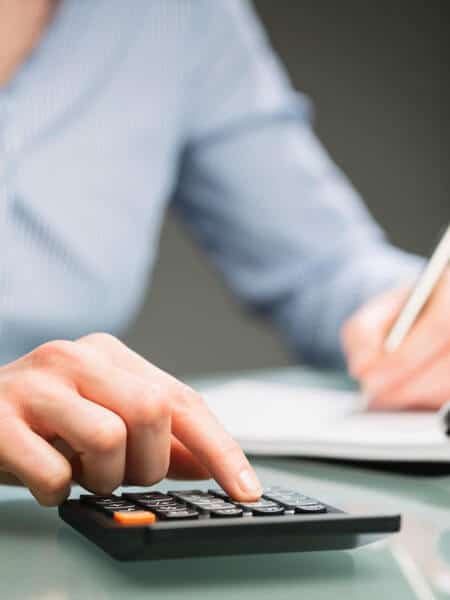 How to Organize Your Finances
In addition to running the household many of us are responsible for managing the family's finances- paying the bills, planning and sticking to the household budget, and even managing and tracking the family's financial investments. But all of that paperwork, filing, and tracking can be overwhelming and can create its own mountain of paper clutter. Here's how to organize your finances, and track your money!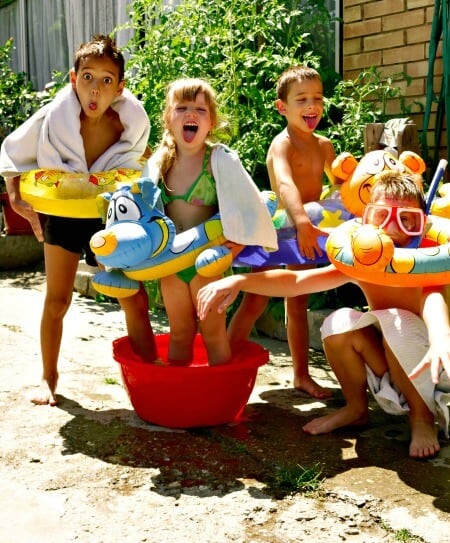 How to Organize Your Family
Managing your family brings its own set of organizing challenges! How do you keep on top of all of their medical records, the "treasures" they bring home from school, their sports equipment? And how in the world do you organize the thousands of photos and videos that you take? Here are some answers:
More Resources for Busy Moms!
Are you ready to get your life organized? Register for Busy Moms Boot Camp!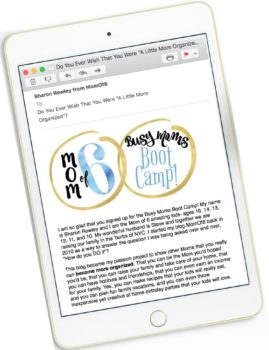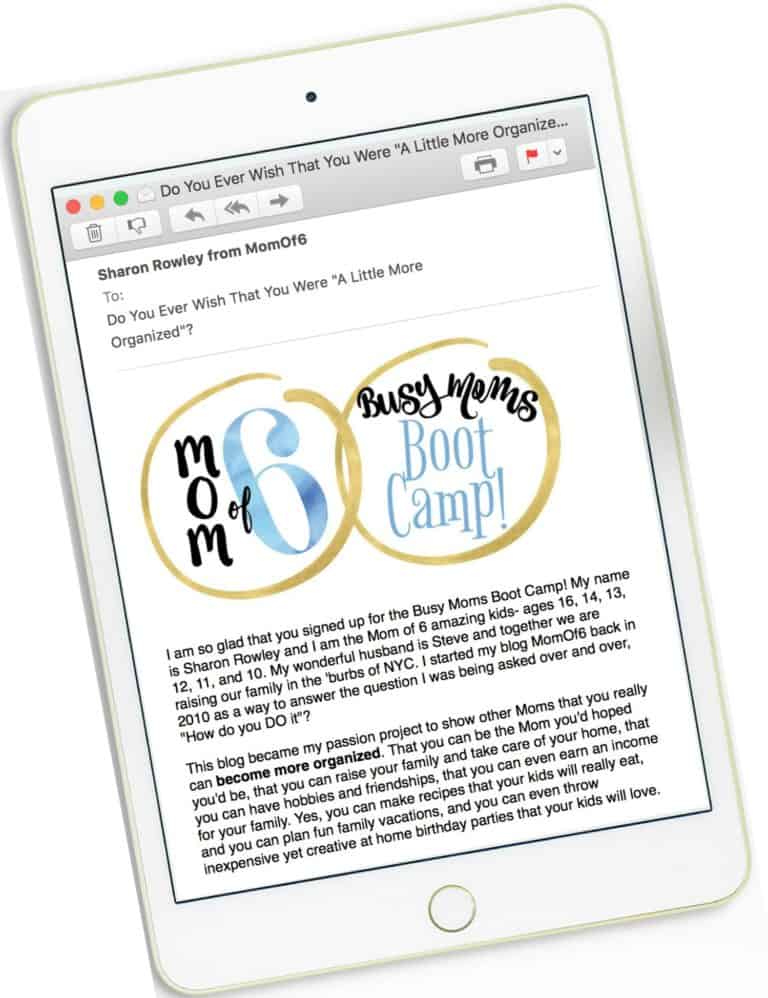 It's a free series of 10 weekly emails that can help you put some organization back in your life and help you to create room for all of those things that you'd like to be doing- whether that's making time to celebrate the little things with your family or carving out some space for yourself.
Busy Moms Boot Camp can help you to move from chaos to organized! Simply sign up below to get started!
Join the MomOf6 community!
You'll receive our twice-weekly newsletter via email filled with ideas and resources for busy Moms! *You can view our Privacy Policy here. To access the printable without subscribing to our newsletter, click here to send an email requesting access.
I hope that you found this to be a great resource for you as you work to become the more organized Mom that you want to be and leads you to happier and more fulfilled life!