Whether you are throwing a birthday party for tweens, hosting a club meeting for teens, or just looking for a fun game to play after dinner with your kids- these free printable party games for kids will have you all laughing and having a great time together!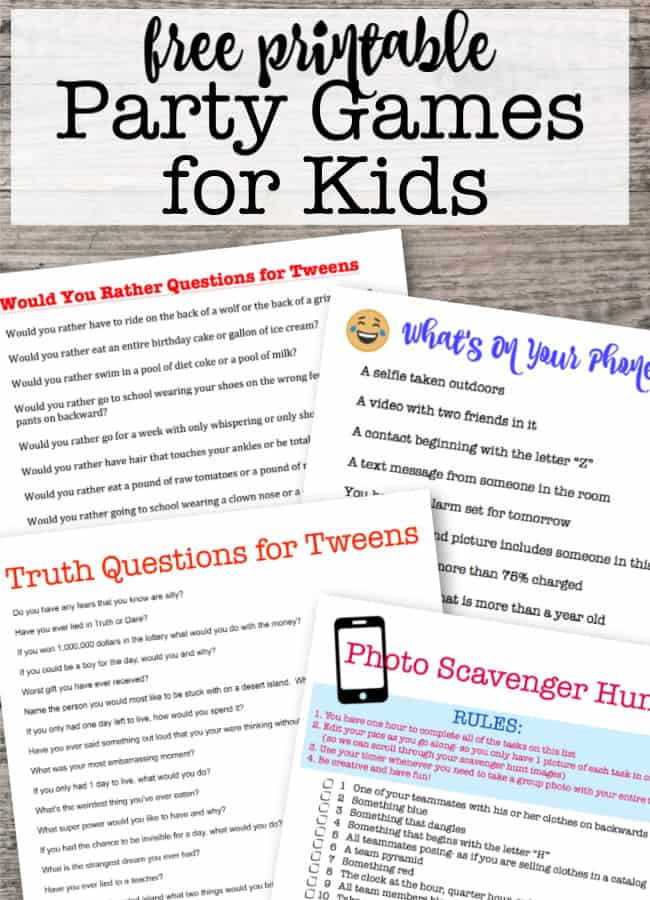 Free Printable Party Games for Kids
When hanging out together, tweens don't always want parents hovering nearby, ready to re-direct an ad-libbed party game where the questions and responses grow ever more daring!
So these fun party games were meant to give tweens and young teens a little structure and set the tone for the event. We skip questions about "crushes" (not everyone has them!) and focus on silly questions and actions rather than making anyone feel embarrassed!
More Great Ideas for Kids Parties
When planning a party or get together for tweens, I always suggest that you have a few extra games or activities "waiting in the wings" in case things move along more quickly than you had planned- or one of your games falls flat with your group.
If you are hosting a birthday party- know that most of the ideas below can be re-worked just a bit to fit any theme you choose. Get creative with naming the game or activity- with the materials you use, etc.
But above all- remember that it is meant to be fun for your guests- it doesn't have to be Pinterest or Instagram-perfect!
Fun Printable Holiday Party Games for Kids!
The holidays create all sort of fun opportunities to gather with friends and loved ones- festive dinners with extended family, school parties, and club meetings. The games listed below give you a chance to have some fun together and fit the theme of the day!
Or You Can Shop for These Awesome Games!
This is a collection of fun party games for tweens and teens that you can find over on Amazon!
More Great Resources for You!
I hope that you found this collection of party games to be helpful to you as you plan your event! Here are some more great resources you might like too: