My family loves, loves, loves nachos- and when we pile them with taco meat, shredded cheese, and dip them into a chunky salsa- well I think that counts as lunch. Or dinner! (They are just mini version of tacos, am I right?) But did you know that you can easily make your taco nachos on the grill? Preparing them in a foil packet and then grilling them adds a delicious smoky flavor to the nachos- a while new level of yumminess!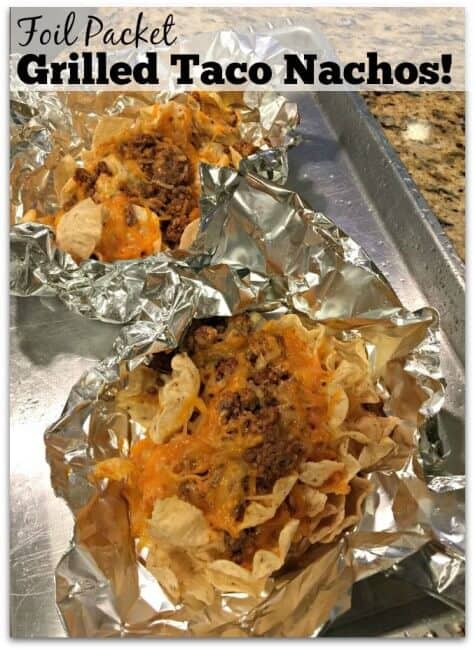 A couple of tricks that I've learned along the way…. you definitely want to use non-stick foil. And you want to create a loose foil packet that is completely open on the top to allow the steam to escape (no one wants soggy nachos!).
And you want to watch them carefully on the grill. Once the cheese has melted- remove the packets right away. Things can go from yummy to burnt pretty quickly!
Foil Packet Grilled Taco Nachos
2015-09-03 07:58:34
Did you know that you can make your taco nachos on the grill? Grilled taco nachos have a smokiness to them that makes them oh-so-delicious!
Ingredients
1 bag of Tortilla chips
1/4 lb ground beef, browned and grease drained
1/4 lb ground pork, browned and grease drained
1 Taco Seasoning packet
1 16-oz bag of shredded taco cheese
Jar of salsa (optional)
Sour cream (optional)
non stick foil
Instructions
Cut four sheets of foil, 18" long. Fold up the slides to form a tray.
Divide tortilla chips evenly among the foil packets.
Mix together ground beef, ground pork, and taco seasoning, with enough water to moisten.
Top nachos with seasoned ground meat, and sprinkle generously with the shredded cheese.
Wrap foil securely around the chips, making sure to leave the top open. Grill for 6-8 minutes until cheese is melted.
Serve with salsa and sour cream, if desired.
MomOf6 https://www.momof6.com/
Enjoy!