When I have the time, I love making pizza at home vs. ordering out for delivery. Especially when I can get my kids involved in making their own individual mini pizzas for dinner! The pizza dough comes together quickly and doesn't require time to rise, so you don't need to remember to start in advance (bonus!). And since this recipe makes enough dough for 12 make your own mini pizzas– it's perfect for play dates or birthday parties too!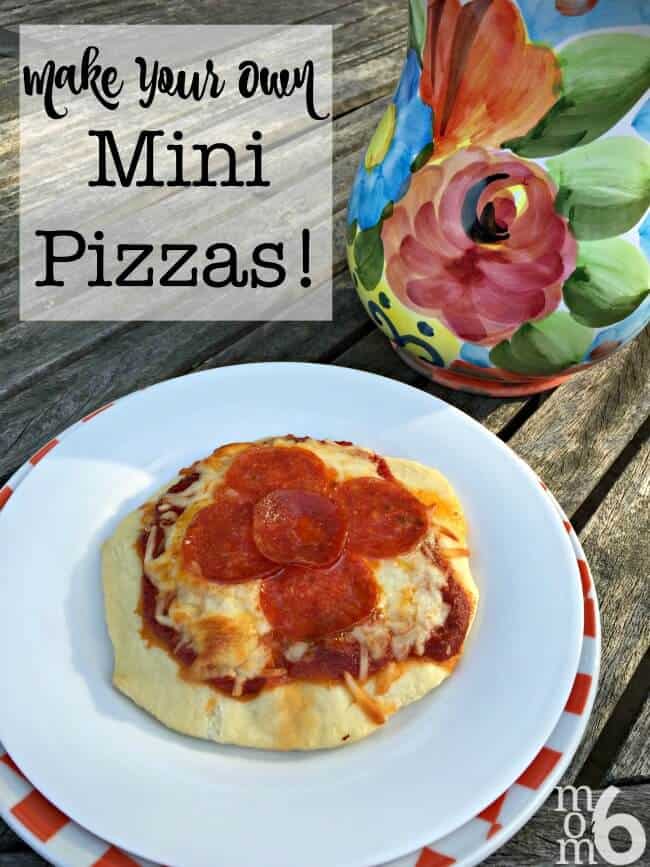 The pizza dough comes together in minutes, and once it is no longer sticky I use a knife to divide it into 12 small balls. Next, I pat them into disks- 3 to a parchment-lined cookie sheet. The pizza dough is then pre-baked at 400 degrees for 7-9 minutes.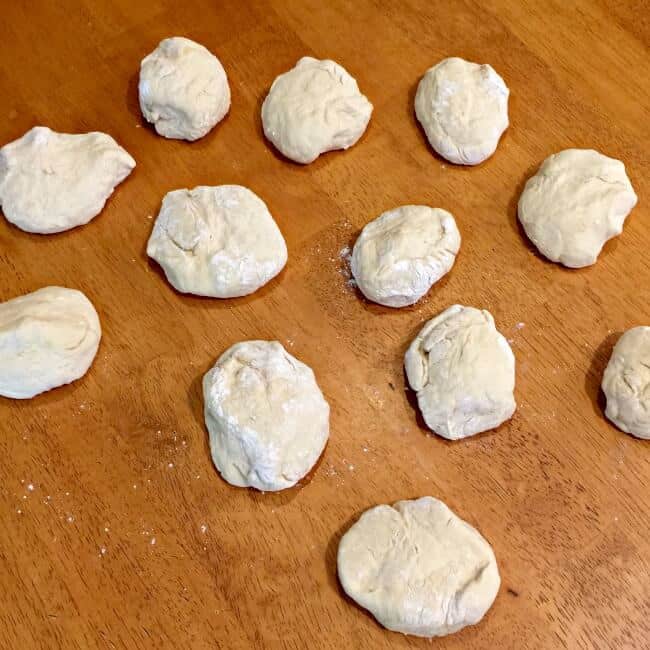 I put pizza sauce, mozzarella cheese, pepperoni, and other toppings in bowls with spoons and then call the kids in to top their make your own mini pizzas.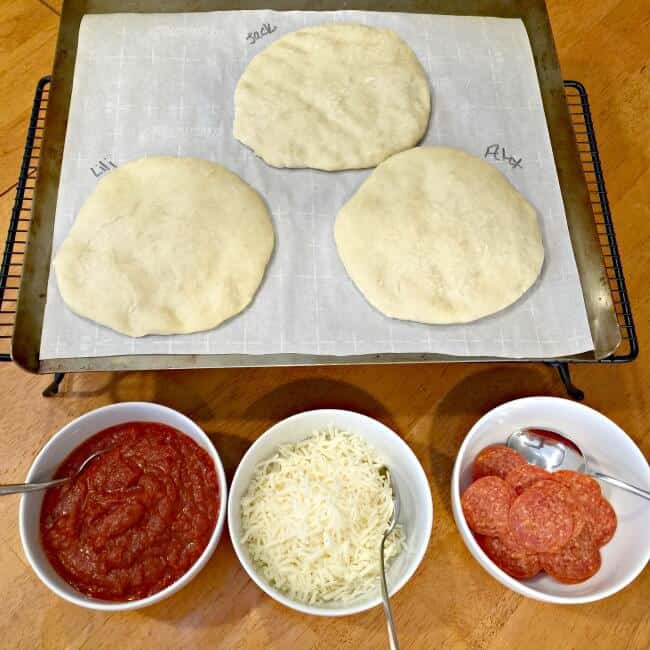 I like to write their names on the parchment paper so there isn't any argument later about who made which pizza!
Make Your Own Mini Pizzas
These make your own mini pizzas are a delicious and fun meal to make with your kids. Also perfect for playdates and birthday parties!
Ingredients
2 packages of yeast
2 cups of warm water
½ cup olive oil
5 cups of all-purpose unbleached flour (plus a bit more if the dough is sticky)
2 teaspoons of salt
Instructions
Preheat the oven to 400°. In a large bowl, mix the yeast in the warm water until the yeast is dissolved. Stir in the olive oil, flour, and salt until the dough becomes a ball. Add a little more flour if you find that your dough is too sticky.
Cover the bowl with a kitchen towel and allow it to sit on your stovetop while the oven is warming up, for 15 minutes. (Note: this dough will not really rise- and that's fine!) Divide the dough into 12 pieces.
Line four large baking sheets with parchment paper or nonstick foil, pat out the dough until it is very thin, fitting only 3 pizzas per baking sheet.
Bake in your preheated oven for 7 to 9 minutes until the crusts are set but not brown.
Top with sauce, cheese, and other desired toppings.
Bake in the 400° oven for 12 to 14 minutes until the cheese is starting to melt and the crusts are golden brown.
Looking for More Recipes that Kids Will Actually Eat?
Then check out my Recipes page for breakfasts, dinners, desserts, and more that have been Rowley family approved!
Enjoy!