If you are looking for a stuffing recipe that you can pull together in under 10 minutes and then toss into the oven…. keep on looking. 'Cuz this isn't it! But if what you are searching for is a delicious stuffing that is savory, tangy, with bread that is soft yet crunchy. that pairs nicely with chicken and turkey and heck- is even tasty at breakfast the next day? Well- I've got you covered. Just look past the fact that it takes bit of effort, dirties up more than a few pans and appliances… because trust me…. it is WORTH IT! Here's my recipe for sausage and dried fruit stuffing!
It all starts with the chopped pieces of dried fruit (I use apricots and cherries), soaked in Triple Sec, and then brought to a boil on the stove top.
Next comes the chopping. We like our celery and onions in tiny bits. All the flavor with none of the chunks.
We add the celery and onion to the sausage, which we've already browned on the stove and drained of its grease. While this sautés….
it's time to toast the sliced almonds. Because toasting them changes the game. I swear.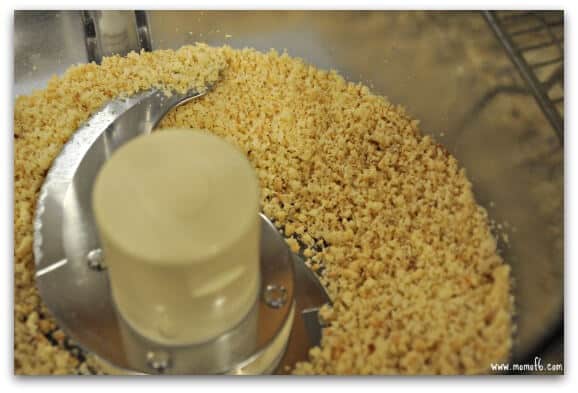 Use the food processor to chop them into bitty bits.
Mix together the little bread cubes, sausage, toasted almonds, and dried fruit and place it all in a 13×9 plan. Drizzle butter, chicken stock, and more Triple Sec on top and then give it a good stir to moisten all of the little cubes. Bake it- covered for a bit to warm the stuffing and then uncovered to crisp the top.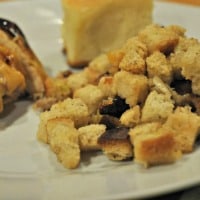 Sausage and Dried Fruit Stuffing
2014-11-15 15:21:07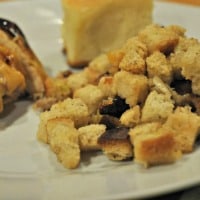 A delicious accompaniment to turkey and chicken!
Ingredients
1/2 cup diced dried apricots
1/2 cup diced dried cherries
1 1/2 cups of Triple Sec (divided)
1 c. chopped celery
1 large Spanish onion
1 lb. pork breakfast sausage
1 lb. herb stuffing mix
1 c. slivered almonds
1 c. chicken stock
1 stick unsalted butter
Instructions
Soak the diced dried cherries and apricots in 1 cup of Triple Sec in a small saucepan (unheated) for 10 minutes.
Bring to a dried fruit/Triple Sec mixture to a boil on the stovetop. Remove from heat, and set aside to cool.
Brown the sausage in a large skillet, and then add the celery and onion and saute for 10 minutes. Remove from the stove to cool.
Toast the slivered almonds in the oven- watching closely for them to brown (be careful- they turn from toasted to burnt very quickly!) After the almonds have cooled, dice them by hand or in a food processor.
In a large bowl mix together the stuffing mix, sausage, celery and onion, the dried fruit and liquid, and the almonds. (I found it easies to do this in two batches)
Heat the butter, chicken stock, and remaining 1/2 cup of Triple Sec in the same saucepan as used before, until the butter melts.
Pour this over the stuffing mixture and then stir to make sure all of the bread cubes are moistened.
Bake in a 13 x 9 pan at 350 degrees, for a total of 15 minutes (10 minutes covered in foil, 5 minutes uncovered).
MomOf6 https://www.momof6.com/
Monday: Chicken Marsala
Tuesday: Kyle's 14th Birthday Dinner Out!
Wednesday: Leftovers
Thursday: Homemade Pizza
Friday: Crunchy Chicken Nuggets
Saturday: Chicken Madeira
Sunday: Dad's in Charge!!
Looking to Prepare Food Kids Will Eat?
Check out my tried-and-true recipe collection!
(*This post is linked up over on OrgJunkie's Menu Plan Monday!)