Just a little over a month ago- I asked Momof6 readers to help me figure out how to makeover our kids playroom. Our old playroom was making me crazy- it was overly packed with things that the kids had outgrown and the furniture that was in there had been destroyed….
This microfiber sofa, originally purchased about 15 years ago and moved into the kids playroom last year, had lost its battle against the kids.
The walls were painted a bright, happy, sky-blue and the super-deep bookshelves are painted all kinds of primary colors- so the room now seemed too young for my growing kids…
And these two bookshelves that flank the door needed to be de-cluttered and put to better use….
And I needed to figure out what to do with the bean bag chairs? Stay or go…..
This whole room needed an update and needed to fit how the kids really use the space, which is now kind of like a kids media room. A place for them to hang out, watch TV, play the Wii, gather for cards or a board game, and it also needed to hold a few toys, trucks, and Legos for my youngest son who has not quite outgrown this stage.
So after decluttering the space (with the kids help) and painting the room on our own- we are now ready to show you…
The Playroom Makeover REVEAL!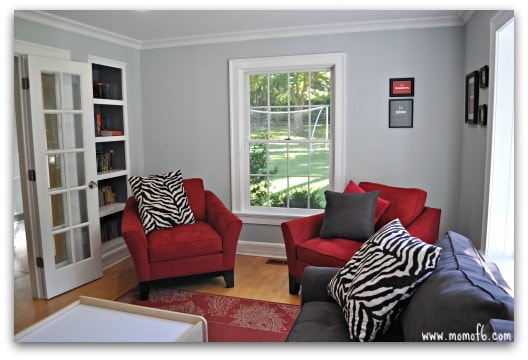 Okay- so at first I set my budget really low (reasonable-like) at $400. I figured that would allow for some new paint, some bins for organization and perhaps a cheap futon couch or two. And then….. my husband got involved.
And he insisted that buying two cheap futons would just be like throwing money away because the kids would destroy them in under a year. And in my heart- I knew he was right…. I just didn't want to spend the $ right now. Obviously- he won that argument. And I couldn't be more pleased.
And then he insisted that it was time to invest in a better TV too- because the 16-year old model that weighed 100 lbs was just an eyesore. But we both knew that today's rectangular model wouldn't fit in our bookcases unless it was really small. So we decided to buy a super-thin screen TV and mount it in the bookcase so that it could extend outside of the walls just a bit. I don't love it…. but it did give us a solution that didn't involve cutting into the woodwork.
And I love, love, love the colors! The red rug (which we already owned) was our inspiration for the room. We painted the walls a soft shade of grey and the interior of all of the shelves a deep rich granite grey which contrasts nicely against the bright white trim of the room. I used inexpensive red and grey pop-up bins to contain the games and toys on the shelves.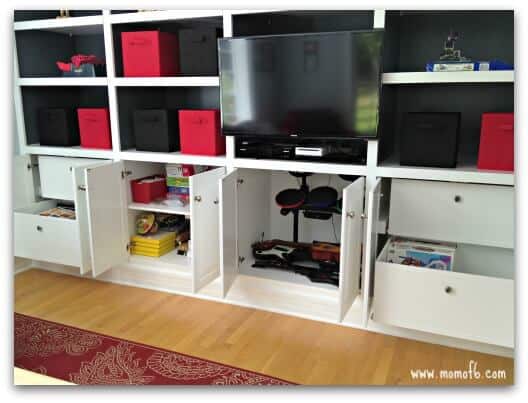 And the rest of the board games, Wii accessories, puzzles, Legos, and more live in the lower cabinets. And we kept the train table and are using it as a coffee table that also stores my son's collection of cars and trucks.
For artwork- I went the "free route"- creating prints in PicMonkey that matched an inspiring theme I had found on pinterest, and placing them in frames we already owned.
All the things that I wish for my kids…
Be…. thankful, kind, yourself, organized (of course!), creative, positive, curious, bold, honest and awesome!
So my friends…. what do you think?