I wasn't sure I was ready to leave Jackson, Wyoming (which I completely fell in love with!), but we did manage to pull ourselves together early on Monday morning, check out of our condo, and get on the road heading towards Utah by 5am. Yes, in order to cover such large distances, and still allow some time for activities on travel days, we have to start early! Along the way we drove through a portion of Idaho as well as a long stretch of Northern and Central Utah and we just drank in the incredible mountain and red rock views along the way. While in route, I checked the weather forecast for Cedar City, UT and was bummed to see that it called for rain. Because in the afternoon we had planned to hike a slot canyon in Kanarraville, and any chance of rain would cancel those plans due to the potential for flash floods in the canyon. (Grrrr).
So instead, we made our way from Cedar City over the mountains to check out Cedar Breaks National Monument, an amazing red rock amphitheater that is like a hidden gem halfway between Cedar City and Brian Head, Utah. Our time there was limited, as the storm clouds were rolling in, and we certainly didn't want to be on the top of a mountain if there was a potential for lightning strikes, so we took a little while to enjoy the views and take some photos- absolutely incredible!
We spent the evening in the ski resort town of Brian Head, Utah, a town that is on the quiet side during the summer months (which suited us perfectly!). We stayed in two gorgeous suites at the Cedar Breaks Lodge and the kids enjoyed some time in the fantastic pool area that has two huge hot tubs, a sauna, and a steam room. We could have spent hours there! We also enjoyed dinner at their pub-style restaurant which had a billiard table, and my older kids had some fun shooting pool while we ate dinner.
The next day we started our Utah National Parks adventure at Bryce Canyon- an incredible red-rock park full of structures called "hoodoos" which are towering spires that have been created by wind and water eroding the sandstone rock over time. Some of the hoodoos defy imagination- a tall skinny tower with a huge boulder that appears as if a giant carefully balanced it on top!
We chose to take the Navajo Loop Trail that connects to the Queens Garden Trail, so we followed the line of steep switchbacks down the mountainside and into the amphitheater where we were able to walk among the hoodoos. It was such a cool experience! Even Grandma joined us for this hike (You go girl!)!
After a stop just outside of the park at Ruby's Inn for lunch and a little souvenir shopping, we headed down towards Zion National Park where we would stay at the Cable Mountain Lodge for the night. But what I didn't realize ahead of time, was that the route between Bryce and Zion actually took us through a portion of Zion National Park that cars are allowed drive through. And we were absolutely blown away by being able to drive through these canyons. I even caught a glimpse of three desert bighorn sheep hanging out in the shade of the big boulder, but I was so surprised that I didn't even reach for my camera in time.
We toured the "main section" of Zion National Park the next day, using the park's shuttle bus system which gave us a great audio tour of the park. Silly me- I had been avoiding the shuttle buses in the national parks because it can be such a pain to not have access to your car and all of your belongings while hiking and picnicking- but in doing so, you miss learning all about the park's history on the bus's tour. Lesson learned! We hopped off the bus a few times- stopping to hike the Emerald Pools area (we only reached the lower pool), and while I really wanted to hike the Riverside walk that takes you to the start of The Narrows slot canyon…. the kids weren't up for it. (So Steve and I will save that for a future visit!)
There was also one other section of Zion National Park that we explored a few days later called Kolob Canyon, which is a short ten-mile round trip drive that gives you incredible views of these Navajo sandstone formations.
Wednesday afternoon we moved "base camp" over to the city of St. George, Utah and checked in to the gorgeous Coral Springs Resort. The weather was a tad warm- it registered as 109 degrees on our car's dashboard! So we spent the afternoon bobbing in the pool which was the only way to stay cool enough to enjoy the outdoors.
In the evening we had a chance to see you live production of "Mary Poppins" at the Tuacahn red rock outdoor amphitheater. Now- living in New York (as I do) and having seen many a Broadway production- I can tell you that this performance of "Mary Poppins" was absolutely first-rate! Mary descended upon the stage from the "sky", she rose over the audience to depart at the end of the show, and the character of Bert even sang one of his songs while tap dancing up the side walls of the stage and across the "sky", hanging upside down while doing so! My kids were enthralled and sat there unblinking with their mouths hanging open for most of the show. And in spite of the late hour (the show did not begin until 8:45 PM and didn't conclude until well after midnight, as the performance was followed by a fireworks show honoring Utah's Pioneer Day), it was truly a magical evening.
Thursday was supposed to be our "day off"- spent relaxing by the pool with no plans, but Steve, Kyle, Spencer, and I decided we wanted to meet Bonnie from the Iron County Visitor Center to "make up" our slot canyon hike we missed on Monday due to rain. We got up early and met Bonnie in Kanarraville at around 8:30 in the morning so that we could set out before the day warmed up. The first mile and a half into the canyon area was a lot of uphill hiking on a dirt trail- kind of strenuous for the kids, but they had no problem keeping up. Once we got to get to Kanarra Creek a lot of the hike was done in the creek itself in ankle-deep, or up to shin-deep water. We traversed the creek, hiked alongside of the creek bed , and continued for about another mile or so until we reached the actual slot canyon itself. And all I can say was WOW!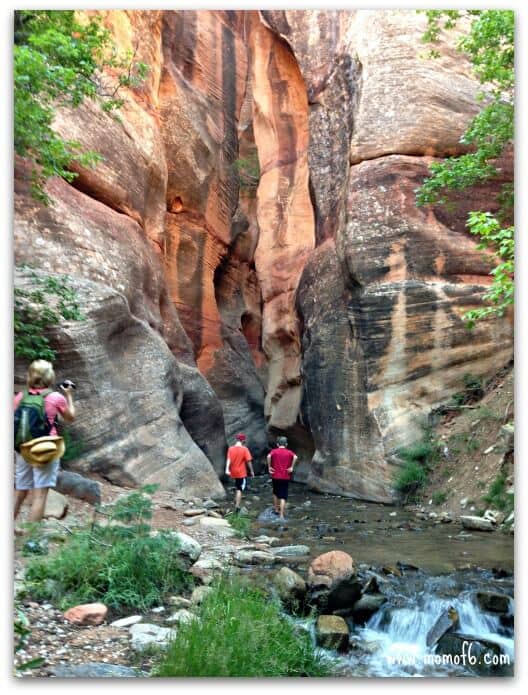 The red rock walls stretched up to the sky! It was almost like being in a cave with a little glimpse of the sky above. This hike gave us the chance to climb up three waterfalls and the boys spent some time on the third waterfall using it as a water slide- going down over and over in spite of the cold temperature of the water. The views were spectacular, the hike itself was amazing, and Spencer declared it "the best thing we've done on the trip so far"!
A Reality Check
Now lest you think that this trip is all smiles and the kids having the time of their lives, this little video shows you exactly what my kids thought after we reached the end of the Bryce Canyon hike after we walked among the hoodoos….
Overall I think that my kids are having a good time, and are surprised at how many great things we are doing. I know that at least one of my kids had worried that this would be a trip that would be all about "looking at rocks". And this same child has discovered how much fun it is to scramble all over those same rocks! Even though I say the phrase, "Wow- kids look at this view!" about 100 times a day in the car, for the most part they haven't tuned me out. They actually stop what they are doing and they look up at the view, and are enthusiastic about it. So I try not to pay too much attention to the times when they complain. Because I know that even if they are claiming they are miserable now- it doesn't mean they won't be bragging about that hike to their friends later!
And if you'd like to watch a quick video…
Here are 5 things for families to do while visiting Scenic Southern Utah:
*My family and I received a complimentary 2-night stay at the Coral Springs Resort, a 1-night stay at Cedar Breaks Lodge, and tickets to see "Mary Poppins" in Tuacahn during our road trip. But all opinions expressed here are my own.