Let me start by saying that I'm happy to report that our time on the road has been less eventful since we had our car breakdown! We continued on our journey out West on Tuesday, making up for the lost hours of travel time on Monday, and arrived into Estes Park, Colorado in mid-afternoon. And yes- I cheered when we crossed the state border into Colorado- because I couldn't believe that I actually drove my family from NY to Colorado! We made a quick stop at the grocery store, (not necessarily my favorite family outing), but we picked up what we needed and we headed on over to the YMCA to check into our cabin.
Now I know that sounds little strange…. who takes a vacation and stays at a YMCA? But I promise you- in Estes Park Colorado- the YMCA is THE place for families to stay! It's a huge resort overlooking the mountains and it's packed with activities for kids. There's mini-golf (2 courses!), an arts and crafts center, a climbing school, and tons of other things for families to do. (The activities booklet that they handed me a check in must have been 20 pages long). So after we checked into our cabin, unloaded what we needed from the car, and put the groceries away, we headed over to play little mini-golf.
Afterwards, we made our way over to the Pine Room restaurant at the Y- where we enjoyed a buffet of prime rib, shrimp cocktail, and salmon -not your typical Rocky Mountain fare- but it was delicious!
On Wednesday, we were out the door by 7 AM and enjoyed breakfast over at the Aspen dining room before making it into the park by 8 AM. The reason we wanted to be off so early is that some of the park roads are under construction and they closed to traffic after 9am- leaving visitors to rely on their shuttle bus system. And since I knew I wanted to pack us jeans for horseback riding, as well as a picnic lunch, I did not want to be at the mercy of the park's shuttle bus system.
We started our hike in the Bear Lake area, following the recommendation of a friend to hike up to Nymph Lake and then Dream Lake, and while my kids were a little bit grumpy when we started off- complaining about the amount of uphill hiking- they quickly learned that it was a lot of fun to scramble on all of the rocks. And when we got up to the first lake, we were engaged by a very mellow elk as he was munching on grass right near side of the lake! We continued on to Dream Lake, the kids scrambling over boulders the entire way. We passed a beautiful cascading waterfall too. I really I think it was the most beautiful hike I've ever taken in my life.
We headed back down the trail before reaching the third lake (Emerald Lake), so that we could have our lunch before heading over to the stables by 11:30 for our 2-hour trail ride. The man that ran Sombrero Stables was friendly- but seemed a bit concerned about putting six young kids on horses, who really have never done much riding before (except for Charlotte- our resident equestrian!), but he was game for it- carefully choosing the right horse for each one of the kids, and sending us out as a group on our own- along with three wranglers to help us out.
Most of my kids were pretty enthusiastic about the idea of riding horses- but when Alex got up on his horse- his first words were, "I'm want to get off!", and then he started telling his horse "Don't giddyup!" And I felt kind of bad for him…. I wasn't sure if I should offer to take him off of the horse or just hope that he worked it out…. but while I was hesitating, the wranglers handled it. They put a rope around his horse's saddle and one of them just led Alex's horse for him, so that Alex didn't have to do much of anything other than sit back and ride.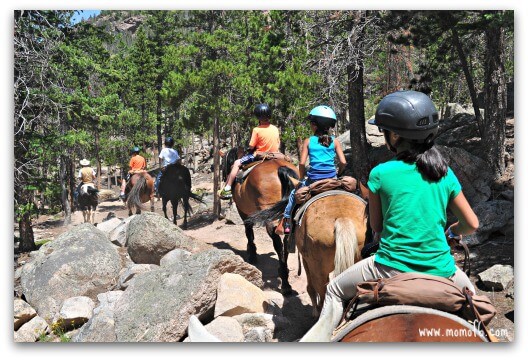 I'm really proud that Alex calmed down, and resigned himself to giving it a try…. he ended up having a good time. We all had an incredible ride in the park- the views were stunning, and we learned more about Rocky Mountain National Park from the wranglers as we rode along. We even crossed 2 small creeks, which is a lot of fun, and we returned to the stables the wranglers told me that my kids were the best behaved group of kids they have ever taken out before on a ride. (Okay, they probably say that to everyone… but it was still a proud Mommy moment!)
After the trail ride, the kids were pretty worn out and ready to be done for the day- but I had other plans. I wanted to drive up Trail Ridge Road to the top of Rocky Mountain National Park and stop at the Alpine Visitor's Center. So there might have been a little complaining going on when I started out- but it wasn't long before the incredible views got their attention. And I will tell you that the drive up made not only me as the driver a little nervous, but my kids as well- due to the sheer drop-offs on either side of the road at times! But we were we were rewarded with some amazing views of elk with giant antlers along the way! It was so cool!
When we came back down from Trail Ridge Road, we stopped by the Beaver Meadows Visitor Center where my younger kids earned their Junior Ranger badges- having completed the work in their Junior Ranger guide books. The park ranger sat with them, reviewed their books and asked them a few questions, and then made a "big announcement" asking all of the people in the visitors center to stop and watch his "awarding ceremony". It was so awesome!
After quick stop at the cabin to clean up, we ended our day in downtown Estes Park at a wonderful pizza and sandwich place called Poppy's Pizza. We had a great meal followed by a walk along the Big Thompson River- and it was just a great way to end what was a perfect day in Rocky Mountain National Park! I wish that we could have stayed here a little bit longer- there are still so many trails to explore and so many other great things to do in Estes Park- but I know that someday we will be back!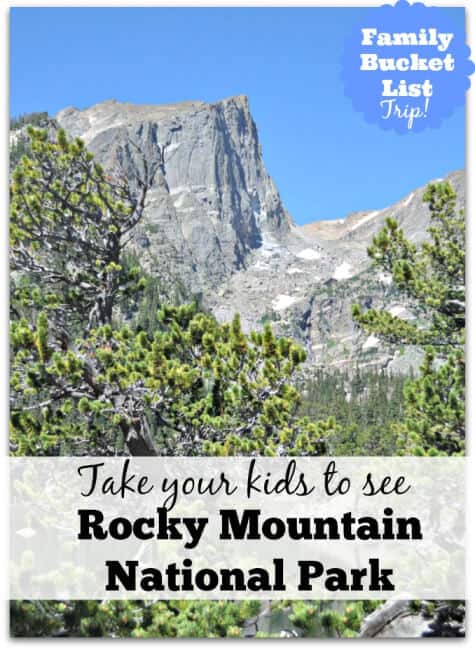 I also created this short video that highlights the 5 best things for families to do while visiting Rocky Mountain National Park- check it out!
*My family and I received complimentary horseback riding with Sombrero Stables and dinner at Poppy's Pizza. But as always, all opinions expressed here are my own.