The one sure way that I know to make sure that my family gets to do the things that are important to them this summer is to create a family summer bucket list. Then I use this list as I start to map out our DIY summer camp at home!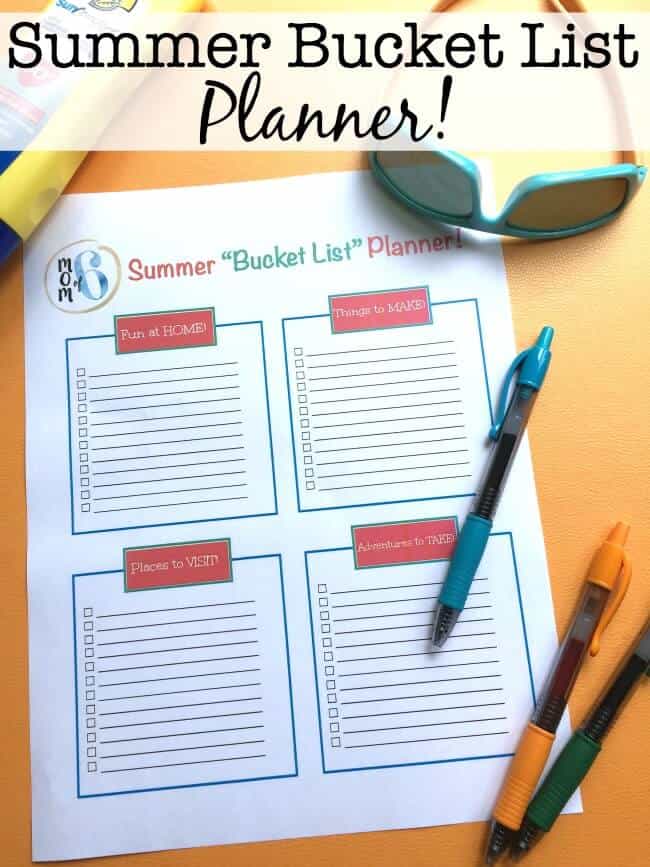 What kinds of things do they want to do this summer? Go camping? Head to the zoo? Swim in the ocean? When September hits and the kids look back on what we did over the summer- will they be excited to share it with their friends? Happy to write an essay about it? Or will they declare it lame-o?
Your Summer Bucket List Planner
One night at the dinner table, we will all sit down and brainstorm a list of ideas that would make our summer super-awesome. I list them by category:
Things to Do at Home: we'll come up with things like backyard games, ping pong tournament, water balloon fight, plant a fruit and veggie garden, etc.
Things to Make: this includes both recipes that we want to try (ice cream is always on the list!) as well as craft ideas we've seen and want to create.
Places to Visit: I like to think of these as easy local "field trips" we can get to in less than an hour. Hiking places, the zoo, the aquarium, the beach, etc. These are things that I can do on my own with the kids
Adventures to Take: This includes everything from vacation plans to bigger outings like zip lining, camping, or white water rafting. Generally, these are weekend activities when I have my husband around too!
During this brainstorming phase- (almost) everything goes on the list. Later on my husband and I will sit down and edit it to get rid of the things that are either crazy (I am not taking 6 kids outdoor rock climbing!), or out of reach (nor are we going on a real safari), and make sure that the list we end up with generally appeals to all- and everyone has at least one item that they requested on the list.
Are you ready to sit down with your family and work on your summer bucket list?
Awesome! Simply sign up below to join the MomOf6 community and you'll be directed to a thank you page with access instructions!
Join the MomOf6 community!
You'll receive our twice-weekly newsletter via email filled with ideas and resources for busy Moms! *You can view our Privacy Policy here. To access the printable without subscribing to our newsletter, click here to send an email requesting access.
And if you are looking for ideas on things to do with the kids this summer- check out my DIY Summer Camp resource page!
Looking for some great ideas for your DIY Summer Camp?
What's on your family summer bucket list?