I love using the grill to prepare chicken…. although it has taken me some time to master the whole "searing the outside while not drying out the inside" or even worse" leaving it raw" thing. And I consider myself a grill-master-in-progress…. as I still feel the need to take the cutting board outside and slice into a chicken breast to ensure that it is thoroughly cooked. A true BBQ chef "just knows"…. (maybe some day I'll get there!)
But what I can do is to mix up a fantastic dip, marinade, or spread to make grilled chicken just a bit more special. And this recipe for red pepper pesto dip- is a definite keeper. My youngest son has been known to spoon it on top of everything… including his ears of corn and watermelon! (He is one of my more adventurous eaters!) So here is my recipe for grilled chicken with red pepper pesto dip!
Red Pepper Pesto Dip
One 7 ounce jar of roasted red peppers, drained well 1/3 cup of olive oil 3 Tablespoons of balsamic vinegar 1/2 Tablespoon of minced garlic 1/2teaspoon of dry mustard 1/2 teaspoon ground coriander Pinch of ground cinnamon 1/2 cup of sliced almonds *Optional 1/4 cup of fresh chopped cilantro (my kids don't love this spice, so I usually leave it out)
The first step is to lightly toast the almonds. Place almonds onto a sheet of nonstick aluminum foil and place in a toaster oven (or oven) preheated to 350° for 3-5 minutes. Be careful to watch them the whole time- because almonds can quickly go from toasted to burned! allow them to cool for a few minutes and then place them in the bowl of your food processor and pulse until finely ground.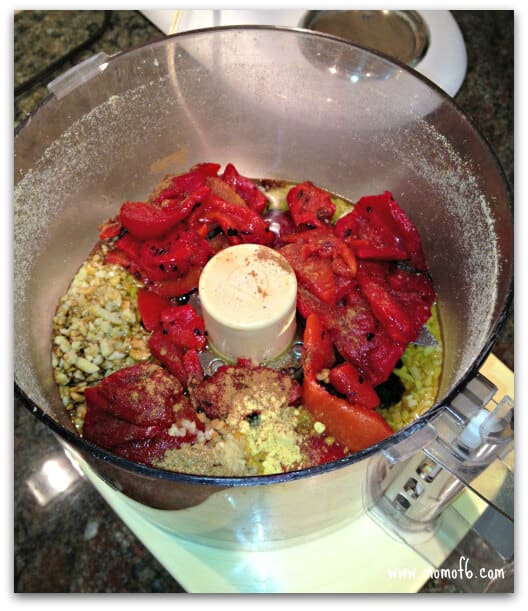 And the remaining ingredients to your food processor and blend until puréed. Season with salt-and-pepper and chill before serving.
Grilled Chicken
4 skinless boneless chicken breasts 2-3 Tablespoons olive oil
Brush the olive oil over the chicken breasts (while they are still on the plate- adding oil while grilling will cause flare-ups!). Grill on medium high heat until cooked through. Using a serrated knife, cut into slices and serve with red pepper pesto on the side.
Grilled Chicken with Red Pepper Pesto Dip!