When my son Spencer celebrates his birthday, there is only one cake that he wants Moms to make every year- it's this homemade red velvet cake – one of his favorite desserts!
It's no wonder why it's his favorite. The cake itself bakes into this rich, moist, flavorful deliciousness- and when you pair it with the fluffy cream cheese and butter frosting- it is amazing! And it's not hard to make it all- just a few more steps than what it would take you to bake a cake from a mix. It's so worth it!
The cake batter comes together in just a few short minutes, and it super bright red! Pro tip: drop the filled pans onto the counter a few times to release the air bubbles from the batter. This will make for a denser cake!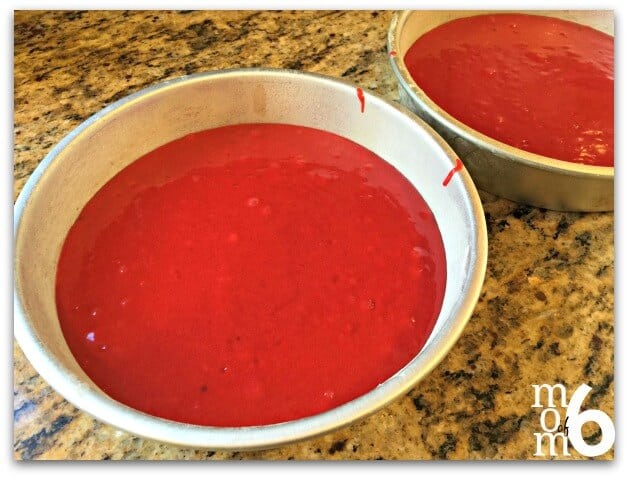 Make sure the cream cheese and butter are at room temperature before you prepare the frosting for the cake. Spread a dab of cream cheese frosting onto the cake plate before placing the first layer on the plate. Then spread a generous layer of the frosting over the first cake layer before adding the second layer and frosting the top and sides.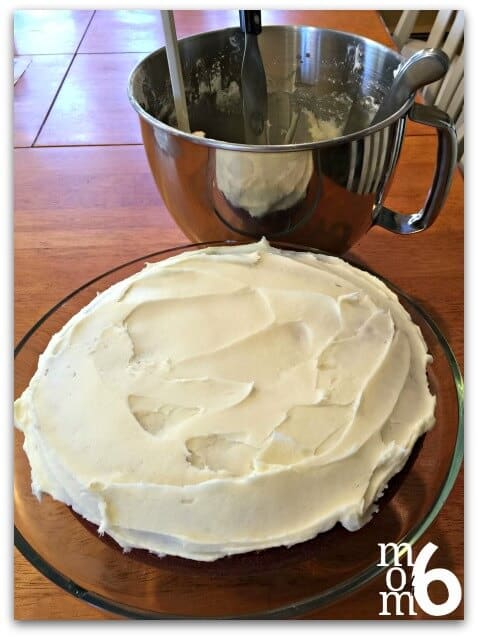 Then be sure to check out this list of my favorite Kitchen Gadgets This is an affiliate link: MomOf6 earns a commission if you purchase, at no additional cost to you. for Busy Moms over on my Amazon influencer page This is an affiliate link: MomOf6 earns a commission if you purchase, at no additional cost to you. !
Homemade Red Velvet Cake Recipe:
Best Ever Homemade Red Velvet Cake!
This rich, moist, flavorful homemade red velvet cake is perfectly paired with a delicious cream cheese frosting! And it makes for a fantastic birthday cake!
Ingredients
2½ cups all-purpose flour
2 cups of sugar
1 tablespoon cocoa
1 teaspoon salt
1 teaspoon baking soda
2 eggs
1½ cups vegetable oil
1 cup buttermilk
1 tablespoon white vinegar
1 teaspoon vanilla
2 oz. red food coloring
Cream cheese frosting
8 oz. of cream cheese (room temperature)
1 cup of butter (room temperature)
1 teaspoon vanilla
6 cups powdered sugar
Instructions
Preheat the oven to 350°.
Grease and flour two 9-inch cake pans.
Lightly scramble the eggs in a medium bowl using a whisk. Add in the remaining liquid ingredients and stir together until blended.
Place all of the dry ingredients into a mixing bowl and stir together with a whisk. Add in half of the wet ingredients, and mix. Then repeat with remaining wet ingredients.
Divide the batter evenly into the cake pans. Drop the pans on the counter a few times to release any air bubbles.
Bake at 350° for 30 minutes or until the toothpick inserted comes out clean.
Allow the cakes to cool for 30 minutes before frosting.
Sift the powdered sugar and set aside. In your mixing bowl beat together the cream cheese and butter until fluffy. Add in the vanilla and then in batches add the powdered sugar. Beat until fluffy and ready to spread.
I feel pretty strongly about making homemade birthday cakes for my kids, and have written about my labor of love for homemade cakes here! I would love to hear about how you feel- do you believe that birthday cakes need to be homemade?
Looking for More Recipes that Kids Will Actually Eat?
Then check out my Recipes page for breakfasts, dinners, desserts, and more that have been Rowley family approved!