My family is a big fan of Pizza Hut's pan pizza- with its thick crispy crust and yummy toppings! But sadly there are no Pizza Hut restaurants anywhere near where we live- so after trying out many different versions of copycat recipes– we've perfected this one! You'll definitely want to try our Copycat Pizza Hut Pan Pizza Recipe!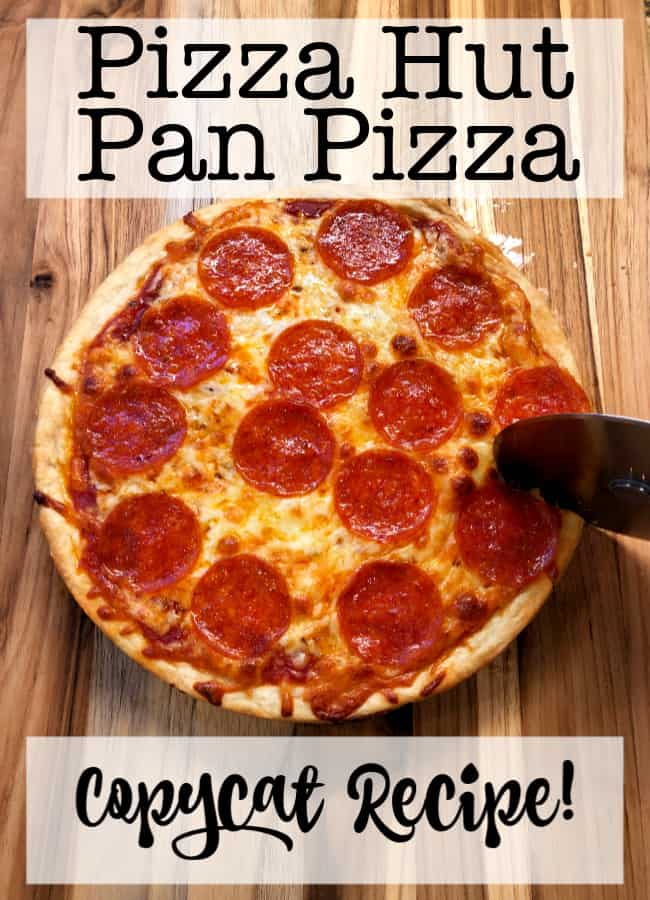 My kids kind of have "this thing" about Pizza Hut pan pizza. It all started one summer when we were camping near Mammoth Cave Kentucky, and the campsite was rather infested with yellow jackets. We decided there was no way we were going to attempt to cook food on our camp stove with the yellow jackets hanging all around- so we drove into town where we spotted a Pizza Hut restaurant.
But what really caught our eye was the big sign out front that announced their all-you-can-eat dinner buffet that had some kind of ridiculous price of like $5.95 per adult and $3.95 per kid! And that was the visit that got my kids hooked on Pizza Hut pan pizza! For the rest of the summer, no matter where our travels took us, they were always on the lookout for the red-roofed restaurant!
So you'd better believe that I wanted to learn how to make it at home!
How to Make Copycat Pizza Hut Pan Pizza:
You'll want to start the dough at least an hour before you plan to bake your pizza. It doesn't take long to pull together…
And once it's done, you'll want to roll it out into a circle (and yes, I do use a rolling pin for this step!)
And then you'll want to prep your pan. And by prep- I mean pour about 2 T of olive oil into your round pan (I just use a basic Wilton 8″ cake pan This is an affiliate link: MomOf6 earns a commission if you purchase, at no additional cost to you. for this, and then tilt the cake pan so that the oil covers the bottom.
I know that it will seem like a whole lotta oil- but trust me- this is what crips the bottom of the crust and gives it that delicious pan pizza taste!
Place the dough round into the cake pan, cover it with a plate, and place it somewhere warm to rise for an hour. I typically do this in my oven that has been warmed up to its lowest setting for 5 minutes and then turned off, so the oven is warm but not hot.
After the dough has risen, remove it from the oven- and preheat the oven to 400 degrees. While the oven is warming up- add your toppings. I like to "doctor up" a jar of pasta sauce with spices before adding it to the pizza.
And my kids love to help with the toppings so they can get just the kind of pizza they'd like! Bake for 20 minutes until the cheese is golden and bubby!
Then be sure to check out this list of my favorite Kitchen Gadgets This is an affiliate link: MomOf6 earns a commission if you purchase, at no additional cost to you. for Busy Moms over on my Amazon influencer page This is an affiliate link: MomOf6 earns a commission if you purchase, at no additional cost to you. !
CopyCat Pizza Hut Pan Pizza Recipe:
CopyCat Pizza Hut Pan Pizza Recipe
Ingredients
For the dough:
1⅓ cup warm water (105 degrees F)
¼ cup non-fat dry milk
½ teaspoon salt
4 cups flour
1 Tablespoon sugar
1 package dry yeast
2 Tablespoons olive oil (for dough)
6 Tablespoons olive oil (divided between the pans)
For the Sauce:
1 jar of tomato sauce
1 teaspoon oregano
½ teaspoon marjoram
½ teaspoon basil
½ teaspoon garlic salt
Instructions
Mix yeast, sugar, salt, and dry milk in a large bowl. Add water and stir to mix well. Allow the mixture to sit for two minutes until the yeast appears frothy.
Add 2 T olive oil and stir again. Add flour and stir until dough forms and flour is absorbed.
Turn out on to a flat surface and knead for about 10 minutes until the dough is "silky". Divide dough into three balls.
In three 9″ cake pans, put 2 oz. of olive oil in each making sure it is spread evenly. Using a rolling pin, roll out each dough ball to about a 9″ circle. Place dough in cake pans.
Place a plate over each pan (to hold the heat in), and put the pans in a warm place to rise for an hour (I usually put mine in an oven that I turned to warm for 10 minutes and then turned off so I that I heated it slightly).
Meanwhile- make the sauce. Empty out a bit of sauce from the jar and add in the spices. Stir to mix, replace the top and shake the jar to mix completely.
After the dough has risen, you can use your fingers to press down the center and shape the dough a bit, and then add your doctored-up sauce and pizza toppings. Bake at 400 degrees for 20 minutes or until the cheese is bubbling and the pizza crust is brown.
Looking for More Recipes that Kids Will Actually Eat?
Then check out my Recipes page for breakfasts, dinners, desserts, and more that have been Rowley family approved!