I forget just how much my children love seafood until we are on vacation somewhere and go out to dinner at a restaurant that has an "all you can eat" crab legs or shrimp special. Then my kids will eat as if I haven't fed them in days! Seriously, they love it! Which is why I am trying to add more seafood meals to our weekly dinner schedule! This recipe for grilled shrimp with garlic and breadcrumbs has become a family favorite!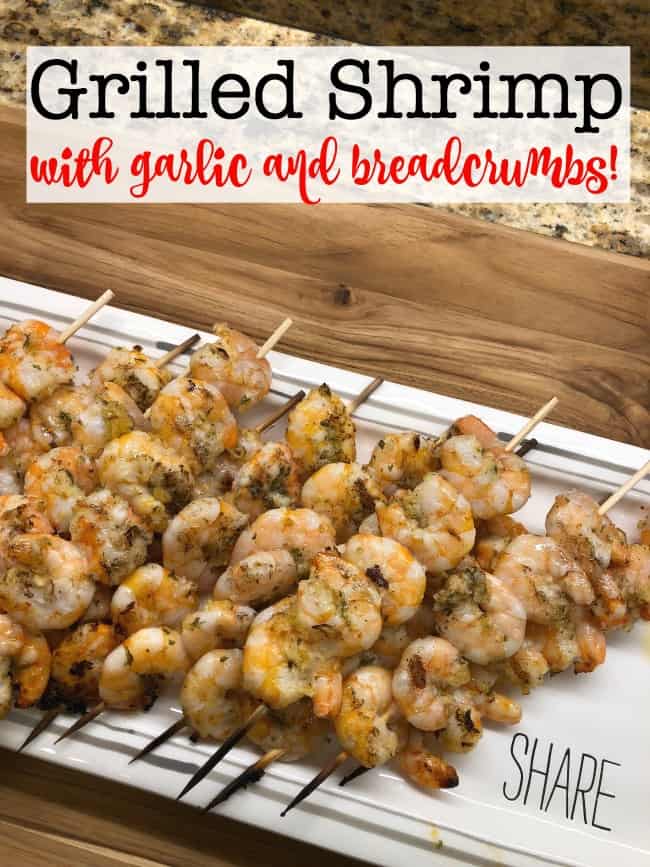 When our local grocery store has a sale on frozen shrimp- I stock up and store them in my basement freezer. Then it's simply a matter of defrosting them by popping the frozen shrimp into a colander and run the colander under cold water for a few minutes to thaw.
Be sure to soak the skewers well in water, so they do not burn on the grill!
Grilled Shrimp with Garlic and Breadcrumbs Recipe:
Grilled Shrimp with Garlic and Breadcrumbs
This grilled shrimp with garlic and breadcrumbs is an easy weeknight meal that your kids will love!
Ingredients
2 pounds of uncooked medium-size shrimp (31-40 count) shells removed, deveined, and tails removed
¼ cup of olive oil
1 Tablespoon of minced garlic
½ cup of dried seasoned breadcrumbs
1½ Tablespoons of dried parsley
Instructions
Stir shrimp, olive oil and garlic in a large bowl to combine. Add breadcrumbs and dried parsley and toss until all of the shrimp are evenly coated. Thread shrimp onto skewers and place on a plate. (If you are going to use wooden skewers then be sure to soak them in water for 20 minutes before adding the shrimp). Cover and refrigerate for up to 3 hours.
Grill shrimp just until it turns from grey to pink, and the breadcrumb coating begins to brown- about 2 minutes per side. Transfer to a platter and serve!
Looking for More Recipes that Kids Will Actually Eat?
Then check out my Recipes page for breakfasts, dinners, desserts, and more that have been Rowley family approved!