Growing up, I remember how much my father and my brother loved my Mom's Texas Sheetcake. So of course when I grew old enough to learn how to bake, Texas Sheetcake became part of my recipe collection too. And now I can say without a doubt- it is my son Jack's very favorite dessert!
Jack loves for me to make it on his birthday and he also requests that I send it to school whenever there is an event that calls for baked goods. I've even been known to pre-cut the cake and nest pieces into jumbo-sized cupcake liners to make it easier for teachers to pass out individual slices!
There are a million variations of this recipe out there- but they all lead to a thin cake baked in a jelly roll pan that is known for its creamy chocolatey yumminess. I have tasted a few other Texas Sheetcake recipes over the years at other people's homes or bake sales, and I have never found one that I like better than the one that my Mom made. I guess you love best whichever kind of Texas Sheetcake you grew up with!
Here's how it's made:
Texas Sheetcake Steps:
It all starts in a small saucepan on the stove where you make the chocolate base for the cake- before adding it to the dry ingredients.
Just look at all of that creamy chocolatey goodness….. and try not to eat it with a spoon!
After the cake has baked and cooled, you'll prepare the rich chocolate frosting- which is then poured over the cake.
The frosting is very thin and should spread nicely over your cake, but you might have to help spread it around a bit and into the corners of your pan.
Allow the frosting an hour or so to cool and harden a bit before cutting into the cake.
Then be sure to check out this list of my favorite Kitchen Gadgets This is an affiliate link: MomOf6 earns a commission if you purchase, at no additional cost to you. for Busy Moms over on my Amazon influencer page This is an affiliate link: MomOf6 earns a commission if you purchase, at no additional cost to you. !
Texas Sheetcake Recipe:
Texas Sheetcake
You can find dozens of recipes for Texas Sheetcake online- but this is the one my Mom made for me growing up- and I think it is simply the best I've ever tasted!
Ingredients
For the cake
2 sticks of margarine
4 tablespoons of cocoa
1 cup of water
2 cups of flour
1 teaspoon of baking soda
2 cups of sugar
2 eggs
½ cup of milk (I use skim because it is what I always have on hand in my fridge)
½ tablespoon of vinegar
1 teaspoon of vanilla
For the Frosting
1 stick of margarine
4 tablespoons of cocoa
6 tablespoons of milk
1 lb box of powdered sugar
Instructions
For the cake
In a small saucepan on the stovetop, bring to a simmer the 2 sticks of margarine and 4 tablespoons of cocoa. Add 1 cup of water and allow the mixture to come to a boil.
Allow the saucepan to cool for a few moments while you prepare a large mixing bowl with 2 cups of flour, 1 teaspoon of baking soda and 2 cups of sugar. Stir together with a spoon, and then pour the chocolate mixture from the saucepan on top and stir.
Next add the eggs, milk, vinegar, and vanilla. Mix until smooth.
Coat a jelly roll pan with nonstick spray, then pour in your batter. Place pan into a 350 degree preheated oven for 25 minutes.
You can double check that the cake is done by inserting a toothpick into the middle of the cake- and when you extract it, it should come out clean with no wet batter on the toothpick. Allow the cake to fully cool on a wire rack before frosting it. (Leave the cake in the jelly roll pan, this is not the kind of cake that you turn out of the pan before frosting).
For the Frosting
Starting with the saucepan again- melt 1 stick of margarine, 4 tablespoons of cocoa and 6 tablespoons of milk. Bring the chocolate mixture to a simmer.
Pour your chocolate mixture over a 1 lb box of powdered sugar (but I recommend that you run the powdered sugar through your sifter first. It will break up any clumps of sugar and will make your frosting much prettier!) stir quickly until smooth, and then quickly pour it on top of your cooled Texas Sheetcake.
No wonder this is Jack's favorite cake!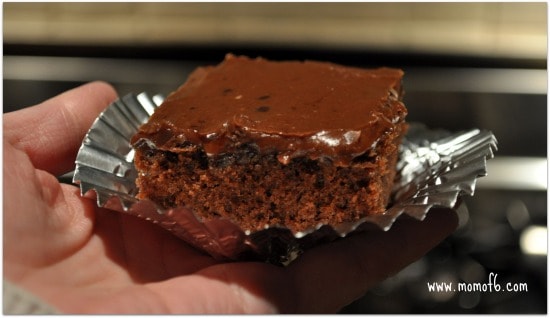 Even when served cupcake-style!
Looking for More Recipes that Kids Will Actually Eat?
Then check out my Recipes page for breakfasts, dinners, desserts, and more that have been Rowley family approved!