*Please note: I am just a parent who is a fan of the hit TV show "Amazing Race" and created an Amazing Race birthday party theme that celebrates the fun of the show. This post is in no way affiliated with or endorsed by CBS or The Amazing Race. All ideas and opinions expressed here are my own.
I LOVE throwing fun yet easy kids birthday parties at home! Over the years I have done a ton of them- but the one I've done more than any other is our "Minute To Win It" themed birthday party. It has fun games, it keeps active kids engaged, and it is so simple to put together. But this year I thought I would create a party around another favorite TV show in our house… "The Amazing Race"! We watch it together as a family on Sunday evenings and I knew my kids would LOVE an Amazing Race birthday party!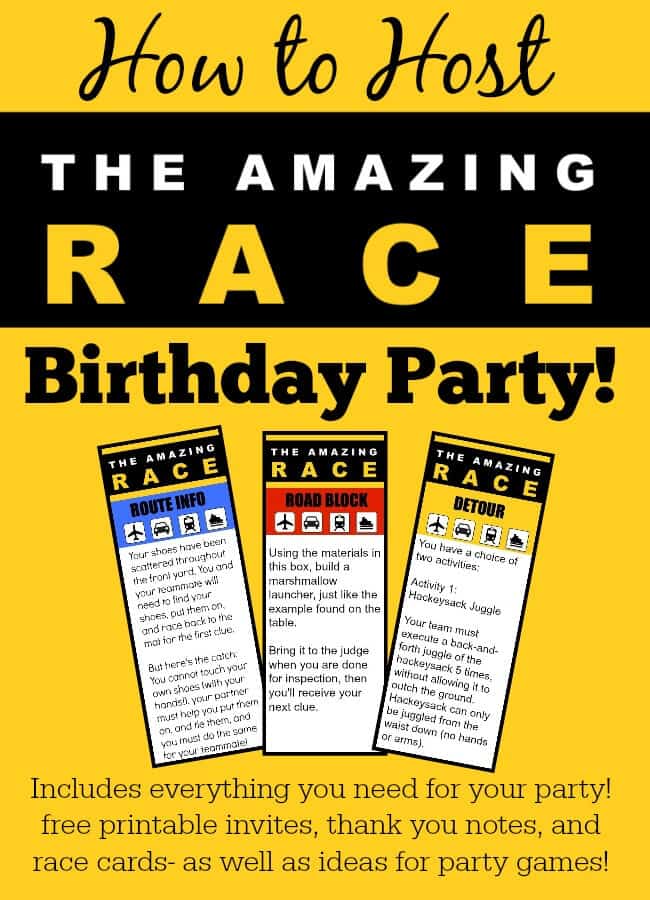 Amazing Race Ideas
If you look online you'll see lots of ideas for holding an Amazing Race party that involves teams paired up with Moms and Dads as drivers, conducting the race throughout their hometown. But these parties take some more significant set-up time, and you have to work with local shopkeepers to help with game participation, plus it means securing other adults to serve as team leaders and drivers.
The other downside is that your birthday party guests are spread out all over the place playing the game as they race around the town, so you are missing the change to enjoy each other's company! So I wanted to create an Amazing Race birthday party that you can do in your own backyard. (Or if you want more space you can hold it at a local park- but it will still be all in one place, no driving around needed!)
The Amazing Race Birthday Party Invitation: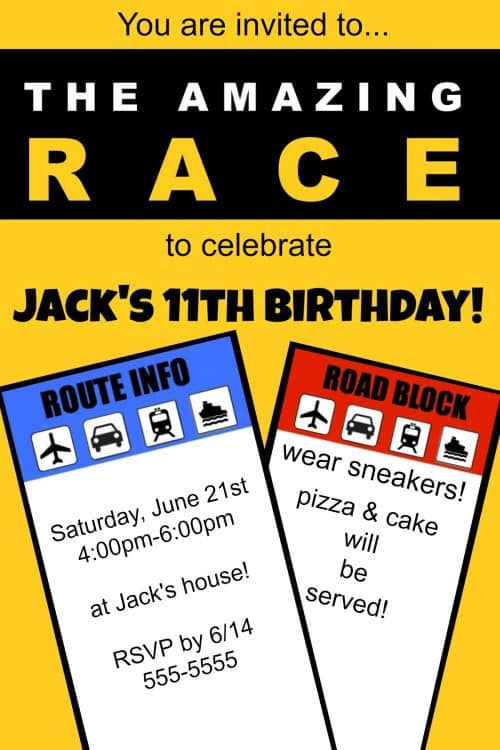 I created these cool party invites which can be printed and mailed or sent out as an email attachment, and I asked the guests to please come wearing sneakers (I don't want risk game-time injuries due to kids playing in flip-flops!)

You'll find a download link to the printed invite at the end of this post. You can either fill in the party information by hand, or upload the image to PicMonkey to add text. (Check out my tutorial on how to use PicMonkey to create birthday party invitations!)
Amazing Race Games:
When kids arrive you can draw names in pairs from a hat to make up teams. Hand each team a pair of tee shirts in a different color (blue team, red team, green team, etc) and then ask the players to remove their sneakers and put them into a bin so that one of the adults can scatter the sneakers throughout the yard for the first game! Lead the kids over to your starting area to kick-off the Amazing Race. (On the show, there is a mat that players stand on to begin and end legs of the race. You can use the mat from your front door, or buy one with the Amazing Race logo here!)
Mom, Dad, or an older sibling can serve as the announcer, welcoming the teams and explaining the rules of the game:
"We'd like to welcome our teams to this leg of the Amazing Race, celebrating Jack's 11th Birthday Party. Let's meet our teams…. The Blue Team is made up of Jack and Alex- long lost cousins who now attend college at the University of Soccer" (continue introducing the teams, giving them humorous relationships "cross-country truck drivers", or "Country-Western banjo players"- just like they do on the TV show.)

"Teams will race to find the clues that will give them the instructions for that part of the race. Clues can either be: "Route Info" where teams will need to follow the instructions on the card to receive the next clue, "Detours" where teams are given a choice of two activities to complete together to receive the next clue, or "Road Blocks" where only one team member must complete the task in order to move ahead. Are you ready for your first clue?"
Then hand each team an envelope with this logo on it (you'll find it in the download at the end of this post). You can pick up a stack of tear-open sealable envelopes for free from the post office (of course, they aren't exactly meant for this purpose…) or order some here and then print the Amazing Race logo below and glue it onto the outside of the envelope.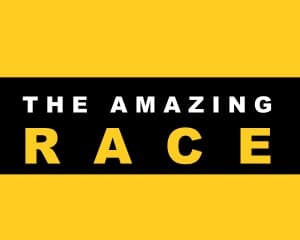 Inside the envelope teams will receive their first "Route Info" card:

As teams complete this task and return to the mat- you can hand them their next clue:

You can make this as difficult as you'd like- making the ribbons on the trees themselves tiny and hard to find or scattering dozens or even hundreds of coins around the tree- allowing only one coin to have the correct birth year on it, etc. Ideally you want teams to spend 5-10 minutes in the hunt. When they return to the mat with the correct coin you hand them another Amazing Race tear-off envelope with two cards inside this one on top:

Ooooo… a road block! Only one team member can perform this task- and they must choose which person continues before reading the second card:

Hand the builder a box of materials to build the marshmallow launcher (please check out this fab post from Grandma's Briefs to see how the launcher is constructed). Before the party you will need to build one example launcher that the kids can look at as a model, but they will not receive instructions for building their own launcher. They must look at the example and construct their own as best they can.
When they come back to you "for inspection", try launching a marshmallow to make sure that it works before giving them their next clue:

Have a stack of plastic beach buckets ready as well as a bag or two of marshmallows and let the kids launch the marshmallows into the bucket! The player with the bucket on their head can move around but the bucket must be touching the top of his/her head. Once they get three in, hand them their next clue:


Cool- a detour! Teams can decide which of the two activities they would like to do- either the hackeysack juggle or the scavenger hunt! You can use a knit beanbag-ball type of hackeysack or a traditional Chinese version that looks like this: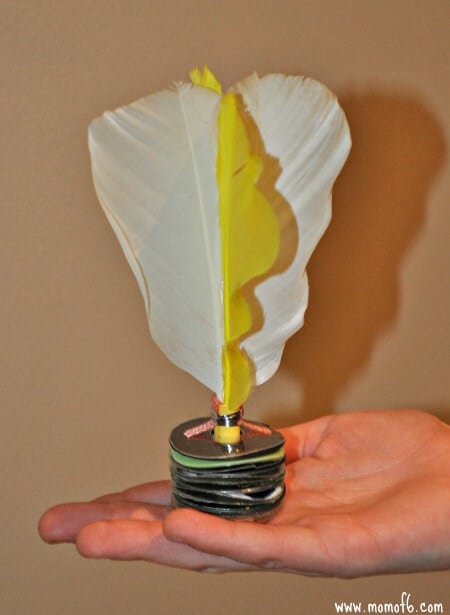 When they have completed the detour you can hand them their final clue:

Take a shoebox and cut a round hole in the lid just big enough to allow a ping box to shake out if you are shaking the box. Now attach a long piece of fabric to each side that will allow you to tie the box around your waist like a belt. Fill the box with ping pong balls marking only one with an 'X'. (Note: you'll need a separate box for each team at the party but you can re-use this game for other parties over the years, I promise!)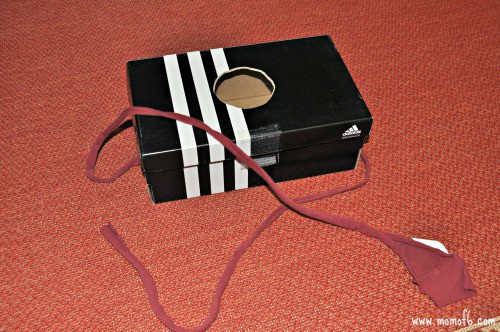 Not Into These Games? Change it Up!
You can customize your Amazing Race game to include whatever wacky crazy party activities you'd like! I've included blank route info, detour, and road block cards in the downloadable game file at the end of this post that you can use to construct your own version of the game!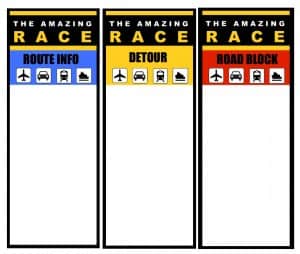 Amazing Race Birthday Party Cake:
A simple sheet cake iced in yellow with the Amazing Race logo would be perfect. You can use black, yellow, and white fondant and icing to create the logo, or if you'd like an easier way out- take the logo to a bakery and have them create the cake for you!
Amazing Race Birthday Party Thank You Notes:
Kids will go home with their tee shirts, their chocolate bar prizes, as well as their newly made marshmallow shooters! After the party the birthday child can use these thank you notes: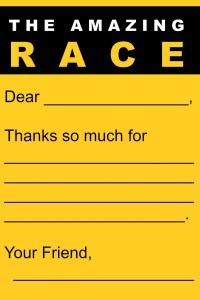 Ready to Download The Free Party Printables?
Awesome! Click here to join the MomOf6 Party Planners Community! Once you confirm your subscription they will download right to your desktop or device. The download includes the party invitation and thank you note, as well the blank and pre-printed game cards!
Please note that these printables are for your personal use only and are not to be distributed or sold. These printables will download as a pdf file which can be saved and printed. If you would like to upload these printables to PicMonkey to personalize them, you'll need to change the pdf file to a jpg file. You can find great instructions on how to convert a pdf to a jpg here.
Would you like to see some more ideas for kids birthday parties?
Or ideas for kids birthday party games:
Or You Can Shop for These Awesome Party Games!
Would your son or daughter love this Amazing Race birthday party? I'd love to hear about it if you hold one too!
*Please note: I am just a parent who is a fan of the hit TV show "Amazing Race" and created a birthday party theme that celebrates the fun of the show. This post is in no way affiliated with or endorsed by CBS or The Amazing Race. All ideas and opinions expressed here are my own.
**Please note that some of the links above are affiliate links, which means I will make a small commission if you purchase through these links. It's a great way to support a blogger!