My kids love to play party games, so I thought that creating a list of 50 Valentine's Day Would You Rather questions would give us a fun thing to do together! These Valentine's Day Would You Rather questions are specially designed with tweens in mind and are perfect for classroom parties, club meetings, and sleepovers!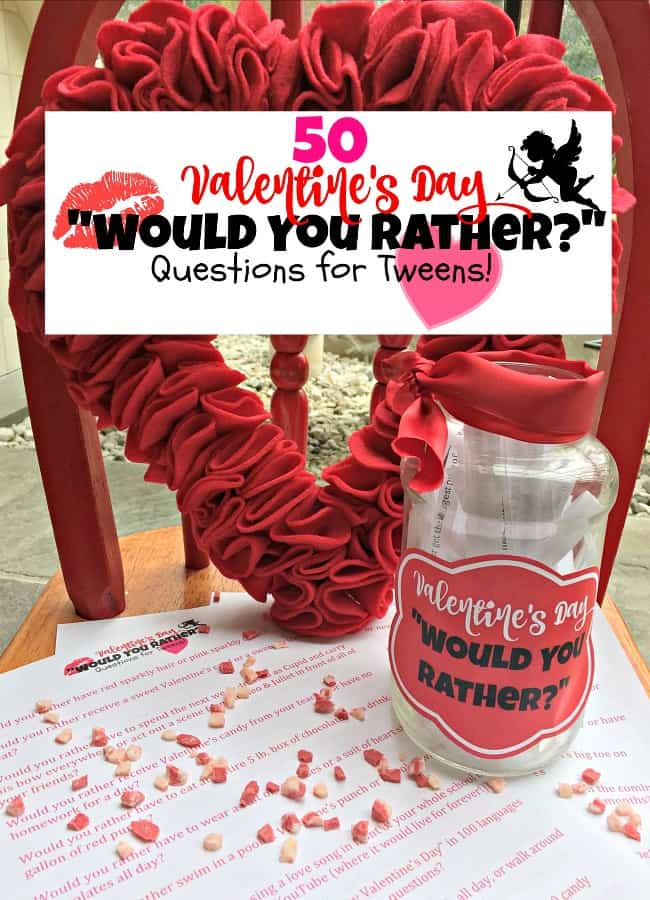 Even though these questions are Valentine's Day-themed… you won't find any questions about crushes or dating or kissing (unless you count the questions about kissing a frog!). Not all tweens have crushes- so these are designed to be fun for everyone!
*Please note that some of the links in this post are affiliate links, which means I will make a small commission if you purchase through these links.
I simply cut the list of 50 questions into little strips (using my scrapbook paper cutter), folded the strips in half and placed them inside of a cleaned-out pasta jar. (I love to recycle glass pasta jars for use in all kinds of projects and displays in my home! You don't need to spend $ on canning jars when you can recycle something you already have for free!)
I added the Valentine's Day Would You Rather label to the jar using my scrapbook roller adhesive.
Download Your Copy of the 50 Valentine's Day Would You Rather Questions for Tweens Here:
Simply sign up below to join the MomOf6 community, and you'll be directed to a thank you page with access instructions!

Join the MomOf6 community!
You'll receive our twice-weekly newsletter via email filled with ideas and resources for busy Moms! *You can view our Privacy Policy here. To access the printable without subscribing to our newsletter, click here to send an email requesting access.
Looking for Some More Valentine's Day Ideas?
Does your family like to play party games?