Looking for a way to entertain the kids while you wait for the fireworks to start? This July 4th Scavenger Hunt game is perfect for kids!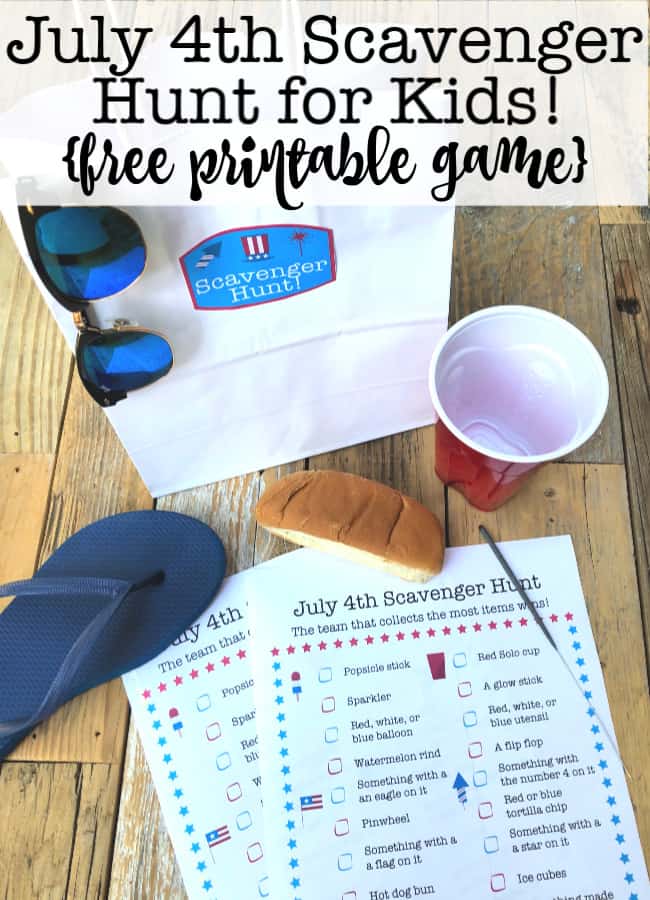 It has become an annual tradition for our family to head to the town park to enjoy a picnic dinner followed by fireworks. You have to get there plenty early to park your car at the nearby elementary school, and then take a bus over to the park. And it is rather funny to see families like ours herding kids, coolers, chairs, picnic blankets, cornhole sets, and more onto a school bus for the 5-minute ride!
Once there we scout out the best place on the grass to set up "camp", lay out the blanket and chairs, and start serving our picnic dinner to the kids. And in about 30 minutes time- everyone has eaten and played a round or two or cornhole- and yet we still have hours left until it gets dark enough for fireworks!
So it helps to have some ideas for entertaining the kids while you wait!
Sparklers? Definitely! But plan some games too!
Prepping for Your July 4th Scavenger Hunt:
You'll want to give the kids some paper bags with handles This is an affiliate link: MomOf6 earns a commission if you purchase, at no additional cost to you. to collect all of the items (I keep a stash of these on hand at home for gifts as well as for projects like this!) And I created a cute label that you can print out and glue to the front- so people will see that the kids are doing a scavenger hunt!
Ready to Download the Free July 4th Scavenger Hunt Printables?
Awesome! Simply signup below to join the MomOf6 community and you'll be directed to a thank you page with access instructions! You'll also get access to my entire library of free printables- and you'll receive my twice-weekly newsletter that is packed with resources and ideas to inspire busy Moms!
*You can view our Privacy Policy here. To access the printable without subscribing to our newsletter, click here to send an email requesting access.
Looking for Some Ideas to Enjoy the July 4th Holiday with Your Family?
Here's a roundup of some of my favorite July 4th supplies and home decor This is an affiliate link: MomOf6 earns a commission if you purchase, at no additional cost to you. !
Do you think your kids would enjoy this July 4th scavenger hunt?