Some of you might remember a few weeks ago when I solicited your input to help me makeover our guest room…. and you might have wondered when I was EVER going to get around to showing you how it turned out….. well- you'll have to keep on wondering. Because today is not that day. You see, I've allowed myself to get a little distracted, and kind of moved way off track…. and into the room next door. All because of one dreary afternoon spent snuggled up on the couch with my two younger sons trolling for ideas on Pinterest! The boys made it clear that they wanted their room to be bright lime and bright orange (well- okay red… but he settled for orange), and they wanted it to look like a gaming room (a definite challenge since I was NOT going to be putting a TV/gaming system into anyone's bedroom!), and it had to look like an older guys room (not a little kid bedroom please!).
Well…. can I just smugly say? When it comes to the boys bedroom makeover…. Mission Accomplished!
I started by patching up any holes in the walls and closet doors left behind by the previous occupant, and then repainted all of the walls. But I was so in love with the rich blue color that was already on the walls, and also lucky enough to find some leftover paint in that color in the garage, that I just mixed it well and re-painted the walls with one coat of the same color. It made everything look bright and new again, and (hopefully) eliminated any trace of that smokey smell that was still in the room. I also re-painted the doors, and some of trim (where it needed it).
Then I met Jack and Alex's request of bright colors, buying them some new (and badly needed) sheets and comforter covers in their favorite colors. We (finally) got around to hanging up the lights next to their bunk beds. I also added an area rug that picked up the blue and orange and makes the whole room "pop"!
I was a little worried that they wouldn't like it…. but I decided to remove the hutches from the top of their desks. Their bedroom is full of these great windows overlooking our backyard, but the view was blocked by the hutches, that really weren't holding much. Plus, the hutches made it impossible to place their desk lamps on their desks- because the lamps were too tall.
On top of each desk, I placed a Quirky power strip
(affiliate link) so the boys would have a dedicated place to charge all of their electronic devices (which had been a challenge, as the room is a little short on wall outlets). Removing the hutches really opened up the room- and the boys love their new desks!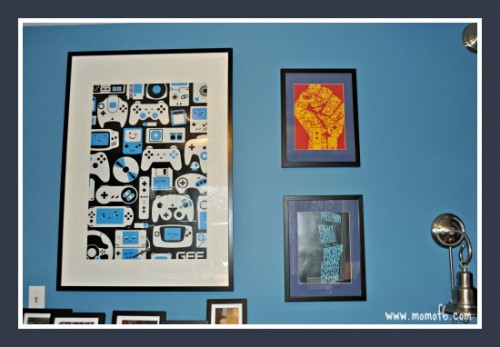 And finally, I changed out the photos in their frames from vintage airplanes to gamer-style art. I found all three of these pieces on Flickr, and uploaded them to Shutterfly to order prints in the sizes that I wanted.
The boys were well aware that I had been working on re-painting their room, but on Saturday I kicked them out of the room for the day while I worked to get everything set up. Then I called them up for "big reveal"! They were thrilled!
Every time I walk past their room, I am so proud of what I was able to pull together for them, knowing how happy it makes them feel. Of course, I have 4 other kids who are now begging for me to work on their two rooms…. but I really need to finish that guest room first!
What do you think?