A super easy yet delicious dinner to make while cooking in a rental home or condo while on a family road trip is BBQ chicken sandwiches, prepared in the crockpot! And the best part- is you can start it in the morning before you head out to see the sights for the day- and when you come back- dinner is just about ready!
BBQ Chicken Sandwiches Prep:
You only need to purchase 3 things:
But I'd suggest adding some chips or pretzels to this grocery list, and some pre-washed and pre-cut veggies or a salad!
Most condos and rental homes with a fairly well-stocked kitchen usually have a crockpot for you to use. Or, if you are staying at a hotel, and you have room for it in your car, you can always bring along your crockpot from home.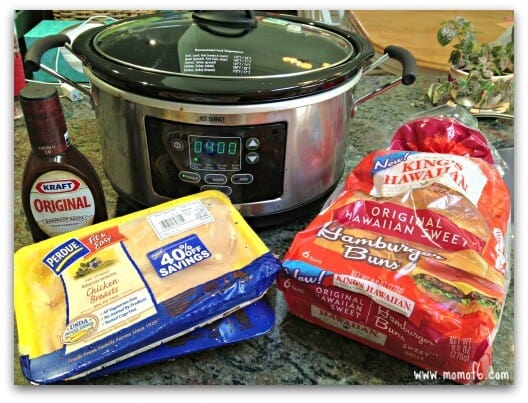 It's so easy in the morning to toss the chicken breasts in the crockpot, add a little water and allow it to cook on high for 4 hours. The crockpot will automatically switch to cooking at a low temperature for the rest of the afternoon.
When you come back to the hotel or condo at the end of the day, simply remove the chicken breasts from the crockpot, and using two forks, shred the chicken.
Mix in the BBQ sauce, pouring it on extra thick.
If you still have a few hours before dinner, you can return to the crockpot for another hour to the thicken the sauce. Otherwise, you can serve the BBQ chicken immediately by piling it up high on hamburger buns.
Serve with a salad and fresh watermelon, and some chips on the side- and you have a delicious and ridiculously easy meal to make when cooking on the road.
For more easy meal ideas for cooking while on a road trip- check out these posts:
Cooking in a Condo- 3 easy ideas for road trip dinners!