Cooking dinner in your rental home or condo while on vacation can save a ton of money over a restaurant meal- allowing you to stretch that vacation budget! But a road-trip dinner needs to be easy to prepare with just a few ingredients that are readily available in any local grocery store, and should be fast- because no one wants to spend their vacation cooking and cleaning up the kitchen! So here's an idea for a simple family road trip dinner: Easy Taco Bar!
Easy Taco Bar Prep: Send Your Spouse to the Store to Buy 5 Things…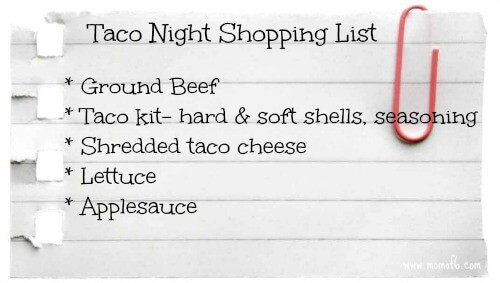 Yes, he will probably come back with 5 more things in addition to the list you gave him- but that's okay.
You can be sipping a glass of wine in the hammock while he's out doing the grocery run.
In 20 Minutes, You Can Have Your Easy Taco Bar Ready to Serve!
Especially with help!
Have one child wash the lettuce, tear it into small pieces, and place into a serving bowl.
Have another child open the taco cheese and place into a serving bowl with a spoon, and then he or she can open the taco shells and place them on a serving plate.
Enlist another child to pour the applesauce into serving bowls while still another sets the table. You can take another sip of wine and start browning the meat!
Brown the ground beef, and then drain it. Add in your taco seasoning and water, according to the package directions. Allow to simmer.
Serve! 
Everyone gets to prepare their tacos just as he/she likes! Most taco kits also come with a taco sauce that you can put on top of your taco to make it nice and spicy!
For more easy meal ideas for cooking while on a road trip- check out these posts:
Cooking in a Condo- 3 easy ideas for road trip dinners!