There is just no doubt that using a family calendar can really improve your life and if you are willing to dedicate yourself to faithfully maintaining all of your appointments and family commitments in one place, you will always know where to go to be prepared for the day, week, and month ahead. But to do this, you have to have the right tool for the job and use a great family calendar that will help you to get organized and stay organized throughout 2018!
*Please note that some of the links in this post are affiliate links, which means I will make a small commission if you purchase through these links.
The Best Electronic Family Calendars:
1. Cozi
If you aren't currently using an electronic family calendar that you access on your phone or tablet, then Cozi should be the very first system that you try.
Specially designed as a calendar app for families, Cozi's system features the ability to keep multiple calendars (color-coded by family member), allows you to make to-do lists and grocery lists, menu plan, and provides several options for printing the calendar (which is a great feature). You can set reminders or even email agendas for upcoming appointments. You can share your to-do lists with family members. Cozi even gives you a place to keep a family journal.
It is all accessible from an app on your phone as well as on your other devices- and every family member can access it for the app as well. This is the best place to get started if you are ready to switch to an electronic calendar system!
2. Apple Calendar
If you are already an owner of an Apple device (or several!) all of the email, address book, and calendar software already comes preinstalled with that device and everything is designed to work together seamlessly right from the get-go. Apple Calendar is such a powerful calendar tool- I think it is truly the best family calendar available.
It has all of the important features of an electronic family calendar:
It allows for multiple color-coded calendars. I have separate calendars set up for my family, my to-do lists (separate lists for personal and business), and business calendars. I can also subscribe to public digital calendars for each of my children's schools and have them appear here in a separate color.
I can set up recurring events easily.
I can notify people of any events that I wish to coordinate with them.
It syncs to iCloud, all of my devices, and syncs well with Google Calendar too. This makes it easy to sync with my husband and kids devices so they can access our schedule.
But what I think really sets Apple Calendar apart from other electronic family calendars is the ability to print out your calendar multiple ways!
I can print out a monthly view of just our family calendar and family to-dos and post it in my kitchen command center.
And best of all I can print my weekly view as a list which I place on a clipboard and work from each week.
Note: Not an Apple user? The only way to access an Apple Calendar is with an Apple ID- making it rather inaccessible if you aren't using an Apple device of some kind. Windows has a similar calendar system (Microsoft Outlook) that works on Windows desktops/laptops and syncs nicely with Windows phones and tablets. It also syncs well with Google Calendar. But Outlook and Apple Calendar don't play well in the same sandbox- so be aware that it is not always easy to get them to sync with one another.
3. Google Calendar
Google Calendar is probably one of the most widely used family calendars because most people are quite familiar with Google. It is free with your Google account and already handily displays on the menu bar if you are using Gmail. It also syncs nicely with other calendars that you or your significant other might be using such as Microsoft Outlook and Apple Calendar. You can notify others of events that you wish to schedule with them, and you can easily set up recurring appointments which makes adding in the season's soccer practices easy-peasy.
For me, the big drawback with Google Calendar is the limited printing options. I just can't get that weekly list view that I love from Apple Calendar.
The Best Wall Family Calendars
I know that some of you still prefer a calendar that hangs on a wall for everyone in the home to see. Here are the four best wall family calendars for 2018!
4. Amy Knapp Big Wall Grid Calendar
If you are a die-hard wall calendar person because you need to see everything posted in one place where the entire family can gaze at it over breakfast- then check out the Amy Knapp's Big Grid Family Organizer. With plenty of space on every date to fill in appointments, this calendar also provides a space for menu planning, and comes with a Monthly Projects section that is pre-loaded with such gems as "Talk to your kids about their Halloween costume" (in August!), and "Check in on your resolutions" (in February!). There are lots of color-coded stickers you can use to call out special events such as birthdays and family vacations. This calendar is packed with good ideas that a family can really use.
Also available as a paper calendar is the Amy Knapp Family Organizer!
5. Sandra Boynton Wall Calendar
The nice thing about the Sandra Boynton wall calendar, aside from the adorable bears, pigs, and hippos, is that the monthly calendar view has the days of the week going down the side of the page, and then there are five columns going across the top (one for each family member)- so you can easily see everyone's commitments for the day! It also comes with tons of fun stickers which your kids will enjoy using!
The Sandra Boynton is also available as a paper calendar for Moms on the go!
6. More Time Moms Wall Calendar
What Moms love best about this More Time Moms Wall Calendar is that the format follows a traditional calendar layout and has date boxes that are large- with nine lines!- so you write in all of the details you need to manage your family's busy schedule. The calendar comes with stickers so you can use it as a chore chart as well as a family calendar.
More Time Moms is also available as a fridge calendar if that fits your space better!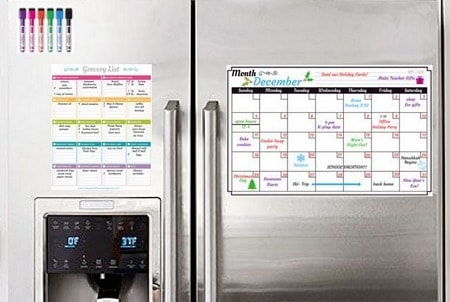 7. Monthly Magnetic Dry Erase Calendar
If perhaps you keep your calendar in an agenda book but want to be able to display a monthly view of that calendar on your refrigerator door for the entire family to see- then this magnetic dry erase calendar could be a perfect solution for you. A bit "old-school"- and you will spend time re-writing things that you've already written somewhere else (which drives me batty!)- but if it is the system you prefer- then use it!
Best Paper Family Calendars
Some Moms prefer to have a paper calendar that is portable and can move from the kitchen counter to her handbag and head out with her she goes through her day! (It's always easier to schedule appointments when you have your calendar in front of you!)
8. Mom's Plan-It Planner
The Mom's Plan-It calendar is like your traditional business planner with both monthly and weekly calendar pages- but it is jazzed up with illustrations and stickers geared towards your family life! I also like that it comes with a storage pocket- a good place to stash receipts while you are on the go!
9. Do It All Mom Calendar
This smaller-sized planner has monthly calendars and a unique 6-section weekly spread that you can use to represent different family members or different areas of your life (home/work/volunteer/kids activities). The Do It All Mom calendar also comes with a large array of stickers to personalize your calendar, as well as tear off list sheets. I also love that it is available with several cover options!

10. MomAgenda
The Mom Agenda personal calendar system comes encased in a lovely notebook and features separate spaces for Mom and up to 4 kids. It has weekly and monthly sections, and a pull-out planner to track birthdays and special occasions (that you can remove and re-use from year to year). Available in multiple colors.
Looking for the best family calendars, planners, to-do lists, and goal setting tools?
Here are some great ideas on how to organize your home!
Are you ready to get your life organized? Register for Busy Moms Boot Camp!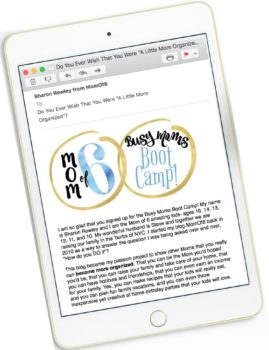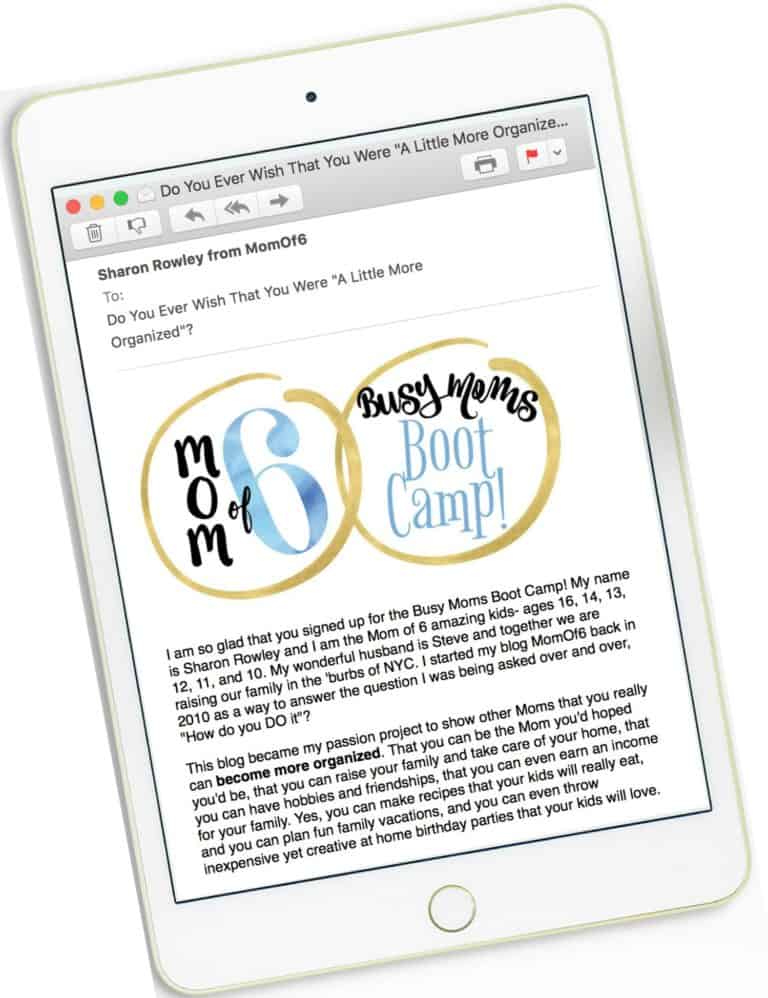 It's a free series of 10 weekly emails that can help you put some organization back in your life and help you to create room for all of those things that you'd like to be doing- whether that's making time to celebrate the little things with your family or carving out some space for yourself. Busy Moms Boot Camp can help you to move from chaos to organized! Simply sign up below to get started!
Join the MomOf6 community!
You'll receive our twice-weekly newsletter via email filled with ideas and resources for busy Moms! *You can view our Privacy Policy here. To access the printable without subscribing to our newsletter, click here to send an email requesting access.