Here are the best planners for Moms for 2018 that can guide you to set some intentions for your life and help you to create goals and break those goals down into smaller steps so that you can achieve them. A family calendar can help you to get organized with your schedule and your time- but a planner can help to make sure that you are giving your life purpose!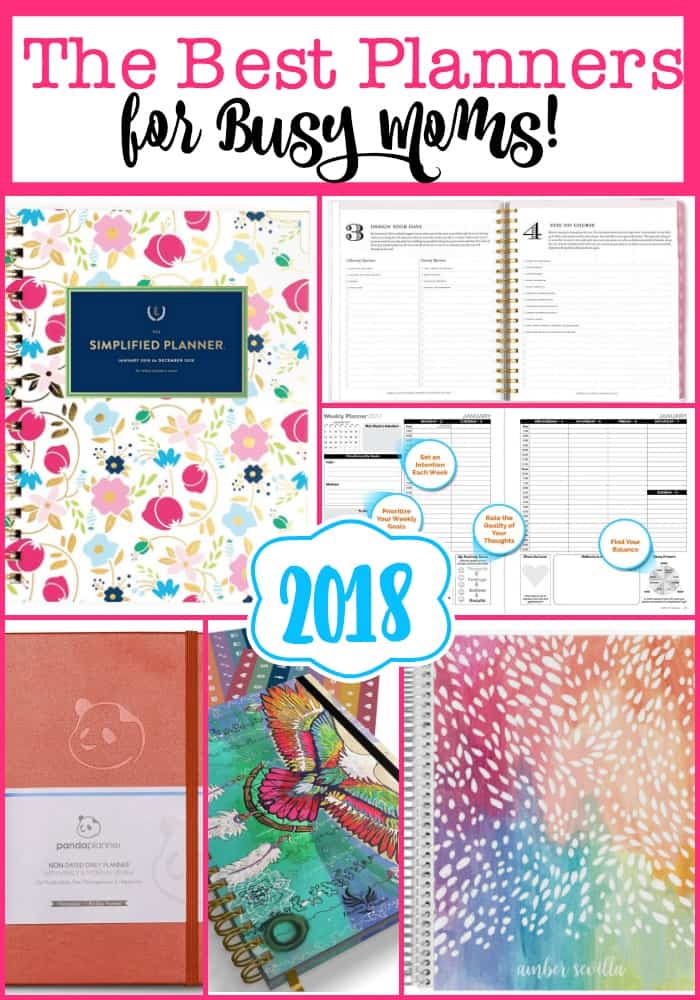 As busy Moms who are juggling so many tasks and activities every day, it can be hard to pull ourselves out of the minutiae and make time for the things in our lives that lead us towards our goals. Heck- as busy Moms it can be hard to find the time to even think about having goals! And so we spend day after day getting small things done without any thought as to whether or not we are ever really going anywhere in our lives! That's where having a fantastic planner system comes in!
*Please note that some of the links in this post are affiliate links, which means I will make a small commission if you purchase through these links.
Best Planners for Moms: Erin Condren Life Planner
I think of the Erin Condren planner as the first planner system that was created specifically for busy women in mind. There is a dedicated section for goal setting and a section where you can journal and write down personal reflections throughout the year. When you order your planner on Amazon, you can choose which kind of a calendar page layout you prefer- one with a weekly vertical layout, a horizontal one, or even an hourly layout.
But if you'd like to personalize your planner further- head over to the Erin Condren website where you can choose your cover, add your name or an inspiring quote- and truly make it your own!
The Day Designer
What I absolutely love about the Day Designer is that this planner walks you through the process of starting with your "big picture"- what you want you life to be and to look like, and then helps you to break down that vision into specific goals, which are then used to set your daily routines. (This is exactly the steps I take in my own life each year!).
There is also a built-in calendar system with monthly and daily sections that are designed to keep you focused on your overall goals.
InnerGuide Life Planner
The intention with this planner is to help you to become "the best version of yourself" by tapping into your own inner guidance to make sure your daily decisions and actions align with your values and what's essential to your well-being.
The InnerGuide planner is very centered on finding your purpose and making sure that you are taking daily and weekly actions that lead to your self-fulfillment.
Bet Planners for Moms: The Panda Planner
The Panda Planner uses scientific strategies set forth to improve productivity and happiness over time so that you can get more done and feel better, every day! One of the goals of this planner is to help fix procrastination and keep you accountable! Think of this as your goal setter, your daily accountability tracking, and your journal all wrapped up in one.
Simplified Planner
Maybe you would prefer a little more of a beautiful "blank slate" kind of planner. The goal of this Emily Ley Simplified Planner is "to inspire women to organize, simplify, and carve white space for the good stuff of life."
With inspiring quotes throughout and plenty of room for you to make lists and record thoughts and reflections- if clean, beautiful lines call to you- this might be your perfect planner!
Best Planners for Moms: The Freedom Planner
Owning this Freedom Planner is like having a life coach & time management coach combined. That means manifesting change & becoming ten times productive is easy with the gratitude journal section, daily habit creating reminders, 2-page vision board (one of Oprah's favorite success tools), 2-page goal journal & motivating, and inspiring quotes from wildly successful people.
Looking for the best family calendars, planners, to-do lists, and goal setting tools?
Here are some great ideas on how to organize your home!
Are you ready to get your life organized? Register for Busy Moms Boot Camp!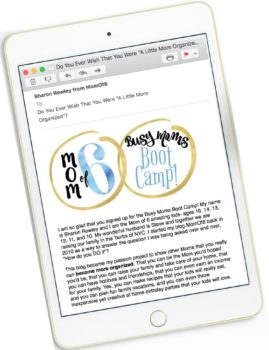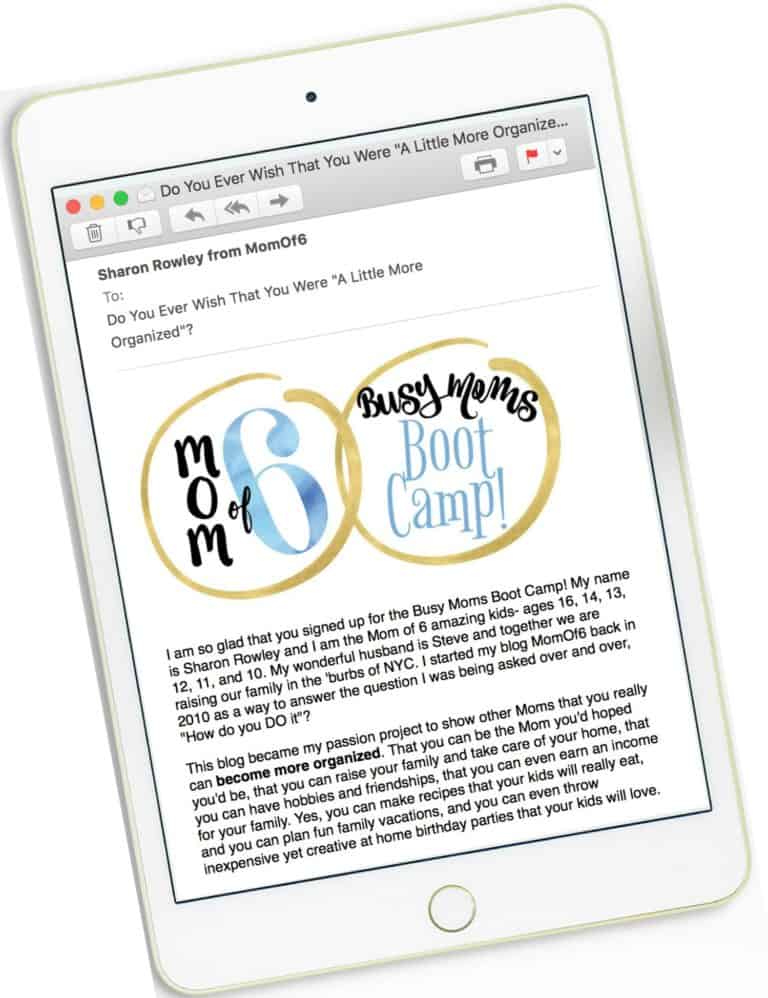 It's a free series of 10 weekly emails that can help you put some organization back in your life and help you to create room for all of those things that you'd like to be doing- whether that's making time to celebrate the little things with your family or carving out some space for yourself. Busy Moms Boot Camp can help you to move from chaos to organized! Simply sign up below to get started!
Join the MomOf6 community!
You'll receive our twice-weekly newsletter via email filled with ideas and resources for busy Moms! *You can view our Privacy Policy here. To access the printable without subscribing to our newsletter, click here to send an email requesting access.
I would love to hear from you now… Do you have a planner system that you love, or are you still searching for the one that is right for you? Did this list help you to do that?