Every single day information and paperwork comes at us from all directions! Mail, catalogs, invitations, school flyers, permission slips, school lunch menus, and bills. Having a way to deal with and organize everything that comes into your life will prevent paper from cluttering your mind and your home. The bottom line is: busy Moms need awesome command centers if they want to get organized!
The idea behind having a functional family command center is that you have one place where you put everything you need and it is located somewhere that is convenient for you to access often. (For most of us, that's the kitchen!)
*Please note that some of the links in this post are affiliate links, which means I will make a small commission if you purchase through these links.
I love my wall command center which is made up of magnetic chalkboard pieces that I purchased from Pottery Barn many years ago. On the left side I keep all of the paperwork that I like to have quickly accessible- school lunch menus, after-school schedules, upcoming events, school and bus schedules, etc. On the right side is my magnetic menu planning board– which eliminates that 5 pm worry, "What am I going to make for dinner?"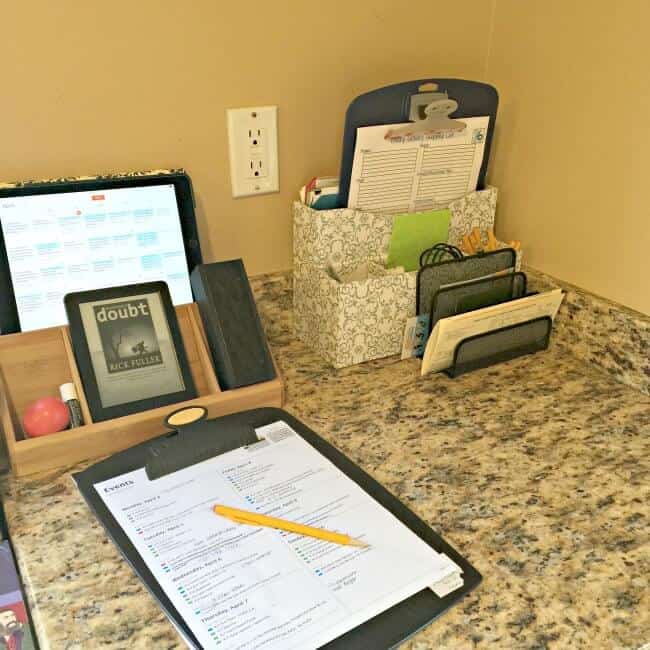 On one side of my kitchen counter I keep the rest of my command center. A place to hold incoming bills, my weekly calendar/to-do list, my iPad which holds my electronic calendar and a charging station.
I would be lost without the organization that my command center provides me and my family! And I love to be further inspired by how other busy Moms put together their own command centers. You can click through any of these links to get the details on how these Moms designed a command center that worked for them. And if you are looking for components you can use to build family command centers- check out these ideas over on Amazon! (*affiliate link)
So let's take a look at 15 Fantastic Command Centers that Help Busy Moms Stay Organized!
Wall Based Command Centers
I am not the only one in love with the Pottery barn wall system! Designer Trapped in a Lawyer's Body has had her Modular Daily System for 9 years and is still in love with it!
I love this command center which hangs right on the front of the fridge! And the cool part is that each component was created from an old CD case! Printables and instructions originally appeared over on Picnics and Sails (but the site no longer seems to be available).
I love the frames used with chalk markers for the weekly menu plan and family calendar that is part of The Caldwell Project's command center. They also built their own hanging pockets to papers, the family iPad, and a place to even charge their cell phones!
It's Always Autumn created this sleek command center on a short wall between her kitchen and front room using metal/wire components. How much do you love the floating bookshelf? It would be perfect for the kids' library books!
This wall center has a place for chore charts for the kids, a cute way to build a menu plan- and I love how colorful it is! (From The Clay Family Blog)
The Yellow Cape Cod had another idea for incorporating a chore chart into her command center- and she created her large chalkboard for less than $15. See how she did it here!
And I love, love, LOVE the idea of installing a large piece of sheet metal on a side wall (like the one created by the side of a fridge cabinet) and building your command center with everything that is magnetic! (Landee See Landee Do)
Using clipboards to hold each child's school paperwork is a great idea! And Traci from Beneath My Heart created her command center by applying chalkboard paint to her wall, and then "framing" the space with 1 x 3s and then painting them (get the details here!).
Command Centers with Desks
Rebecca from Simple As That wanted to create an inexpensive command center in the rental home they were living in while her husband was in medical school. In her post she shares exactly what she purchased and how she pulled it all together.
I love the teal table and wicker baskets in this command center created by Mom On Time Out.
Tucked Away Command Centers
I love how Chris from Just a Girl Blog created a drop space area in one of her kitchen cabinets- and specifically how she used pegboard and decorative sheet metal on the inside of her cabinet doors to hold keys and important papers.
And Krista from The Happy Housie took an underutilized coat closet and turned it into this fantastic command center!
No room for a large command center on a wall? No problem for Lovely Craft Home. She simply created hers out of a filing box, has her calendar mounted to the front and a place for everything she needs at her fingertips!
Command Centers That Aren't in Kitchens
Command centers certainly don't need to be in the kitchen to be effective! Emily from a House Now a Home took a high traffic area in a hallway and created a fantastic way to keep her family organized with an oversized wall calendar and baskets that corral items the kids need for after-school activities!
Have I Inspired You?
Yay! You can click through any of above links to get the details on how these Moms designed their command centers. And if you are looking for components you can use in family command centers- check out these ideas over on Amazon! (*affiliate link)
Would you like to get organized?
Here are some more posts to inspire you:
Are you ready to get your life organized? Register for Busy Moms Boot Camp!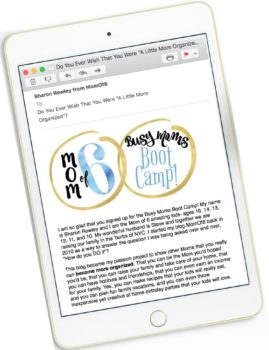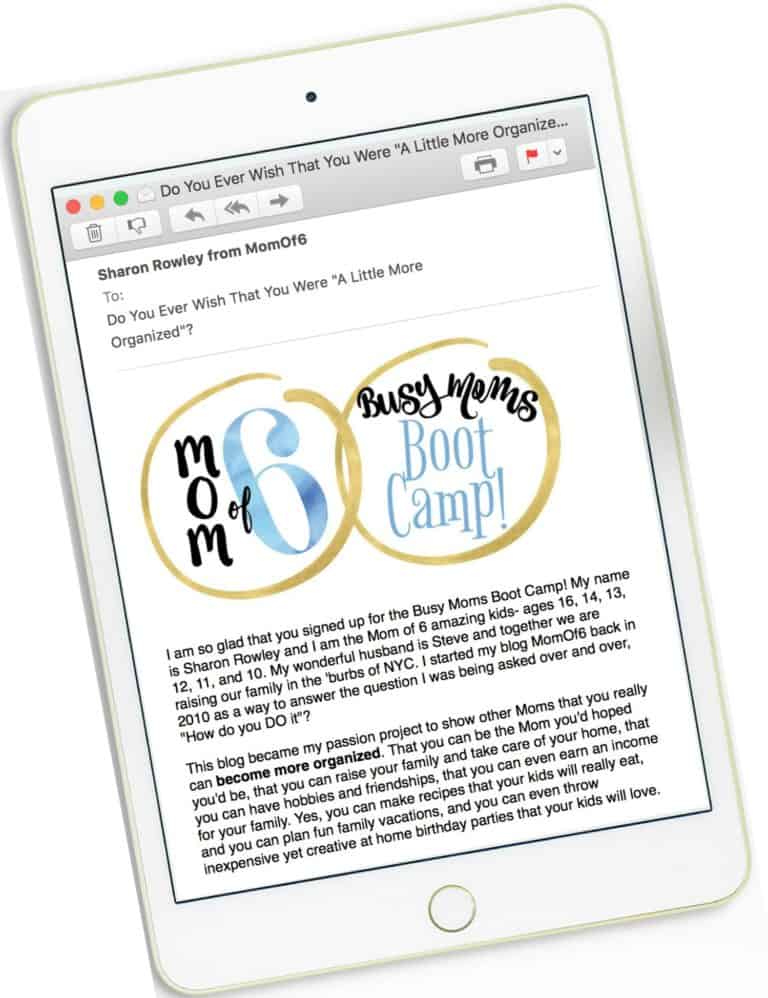 It's a free series of 10 weekly emails that can help you put some organization back in your life and help you to create room for all of those things that you'd like to be doing- whether that's making time to celebrate the little things with your family or carving out some space for yourself. Busy Moms Boot Camp can help you to move from chaos to organized! Simply sign up below to get started!
Join the MomOf6 community!
You'll receive our twice-weekly newsletter via email filled with ideas and resources for busy Moms! *You can view our Privacy Policy here. To access the printable without subscribing to our newsletter, click here to send an email requesting access.
Do you have a family command center in your home? What tips can you share about how you make it work for you?