I am often asked whether or not I always dreamed of having a large family. And the truth is- not really! When I was a kid, I loved visiting my Uncle's house because he had five kids, all older than me. To me, his home always seemed festive- like a party- but I think to my parents it felt more like a place that was crazy and out of control! But having all of those cousins really didn't lead to any sort of longing to raise a big family of my own. So how exactly did Steve and I end up with this large family? Well- keep reading!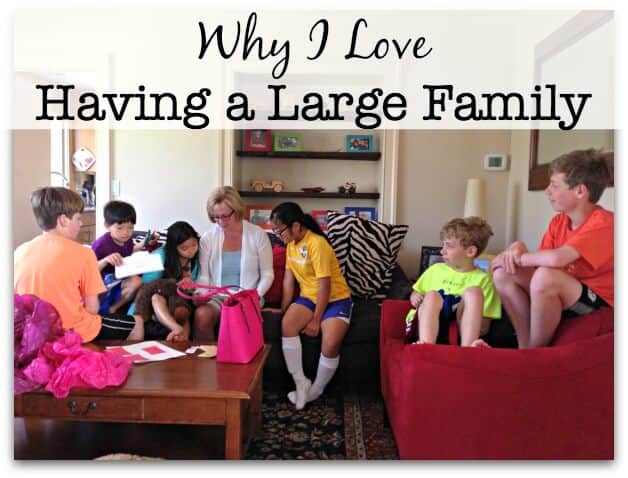 The truth is, when Steve and I were dating we weren't even sure at the time that we were going to have kids! All of that dual-income-no kids, self-indulgent lifestyle was really quite a lot of fun!
But as our relationship progressed and we decided to get married, we both just knew that a baby wouldn't be far behind. And from there we quickly moved from…if one baby is this amazing- let's have two… and then, why not three.. and then once you have three, how much harder can a fourth little one be? So why not five… and how about six?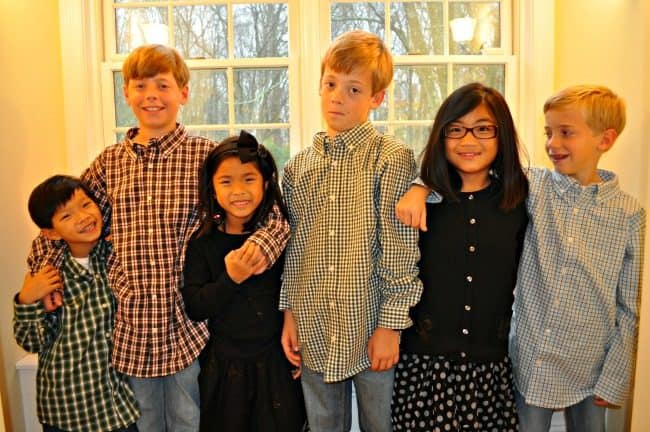 And that's how we ended up with 6 kids spaced a little more than 5 years apart!
So now I live in the house that is loud and crazy and chaotic. Most of the time, that noise just feels like the background music of my life- other times it makes me nutty. And during those times when it is quiet- I end up hunting around the house to see if anyone is "up to something" because quiet is not always a good thing!
In the busyness of it all, it is not always easy to remember to stop, to take note of all that's going right, and reflect on this incredible family that Steve and I created.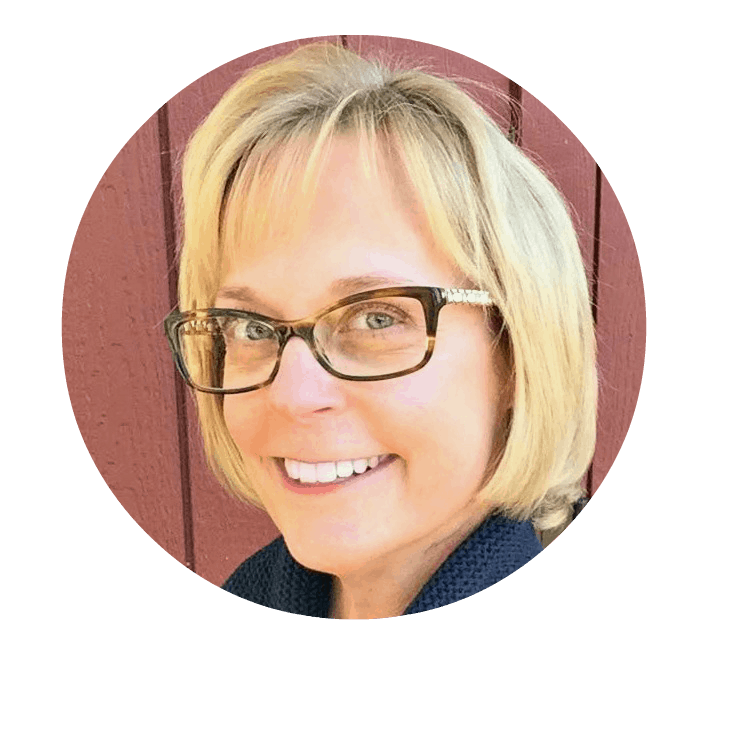 Are you a busy Mom who could use some support?
It helps if you have "the right tools for the job"! Busy Moms need a great calendar or planning system (you can find my favs here This is an affiliate link: MomOf6 earns a commission if you purchase, at no additional cost to you. ) and an efficient command center This is an affiliate link: MomOf6 earns a commission if you purchase, at no additional cost to you. to keep things running smoothly for the whole family! You can find more great resources for busy Moms over on my Amazon influencer page This is an affiliate link: MomOf6 earns a commission if you purchase, at no additional cost to you. !
The biggest reason why I love having a large family…
is all of the togetherness it brings. My kids really get along well with each other, they enjoy each other's company- and seek each other out to talk to and to play with.
This is not to say that they don't love hanging out with their same-aged friends at school and at after-school activities. But when we are home- rarely is someone begging to call up a friend or go on a playdate- they are generally happy to hang out with each other. And the cool thing is- there are lots of variations in how they all group up with one another.
My son Jack loves playing with his three younger siblings. He has taught them how to ride a RipStick, how to ski, and last summer he even got them all interested in fishing!  When I watch him do this, I can't help but think back to my cousin Mark declaring that it was time for a "kid's party".
Jack will get out board games or get everyone together on their DSs to play Minecraft (somehow they all link up?). When I declare that it is time for everyone to go outside and play- he is the first one to figure out some sort of outdoor game for them to all play together- whether it's the Ninja Course in our backyard or setting up a field hockey game in the driveway.
And I love to peek out the kitchen window and see Spencer and Kyle playing basketball and talking (it was exactly what I pictured when we gave the hoop to the kids a few years back).
Since every child in our house shares a bedroom with a sibling, everyone has someone to talk to after Mom and Dad have declared it "lights out". While there are plenty of nights that I am still asking them to go to sleep long after I put them to bed, there is a part of me that loves to overhear their snippets of conversation and know that they really love each other and enjoy confiding in each other.
My kids feel a part of something bigger and know that they will always have this family in their lives to lean on. I explain to them that they will have many friends over the course of their lives, but friends can change as you grow up and move on to new endeavors. Family is forever.
My kids know that Steve and I both think of our own brothers as our friends and how important they are to each of us.
Selfishly, I just love to care for all of them- I love to cook big dinners and watch it all disappear. I love to go around the table at dinnertime and hear each one share a story about their day. I love it when we all work together to clear the table, clean up the kitchen, and start getting things ready for the next day. I love to snuggle up in bed and hear what's on their minds, and I adore all of the hugs and kisses goodnight.
It's not all fairytale moments all of the time – believe me! But when I am in a quiet place reflecting on my family and my life- the tough parts just fall away, and I am left with gratitude.
Yep- having a large family is perfect for me. It's loud, and it's messy, and I wouldn't have it any other way.
More Posts You Might Enjoy On Large Family Parenting