During the last few weeks of summer, I like to take some time to prep my kids, their closets, their rooms, and my entire home for the coming school year. And I love using my back to school checklist to help me keep my large family organized!
The back to school time period is the perfect time to do some decluttering and re-organizing of family spaces as the kids have grown (and outgrown) old clothing, toys, and pastimes during the last year. I'll spend an hour or two with each one of my kids using this checklist to "take inventory" of where we stand so that I can get them set up for back-to-school success!
You can download your copy of the back to school checklist for free- at the end of this post!
Use the Back to School Checklist to Examine What You Have and Make a List of What You Need
The idea behind this back to school checklist is that you spend some time in each kid's room going through their clothing and deciding what still fits and what can get handed down/donated. Then I start preparing a list of what we need to buy.
This certainly doesn't mean that I need to go out and purchase everything before the start of school, but if I at least have a list of what the kids will need in the first few months of school, I can pounce on good deals when I see them at the store or online.
You can check out this post on how I work through each child's clothes closet. This is also a great time to go through the kids' coat closet and see where things stand with fleece, rain, and winter coats- so you'll know what you'll need and in which sizes. I also pull out the boots and snow pants as well as hats and gloves to see what still fits and is in good shape and what we need to replace.
And since back to school also means the start of the fall sports season, I get out the sports backpacks and go through all of the football, soccer, and horseback riding equipment too- see what's outgrown or just is gross and needs to be replaced!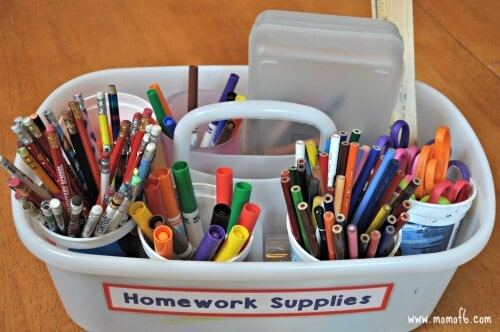 School Essentials and Homework Supplies
The "daily school commute"
I am not one who replaces backpacks and lunch bags every school year- I do so only when the kids truly need new ones. But every year we examine each child's backpack and lunch bag to see if it will hold up for another school year and if not- we invest in a new one.
I also make sure that every child has his or her own reusable leak-proof water bottle This is an affiliate link: MomOf6 earns a commission if you purchase, at no additional cost to you. , a food thermos This is an affiliate link: MomOf6 earns a commission if you purchase, at no additional cost to you. , and that our kitchen in stocked up with plastic bento lunch box containers This is an affiliate link: MomOf6 earns a commission if you purchase, at no additional cost to you.  to send in lunches from home.
This is also a great time to brainstorm with the kids ideas for packed lunches and snacks and make a grocery list so that I can be sure to have the right food items on hand when school starts!
School essentials
For my elementary and middle-school aged kids, they have each been provided a list of school supplies by their teachers- so we'll work through that list to make sure that we are covered (and remember- not everything has to be new!). My high schoolers don't really have a school supply list- it is up to them to create organizing systems for each of their classes.
You can check out my post on School Supplies for Middle and High School Kids on what we buy for them to use at school, and what supplies we keep on hand at home to support their school work.
Homework supplies
We keep a homework caddy in our kitchen that kids can carry to the table or their own desk that is filled with supplies they can use to tackle their homework.  So we'll make sure that our homework caddy is cleaned out and ready to go for the school year. (You can see my post on setting up a homework caddy here). We will also review the kids summer reading assignments to make sure that we are on track for completing those before the first day of school.
Download Your Copy of the Back to School Checklist!
You can download and print your own back to school checklists by signing up below to join the MomOf6 Busy Moms Community and you'll be directed to a thank you page with access instructions. (I actually print a copy for each one of my children, so I can keep a running list of notes for each one of them as I go).
*You can view our Privacy Policy here. To access the printable without subscribing to our newsletter, click here to send an email requesting access.
Looking for More Back to School Ideas?
How are you doing on your back to school organization?